Moral of the Soave story
Today's wine story does not come to us from Aesop or Grimm, but like those childhood fables it carries a small moral lesson.
Our featured wine, Soave, from the Veneto region in Northeastern Italy, was for many years a respected if not revered name in wine ... a fresh if simple country wine made from a local grape, the white Garganega. Even its name - "suave," "gentle" or "smooth" in translation - suggests an early tendency toward the public-relations and marketing side of the wine economy.
Over the past generation, though, as world interest in wine dramatically increased during the 1970s and 1980s, Veneto producers - particularly Soave and its neighbor on the other side of Verona, Valpolicella - saw opportunity in the new demand. They cranked up production, lobbied for regulatory changes, and won permission to dramatically expand the boundaries of their regions and to increase the permissible yields of fruit. In a market dominated by large cooperative and corporate producers, they poured out a sea of lackluster, industrial-style wine that was drinkable at best but certainly forgettable.
The result? They sold a lot of cheap wine, and they lost the world's respect. Aesop would surely have drawn a moral from this.
But quality producers have fought to bring Soave's reputation back. After a series of often politically charged debates, top Soave producers have fought off efforts to expand vineyard yields still further, and have gained permission to add non-traditional grapes like Chardonnay and Pinot Blanc to round out the blend. Now top Soave producers like today's featured Pieropan and Gini, plus Anselmi and others, are making wines that needn't be concealed in brown-paper bags. Choose your Soave from producers recommended by sources you trust; look first for Soave Classico, from grapes grown in the traditional pre-expansion "classic" zone, and you're not likely to be disappointed. Better still, the 2004 vintage is now moving into the market, supplanting the slurpable but generally fruit-forward and idiosyncratic 2003s.
(In case you were wondering, the story is similar in Valpolicella, where trusted producers like Allegrini and many others, particularly in the Classico zone, are making memorable wines worth seeking out.)
TALK ABOUT WINE ONLINE:
If you'd like to ask a question or comment on today's topic (or any other wine-related subject), you'll find a round-table online discussion in our interactive WineLovers Community, where you're always welcome to join in the conversations about wine.
http://community.netscape.com/n/pfx/forum.aspx?nav=messages&
tsn=1&tid=2705&webtag=ws-winelovers
If you prefer to comment privately, feel free to send me E-mail at wine@wineloverspage.com. I'll respond personally to the extent that time and volume permit.
PRINT OUT TODAY'S ARTICLE
Here's a simply formatted copy of today's Wine Advisor, designed to be printed out for your scrapbook or file or downloaded to your PDA or other wireless device.
http://www.wineloverspage.com/wineadvisor1/print060201.html
---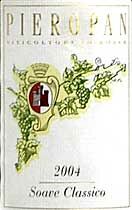 Pieropan 2004 Soave Classico ($16.99)
Brilliant straw color. White fruit and almond aromas are attractive and characteristic of Soave. Flavors are consistent with the nose, crisp and fresh; pleasant minerality and an lingering note of bitter almond add dimension in a very fine wine. U.S. importer: Empson (U.S.A.) Inc., Alexandria, Va. (Jan. 31, 2006)
FOOD MATCH: Well paired with a cross-cultural Italian-Chinese match that Marco Polo would have approved: Shanghai-style pork and broccoli with lots of ginger and garlic.
VALUE: It's up $5 from the local price for this wine in the 2000 vintage, a jump for which the stronger Euro is largely to blame. Still a fair price for a white wine of this quality.
WHEN TO DRINK: Perhaps my attitude is influenced by the mass-market Soaves, but I still see this as a drink-now wine and would advise enjoying it over the next year or two.
PRONUNCIATION:
"Soave" = "So-AH-veh"
WEB LINK:
The winery Website (available in Italian, English and German) is at
http://www.pieropan.it/
The importer's informative fact sheet on Pieropan is at
http://www.empson.com/public/producers/index.php?
region_id=10&producer_id=51&action=select_winery
FIND THIS WINE ONLINE:
Look up prices and locate sources for Pieropan Soave on Wine-Searcher.com:
http://www.wine-searcher.com/find/Pieropan%2bSoave/-/-/USD/A?referring_site=WLP
---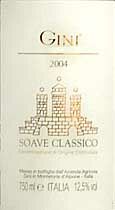 Gini 2004 Soave Classico ($13.99)
A touch of gold adds brightness to this wine's clear straw color. White fruit aromas focus on ripe melon with a distinctly musky hint of canteloupe. Musky melon flavor follows the nose, rather full-bodied for a Soave, melon all but masking a touch of bitter almond in the finish. U.S. importer: Vintner Select, Mason, Ohio, and other regional importers. (Jan. 31, 2006)
FOOD MATCH: Fine with an East Chinese stir-fry of pork and broccoli with ginger and garlic.
VALUE: More than fairly priced in the lower teens.
WHEN TO DRINK: Best enjoyed in the next year or so while it's young and fresh.
WEB LINK:
The Gini Website is available in English, German and Italian:
http://www.ginivini.com/
FIND THIS WINE ONLINE:
Look up prices and locate sources for Gini Soave on Wine-Searcher.com:
http://www.wine-searcher.com/find/Gini%2bSoave/-/-/USD/A?referring_site=WLP