WT101 - Pinot vs. Pinot
Now that the phrase "give me a glass of Pinot Noir" has pretty much replaced the generic "glass of red wine" among those who are with-it or want to be, the noble grape of Burgundy has surely come into its ascendancy, and justly so. In contrast with some of the past wine-grape crazes (who still asks for Merlot or even Chardonnay by name?), Pinot Noir arguably makes some of the world's greatest wines, and most of us didn't need the movie "Sideways" to persuade us of this.
But which Pinot Noir is your pleasure?
For those who tend to favor European flavors, this question is a no-brainer: Burgundy made wine from Pinot Noir first, and it's easy to argue that Burgundy still makes Pinot Noir best.
As recently as the 1980s, the conventional wisdom seemed clear-cut: Producers around the world would love to grow Pinot Noir, but that strange, finicky grape just wouldn't work anywhere but Burgundy. Only a few wild-eyed pioneers, like Josh Jensen (Calera Wine Co.) in California, even tried to make serious Pinot Noir outside of France.
But times change quickly, and a generation later, even if Burgundy still reigns at the top of the heap - and even if some ardent Burg-philes still won't consider anything else - the New World is competitive. Pinot Noir is being grown seriously in just about every wine region; and quite a few places - most notably Oregon, several California wine regions and New Zealand - can credibly claim to make wines that can beat out many Burgundies in fact-to-face matches on any given day.
But bearing in mind that wines reflect not only the fruit but the land and the wine maker's hand, it's important to understand that all Pinot does not taste alike; nor should it. It would be a boring world if all Pinot Noirs were just the same, no matter how much the mega-corporate segment of the wine industry, and perhaps some wine critics, might like that.
Throughout February in our ongoing Wine Tasting 101 feature on WineLoversPage.com, we're taking on "Pinot vs. Pinot," a monthlong inquiry into Pinot Noir, seeking to learn more about the differences among Pinots from all over the world by tasting them and talking about them online.
To kick things off, I've selected two modestly priced Pinot Noirs, one from Burgundy and one from Santa Barbara, the California region that was the setting for "Sideways." Tasted "blind" against each other, with a Pinot-friendly dish of pork loin braised with porcini mushrooms, they proved to be such clear-cut "benchmarks" for the Old World and New World Pinot styles that it was no work of wine-tasting genius to tell them apart ... as the following tasting reports reveal, even the differences in the wines' color and hue gave away the answer.
Both wines were good, and I'm reluctant to declare one or the other objectively "better," but the style differences between the delicate, earthy Burgundy and the ripe, fruit-forward and alcoholic California Pinot were so marked that it's not likely that a fan of one would care much for the other. You pay your money and take your choice.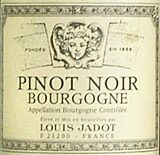 Louis Jadot 2002 Pinot Noir Bourgogne ($15.99)
This is a clear cherry-color wine, not too dark. Comparing it to the much darker wine in the other unmarked glass gives the first signal that this is probably the Burgundy before I even stick my nose in either glass. Light and delicate red-fruit aromas reinforce my impression that this is the French wine, and fresh and crisp but relatively delicate flavors with just a hint of earthy "barnyard" nail down the impression. Simple and pleasant, it's no high-end, cellar-worthy Burgundy but a very good benchmark of the style for a mid-teens price, and a fine food wine. After an hour in the glass it dries up a bit and shows more obvious tannins. U.S. importer: Kobrand Corp., NYC. (Jan. 27, 2006)
WINERY WEBSITE: http://www.louisjadot.com/
FIND THIS WINE ONLINE:
Louis Jadot Pinot Noir Bourgogne on Wine-Searcher.com:
http://www.wine-searcher.com/find/Jadot%2bPinot/-/-/USD/A?referring_site=WLP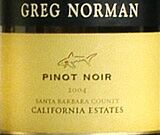 Greg Norman 2004 Santa Barbara County Pinot Noir ($14.99)
Just as the Burgundy hinted at its origins with a classic light Pinot color in the glass, this big boy typifies Central Coast Pinot with its dark, almost opaque reddish-purple color. Ditto for its aroma and flavor profile, which are big and burly, fruit-forward black fruit and spice on the nose, mouth-filling and plummy on the palate, with a hefty 14.2 percent alcohol level manifest in both its body and a sense of heat. It's on the simple side too, commensurate with its mid-teens price; it's as good a "benchmark" of the Central Coast Pinot style as the Jadot is of the French. (Jan. 27, 2006)
WINERY WEBSITE: http://www.shark.com/gnestates/
FIND THIS WINE ONLINE:
Greg Norman Pinot Noir on Wine-Searcher.com:
http://www.wine-searcher.com/find/Norman%2bPinot/-/-/USD/A?referring_site=WLP