An Evening with Franklin and Jefferson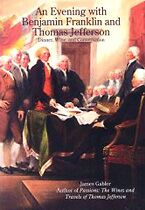 Click the cover image above or this link to order Jim Gabler's "An Evening with Benjamin Franklin and Thomas Jefferson" from Amazon.com paperback for $19.77, a 34 percent saving from the $29.95 list price.

I usually think of January, with its snowy days and blustery nights, as the best time of year to curl up in a cozy place with a good book. This year, though, we've been enjoying such a benign winter in these latitudes (so far, knocking wood) that there hasn't been much bluster, and no snow to speak of. But I've recently run across a book so delightful that it would be almost worth cranking up the air conditioner to create conditions wintry enough to justify curling up and reading.

James M. Gabler's new "An Evening with Benjamin Franklin and Thomas Jefferson: Dinner, Wine, and Conversation, is as much about history as it is food and wine, really. Gabler, a Jefferson scholar and wine lover who wrote the memorable 1989 wine-history book "Jefferson and Wine," is back on familiar ground with the new volume, which came out just in time to celebrate Franklin's 300th birthday on Jan. 17.

In contrast with Gabler's readable but scholarly approach in "Jefferson and Wine," this one starts from a premise that's a bit more light-hearted: The narrator, a college history professor, falls into a deep sleep and, in a dream, is whisked back to 18th century Paris, where he enjoys a leisurely dinner with Jefferson and Franklin (both of whom really were resident in Paris at the time, around 1784).

Prompted by questions by their visitor from modern America, Franklin and Jefferson both comment on issues of their time - and of our time - in their own words, actual quotes taken from their writings. Adding a dimension of food-and-wine interest, the narrative also goes into considerable detail about what's on the table and in the revelers' wine glasses, again drawing extensively on Jefferson's and Franklin's own words.

This can lead to some engaging juxtapositions, as when Jefferson sips 1783 vintage Champagne from the monks at Hautvillllers while likening the modern Patriot Act to "the Alien and Sedition acts that the Federalist Congress passed and President John Adams signed in 1798."

In Jefferson's words, he goes on to say, "One of my first decisions after becoming president was to discharge every person under punishment or persecution under the sedition law, because 'I considered that law to be a nullity, as absolute and palpable as if Congress had ordered us to fall down and worship a golden image; and that it was as much my duty to arrest its execution in every state, as it would have been to have rescued from the fiery furnace those who should have been cast into it for refusing to worship the image.'"

One assumes, as Gabler clearly does, that a latter-day Jefferson would have deep-sixed our Patriot Act with similar certitude. Then the story goes on as the dreaming professor, with a sommelier's skill, pairs a Goutte d'Or Meursault with Normandy oysters; Montrachet with a "macaroni" course sauced with olive oil, Parmigiano and anchovies; and a 1784 Haut-Brion and Margaux with boeuf a la Mode.

Their Champagne aperitif, Jefferson notes, was a still white wine resembling a modern dry white Burgundy. "Sparkling wines were little drunk in France but were alone known and drunk in foreign countries, and sold for about an eighth more."

There's nothing "dry" about the book, though. Its 264 pages of text are amply illustrated with contemporary drawings and extensively footnoted. The anachronistic dream framework might sound gimmicky, but it works. Like a well-aged Bordeaux from Jefferson's cellar, "An Evening with Franklin and Jefferson" is complex and interesting, worthy of contemplation but ultimately entertaining. I came away from the book enlightened and refreshed, feeling that I had learned quite a bit about Franklin and Jefferson and the 18th century world of food and wine.

If you'd like to order "An Evening with Benjamin Franklin and Thomas Jefferson: Dinner, Wine, and Conversation" from Amazon.com, the following link offers it for $19.77, a 34 percent discount from its $29.95 list price.
http://www.amazon.com/exec/obidos/ASIN/0961352566/robingarrswineloA/

Interested in Gabler's "Passions: The Wines and Travels of Thomas Jefferson"? This 1989 volume, which covers in great detail the wine connoisseurship of Jefferson, who was arguably the most enthusiastic "wine geek" of all the Founders, is still in print and also available from Amazon.com. It's $18.87, or 37 percent off the $29.95 list price.
http://www.amazon.com/exec/obidos/ASIN/0961352531/robingarrswineloA/

Wednesday's sponsor, The California Wine Club, featured a remarkable list of small-production California wines currently available for $10.50 per bottle (on case reorders), a saving from 30 percent to 70 percent on specific wines. Here's my tasting report on one of those wines, an amiable Merlot-Cabernet Sauvignon blend from Paso Robles that would make a fine house wine and a remarkable value for that price.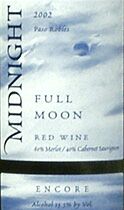 Midnight Winery 2002 "Full Moon Encore" Paso Robles Red Wine ($10.50)
A blend of 60 percent Merlot and 40 percent Cabernet Sauvignon, this is a clear, dark-garnet wine. Good blackcurrant and herbal aromas and flavors are ripe and appropriately tart. It boasts forward, California-style fruit, but it's no mere "fruit bomb." Crisp acidity provides a firm structure and makes it an appealing food wine. (Jan. 21, 2006)
FOOD MATCH: Made for red meat, fine with pan-seared rare flatiron steaks.
VALUE: Like all the wines offered cut-rate on California Wine Club's current sale, it's a no-brainer for 10 bucks and change.
WHEN TO DRINK: Made to be drunk up soon, but it won't go anywhere over a year or two on the wine rack.
WEB LINK:
Here's a link to the Midnight Cellars Website:
http://www.midnightcellars.com/
FIND THIS WINE ONLINE:
Available at this price only from The California Wine Club. Click
http://www.cawineclub.com/store/Wine_Store___Premier_Club?Args=
or call 1-800-777-4443.