Feudi Falanghina
In a country known for its ancient wines and wineries, where many of the most well-known Chianti producers trace their roots back to the 1300s or before, Southern Italy's Feudi San Gregorio is practically a baby. Although the family heritage of owner-winemaker Enzo Ercolino goes back for centuries on this Campania land, the winery was established just 20 years ago, in 1986.
Feudi San Gregorio specializes in the three ancient local wine grapes of the Naples region, all three of which make full, aromatic white wines that I've come to love: Fiano, Greco and Falanghina. In the 2004 vintage, just arrived in the U.S., they've added an exciting trio, featuring each of these varieties in single-vineyard bottlings made with consulting wine maker Riccardo Cotarella.
I couldn't wait for these intriguing whites to work their way down the long pipeline to local shops, so made an exception to my usual rule about buying at local retail and begged the importer to let me take an early peek. Today I'll tell you about the Falanghinas; watch for reports soon on the single-vineyard Fiano (from the Pietracalda vineyard) and Greco (from the Cuttizi vineyard).
Today's single-vineyard Falanghina, "Serrocielo," bears the rather unfamiliar Sannio appellation. This hilly region of Campania, north of Naples, goes all the way back to the ancient Romans, who knew it as "Samnium" and read about its wines not in the works of Robertum Parkerum but Pliny, Cato and Horace. Sannio wines are labeled both geographically and varietally, and may be made from any of the local grapes Aglianico, Coda di Volpe, Fiano, Greco, Moscato, Piedirosso, Sciascinoso or Falanghina.
Feudi San Gregorio 2004 Falanghina ($12)
Clear light gold in color, this classically styled Falanghina offers attractive aromas of white fruit, banana oil and toasted almonds. Fresh and full, good body and texture, flavors follow the nose with mouth-watering acidity to provide texture. U.S. importer: Palm Bay Imports, Boca Raton, Fla. (Jan. 19, 2006)
FOOD MATCH: Haddock dusted with flour and pan-fried with butter and sage, a simple recipe from the Italian Silver Spoon cookbook.
VALUE: Street prices may knock a dollar or two off this suggested retail price tag, but even at $12, it's one of the best values of the year.
WHEN TO DRINK: It's intended for immediate enjoyment, and there's no reason not to drink it now; however, all three Campania white varieties can reward careful cellaring with increased richness and complexity, so you needn't hesitate to age it for five years or more, assuming good cellar conditions.
PRONUNCIATION:
"Falanghina" = "FA-lan-GHEE-nah," with a hard "g" as in "geek."
WEB LINK:
The Feudi San Gregorio Website,
http://www.feudi.it/
offers a choice of Flash or non-Flash pages in Italian or English. For more information, see the Feudi San Gregorio page on the U.S. importer's Website,
http://www.palmbayimports.com/brands.asp?VID=751
FIND THIS WINE ONLINE:
Look up prices and locate sources for Feudi San Gregorio Falanghina on Wine-Searcher.com:
http://www.wine-searcher.com/find/Feudi%2bFalanghina/-/-/USD/A?referring_site=WLP
---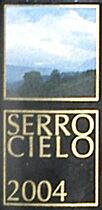 Feudi San Gregorio 2004 "Serrocielo" Sannio ($30)
This is a light but brilliant straw-color wine with glints of gold. Tropical fruit aromas focus on papaya and banana oil with a pleasant whiff of almond in the background. Its full-bodied flavors are consistent with the nose, concentrated and intense, built on a sturdy backbone of tart acidity. This is a fine white wine that rewards time in the glass; its flavors blossomed as it aired and warmed toward "cellar temperature." Don't waste this fine wine by serving it ice-cold. U.S. importer: Palm Bay Imports, Boca Raton, Fla. (Jan. 24, 2006)
FOOD MATCH: Fine with seafood and fish, although its intensity almost overpowered a relatively subtle dish of fresh cod baked Italian-style with thin-sliced potatoes and olive oil. Next time I'll try it with something a little more robust.
VALUE: It's a very fine, limited-production wine, but the $30 range is competitive; watch for it at a discount from this suggested retail price, and consider a few years' cellaring to enjoy its maximum potential.
WHEN TO DRINK: Memorable now, but will probably gain added richness and complexity with a few years' careful aging at proper cellar temperature.
PRONUNCIATION, WEB LINK, FIND THIS WINE:
See above.