Man bites dog, eats cheese and wine
"When a dog bites a man, that's not news. But if a man bites a dog, that's news!"
This bit of apocryphal wisdom - allegedly one of the first lessons taught in Journalism 101 - illustrates the simple principle that the best news stories capture our attention with the shock of the unexpected.
"Man bites dog" met the world of wine this week with a story from the respected wine program at the University of California at Davis. According to reports that have been hitting the media wires, UC/Davis researchers have discovered that wine doesn't go with cheese.
Man bites dog? That's more "like saying Fred Astaire and Ginger Rogers were out of step," marveled the reporters at Decanter.com. Advised Britain's New Scientist: "Next time you are organising a cheese and wine party, don't waste your money on quality wine."
Of course it's not quite that simple. Let's learn a quick secret about journalism and wine tasting today as we flesh out the initial report through a somewhat more nuanced account in the San Francisco Chronicle.
In a study to be published in the March edition of The American Journal of Enology and Viticulture, UC/Davis graduate student Berenice Madrigal and Prof. Hildegarde Heymann undertook a three-month study in which a panel of 11 student volunteers went through a quick wine-tasting training session, then - under rigorous laboratory conditions - tasted eight wines and eight cheeses, rating each combination on a scale of 1 to 10.
The results were man-bites-dog surprising: "In virtually every case," The Chronicle reported, "cheese diminished everything the wine had to say. It muted both desirable traits like berry character and less desirable traits like astringency and bell pepper. It was an equal-opportunity silencer, exhibiting largely the same effect on each varietal, pricey and not. From mild Teleme to pungent Gorgonzola, the cheeses made every wine taste less oaky, less berry-like, less sour."
The effects were generally similar for every pairing, including two samples each (one low-budget, one pricey) of Pinot Noir, Cabernet Sauvignon, Merlot and Syrah, and eight types of cow's-milk cheeses: two hard cheeses (Emmental and Gruyere), two cheddars (from Vermont and New York), two soft cheeses (mozzarella and Teleme) and two blues (Gorgonzola and Stilton). For the record, the blues had slightly more impact on the wines than the soft cheeses, but the differences were insignificant.
What does it all mean? Here's my theory: If you are looking at wine in a cold, dispassionate and utterly scientific way, then you'll want to analyze it in the absence of food or any other distractor. The fact is that cheese goes very well indeed with wine. But because cheese and wine work together as they do, cheese tends to mask the wine's flaws, and the wine and cheese make each other taste better. Hence the old wine-trade saying, "sell on cheese."
So if you want to be a geeky wine geek, then yes, it's fair to say that cheese "spoils" wine insofar as it makes it more difficult to judge the wine analytically. (For similar reasons, this is why wine judges typically use only plain white bread and water to "clear the palate" between tastings.)
But if you just want to enjoy something good without worrying too much about taking notes or assigning points, then of course wine and food go together just fine.
But that's only a dog-bites-man story.
WINE LINKS:
Here are links to some of the articles featured in today's edition:
• UC Davis study challenges classic wine-cheese pairings (San Francisco Chronicle):
http://www.sfgate.com/cgi-bin/article.cgi?f=/c/a/2005/06/16/WIGFFD8IBQ1.DTL
• Wine and Cheese incompatible, says research (Decanter.com):
http://www.decanter.com/news/73330.html
• Vintage or vile, wine is all the same after cheese (NewScientist.com):
http://www.newscientist.com/channel/being-human/mg18925354.700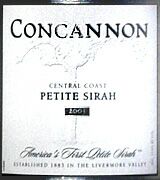 Concannon 2003 Central Coast Petite Sirah ($10.99)
This excellent, good-value Petite Sirah fits our Wine Tasting 101 theme for January. Typical of the grape, the wine is black and all but opaque, with a day-glo violet edge. Perfumed black fruit is lifted by just a hint of high-tone volatile acidity at first, which blows off to unveil simple but deep black fruit. Full-bodied, concentrated and quite tannic, but the mouth-filling fruit and firm acidity carry the tannins well. (Jan. 18, 2006)
FOOD MATCH: Rare red meat is the standard pairing, but I like Petite Sirah with the beefy, earthy flavors of duck. It was well-matched with the recipe for duck breast in a saffron-ginger cream sauce over fettuccine featured in last week's Wine Advisor FoodLetter.
VALUE: No complaints in this just-over-$10 price range.
WHEN TO DRINK: Much more accessible in its youth than many Petite Sirahs, which tend to be hard and tannic until they mature. It's worth long-term cellaring, though, with the understanding that Petite Sirah's aging profile is unusual: It typically remains little changed over a decade or even longer, but can develop real complexity after 10 or even 20 years.
WEB LINK:
Concannon, established in 1883 and still under family ownership, calls itself "America's First Petite Sirah." For information about the winery and its wines, visit:
http://www.concannonvineyard.com/
FIND THIS WINE ONLINE:
Purchase wine through the winery Website,
http://www.concannonvineyard.com/store.html
Or look up prices and locate sources for Concannon Petite Sirah on Wine-Searcher.com:
http://www.wine-searcher.com/find/Concannon%2bPetite/-/-/USD/A?referring_site=WLP