Wacky labels and celebs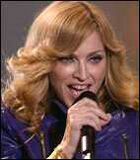 Pop-music star Madonna, a.k.a. "The Queen of Pop," plans to launch her own wine label, the British news media breathlessly reports.
The bottles will bear Madonna's image and will come with a "certificate of authenticity," according to The Daily Express, which reports that there'll be four wines in the series - ranging up to a relativly spendy 2002 Cabernet Sauvignon at £25 (close to US$50) - plus a non-alcoholic "wine" for fans who don't do the alcohol thing.
Meanwhile, speaking of celebrities and their wines, the usually staid Decanter this week passed along news about the Hollywood star Johnny Depp's favorite wine: Château Calon-Ségur, a mere third-growth Bordeaux from Saint-Estèphe. "It's a marvellous wine that you can drink every day and it's also very affordable," Decanter reported, quoting from a Depp interview in the French magazine Madame Figaro.
"Affordable" may be in the eye of the beholder, as Calon-Segur 2000 currently commands $50 or so from U.S. retailers, with the 2003 vintage going for $70 and up. But Depp probably isn't worrying much about his wine bills, having reportedly pocketed $18 million for his recent role in Charlie and the Chocolate Factory. A few other Depp favorites from the extreme high end of the wine-price spectrum: Château Pétrus, Château Cheval-Blanc and Domaine de la Romanée-Conti. "With those wines, you reach nirvana," he said.
Yeah, right!
From the cultish Marilyn Merlot (a fair-to-good Merlot in a collectible bottle) to '80s-era Italian wines bearing unauthorized images of Elvis-on-velvet on the label, the wine industry has rarely been loath to take advantage of celebrity names to sell wine, knowing that an eager fan base will lay down cash for their favorite celeb's wine without worrying over-much about what's in the bottle.
For those who are more interested in wine than celebrities, I recommend appropriate skepticism, just as I do when you are confronted with a wine bearing the picture of a cute animal, a humorous or risque label, or even an offbeat bottle colored neon blue or glowing red. In a marketplace with literally thousands of wine choices, we can't blame a producer (or his marketing geniuses) for seeking a marketing gimmick that will make his wine stand out on a crowded shelf.
But it's what's inside the bottle that counts. If you can't resist parting with your cash because you love Madonna or your heart is touched by a label with a picture of a cute kitten or noble dog or hilarious clown, please be my guest. But I suggest tasting a glass before you go back for a case.
Please note that I am not suggesting that we shun all wines with sexy or silly labels. Quite a few of the most wacky items, like Bonny Doon's "Cardinal Zin" and other labels designed by the cartoonist Ralph Steadman, can be excellent, not to mention Bonny Doon's "Il Circo" line of Italian wines with circus-poster labels and its "Ca' del Solo" portfolio of Italian-style wines from California. The "Goats do Roam" South African wines and France's "Fat Bastard" are more than passable, too, and the list goes on.
So, don't buy a wine just because of the label or a celebrity endorsement, that's my advice. But don't reject a wine untasted for the same reasons. Let your taste buds be your guide.
Let's finish up with an abbreviated short-form tasting report on a familiar low-end item, Smoking Loon, a brand from Don Sebastiani & Sons that features a colorful, primitive-art label featuring a loon with a big cigar in his beak. The wine? Well ... it's OK.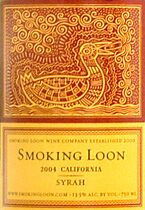 Don Sebastiani & Sons Smoking Loon 2004 California Syrah ($9.99)
This is an inky, blackish-purple wine with pleasant, simple black-plum aromas and a distinct smoky element that opens up with time into something that bears a surprising resemblance to that last cup of burnt coffee from the bottom of a truck-stop urn. Full-bodied, fruit-forward, flavors follow the nose; ample acidity for balance and a hint of tannin, with that odd bitter-coffee element as an offbeat but not really unpleasant back theme. (Jan. 16, 2006)
We quaffed it with a dinner of Chinese takeout and found it surprisingly well matched with hot-sweet tangerine chicken. It's not entirely out of line for the price, although I've had much better $10 wines; I would not recommend aging it.
The Geoffrey Roberts Award
This just in from my favorite wine writer, Britain's estimable Jancis Robinson, who reminds us that applications are now being sought for the eleventh annual international Geoffrey Roberts Award, which commemorates the life of Britain's pioneer importer of fine New World wine.
The Award, which includes a "travel bursary" of £3,000 (nearly US$6,000) is open for application by anyone of any age and location who can convince the judges - who are luminaries of the world of gastronomy - that they will use the bursary in a way that is likely to make a positive difference to the worlds of food, drink and/or travel.
The winner of the 2005 Geoffrey Roberts Award, New Zealander Mary Taylor, used her £3,000 bursary to revisit some of the most remote fishing villages on the south coast of Sri Lanka with the specific aim of returning home and raising both funds and awareness of the island as a holiday destination.
"Returning to Sri Lanka in June was wonderful and very sad. It was apparent that much of the international aid package [following the tsunami] had not yet got through, for a variety of reasons." Since her return to New Zealand she has held a series of Sri Lankan-themed events, each of which has generated enough money to buy an oru, or traditional outrigger, with additional funds for rehabilitation within the fishing community.
Want to apply? Applications must be received by March 31. For full details, visit
http://www.geoffreyrobertsaward.com