FAQ: Wine to keep for 20 years
Of all the FAQ's ("Frequently Asked Questions") that we receive, one of the most difficult is a recurring query that comes from proud new parents or happy young newlyweds, hoping for advice on a good wine that they can put aside to enjoy on their 25th wedding anniversary or to celebrate the child's 21st birthday or wedding.
The difficulty stems from a dilemma: It feels cruel to dampen such optimistic enthusiasm, but the short answer is that this sentimental idea, if not impossible, is usually impractical at best.
Why so? Here's the story, as I told it this morning to a couple seeking a 2005 wine (preferably available for $25 or less) to save for the wedding of their daughter born last autumn:
"It's a lovely idea, but there are some challenges that make it a bit less practical than it initially seems.
"Most wines aren't made to last for 20 years or more. The vast majority of all the world's wine is designed to be drunk up within a year or two, or a few years at most, while it's young and fresh. The wines that do have the potential for lasting tend to be much more expensive, and the quality of a particular vintage (year) can vary depending on the weather. It's still a little early to tell how the 2005 wines from various regions will be, because most of the ageworthy wines take a year or more in production before it's possible to judge them.

"Even if you select a wine with the potential to keep until your daughter's wedding, you have the problem of storing it properly. Unfortunately, even the most ageworthy wine will last that long only if you're able to keep it under proper cellar conditions. A simple wine rack won't do ... not for that long a term. You'll need to invest in a temperature-controlled system that can keep the wine at a constant 55F ... and cross your fingers that it never goes out (or you never have a long power outage) at a time of year that can expose the wine to excess heat.
"Yes, it can be done. But it's not easy, and unless you already are or have an interest in becoming the kind of serious wine enthusiast who keeps a substantial wine collection in a proper cellar, chances are it won't be worth the effort.
"One possible compromise: There's a specific kind of wine called Madeira - a strong 'fortified' wine that's usually made as a sweet dessert wine but also comes in dry (unsweet) versions - that is an exception to the rule because it will last for many years even under less-than-ideal conditions. The downside is that it's not usually made with a vintage designation, so the bottle you buy won't carry the specific year of your daughter's birth. But you can certainly get Madeira in most quality wine shops, and you should be able to get a decent one within or close to your budget.
"You might also consider a non-wine gift that will last, and possibly appreciate. How about something like a certificate of deposit or bond or a few shares of stock in a company with some symbolic value?"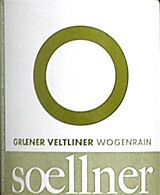 Soellner 2004 "Wogenrain" Donauland Grüner Veltliner ($16.99)
Just about every time I uncork another Austrian Grüner Veltliner, I whack myself on the forehead and ask why I don't do this more often. Refined, complex and very food-friendly, this variety is gaining some "cult" status outside its native land in Austria, but it's still surprisingly uncommon for a whine so good. This one's typical in every sensory dimension: Clear light straw color. Pear and characteristic green-pea aromas. Crisp and citric flavor, nicely balanced, finishing with that attractive stony minerality that prompts Austrian wine makers to wax lyrical about the benefits of "drinking stones." U.S. importer: Weygandt-Metzler, Unionville, Pa. (Dec. 20, 2005)
FOOD MATCH: Grüner Veltliner ranks close to Riesling in its ability to match well with an amazing range of foods, and it's gaining notice as the ideal partner for spicy Southeast Asian fare. I went a little more off-the-wall, pairing it successfully with a modern take on '60s Italian-American comfort food, turkey Tetrazzini, updated with porcini mushrooms and Parmigiana.
VALUE: I paid a couple of bucks above the going rate for the convenience of picking up the wine at a pricey grocery-store shop. Look for it for less, but in fairness, the middle teens is an appropriate neighborhood for a white wine of this quality.
WHEN TO DRINK: It's drinking beautifully now and need not be aged. Evidence is mounting, however, that quality Grüner Veltliner will age with surprising grace. If you have good cellar conditions, it would be worth holding it for five years or longer to see where it goes.
PRONUNCIATION:
"Grüner Veltliner" = "GREEN-er Felt-LEEN-er"
WEB LINK:
The Soellner Website's link to an English page is non-functional, but you'll find a comprehensive German-language report here:
http://www.weingut-soellner.at/
FIND THIS WINE ONLINE:
Check prices and find vendors for Soellner Grüner Veltliner on Wine-Searcher.com:
http://www.wine-searcher.com/find/Soellner%2bGruner%2bVeltliner/-/-/USD/A?referring_site=WLP