This article was published in The 30 Second Wine Advisor on Friday, Jan. 13, 2006.


The many faces of Chianti

Chianti has come a long way since that time, not so terribly long ago, when most of us knew it as cheap "spaghetti wine," customarily offered in cute bottles wrapped in wicker baskets, suitable for recycling as candlesticks.

There's always been more to Chianti than that, of course. Chianti's proud Tuscan heritage goes back more than 700 years. And while it's still a pretty good spaghetti wine, Chianti in the past generation has fully restored its luster as a serious, world-class wine, becoming one of the first Italian wine regions to earn the DOC (and later DOCG) designation. It also spawned the new and perhaps even more lustrous "Super Tuscan" category, but that's another story.

This should be old news to most wine enthusiasts, but let's recap briefly in case you're rusty: The Chianti region spans a broad swath of Tuscany in Northern Italy, from Florence to Siena and from Umbria to the sea. Its blend or "recipe," altered a bit from tradition in modern times, must include from 75 percent to 100 percent Sangiovese, and up to 10 percent each of Canaiolo, other local red varieties, and/or the white Trebbiano or Malvasia. (The inclusion of white grapes, once mandatory, is now optional, and the possibility of 100 percent Sangiovese without any other grapes is also a recent innovation.)

Grapes grown anywhere in the region may go into basic Chianti, but only grapes from the traditional central region, between Florence and Siena, may qualify for the "Chianti Classico" designation, which also calls for slightly longer aging before release. Higher alcohol levels qualify for the title "Superiore," and longer aging - 24 months, compared with six for Classico and five for regular Chianti - adds the title "Riserva."

Pick up a bottle of Chianti Classico Riserva, and you're dealing with (and paying for) something with a lot more gravitas than a simple pizza or spaghetti wine. These are serious, world-class wines that demand cellar time to show at their mature best.

Today, inspired by the recent arrival of an affordable but tasty 2004 Chianti from the Siena region, I thought it might be interesting to point out another, somewhat less well-known, aspect of Chianti. In addition to the broad Chianti region and the central Classico zone, the Chianti regulations permit special regional labels for wines made from grapes grown in seven sub-regions scattered around the map of Tuscany.

Some of the sub-regions are fairly widely available, while a few are rare enough that I have yet to see them sold outside Italy. Here's a quick field guide to help you recognize these rare birds if you see them:
From Arezzo, Chianti Colli Aretini
From Pisa (yes, the place with the Leaning Tower), Chianti Colline Pisane
From the region near Florence, Chianti Colli Fiorentini, Chianti Montespertoli and Chianti Rufina
From near Florence and the villages Pistoia and Prato, Chianti Montalbano
And from the historic region around the city of Siena on the south end of Chianti, Chianti Colli Senesi, "Chianti from the Siena hills." (The words "Colli" and "Colline," seen in several of the regional names, simply mean "hills.")
In contrast with the kind of detailed attention that wine "geeks" lavish on detecting and understanding the subtle differences among French wine villages, I haven't seen a great deal of similar discussion - at least in English - about consistent terroir distinctions among the sub-regions of Chianti. Perhaps that will come as Chianti's modern reputation continues to grow. For now, suffice it to say that I find the sub-regional Chiantis often provide excellent quality for price. That's certainly true of today's tasting, a 2004 Chianti Colli Senesi from Fattoria della Vitae. My tasting report follows.
WEB LINKS:
My favorite place to glean detailed information in English about Italian DOC rules and regulations, complete with maps, historical summaries and even recipes for traditional local foods to match, is the Italian Trade Commission's extensive Website, ItalianMade.com. Here's its discussion of Chianti in general:
http://www.italianmade.com/wines/DOC10009.cfm
Here's the page on Chianti Classico:
http://www.italianmade.com/wines/DOC10008.cfm
And a map of the region, showing the relationship of the vineyard area to the surrounding cities.
http://www.italianmade.com/wines/DOC-info10009.cfm
TALK ABOUT WINE ONLINE:
If you'd like to ask a question or comment on today's topic (or any other wine-related subject), you'll find a round-table online discussion in our interactive WineLovers Community, where you're always welcome to join in the conversations about wine.
http://community.netscape.com/n/pfx/forum.aspx?nav=messages&
tsn=1&tid=2336&webtag=ws-winelovers
If you prefer to comment privately, feel free to send me E-mail at wine@wineloverspage.com. I'll respond personally to the extent that time and volume permit.
PRINT OUT TODAY'S ARTICLE
Here's a simply formatted copy of today's Wine Advisor, designed to be printed out for your scrapbook or file or downloaded to your PDA or other wireless device.
http://www.wineloverspage.com/wineadvisor1/print060113.html
---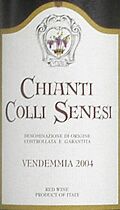 Fattoria della Vitae 2004 Chianti Colli Senesi ($8.99)
This is a dark garnet wine with a reddish-purple glint, a little more shaded toward blue-violet than Chianti's usual reddish highlights, perhaps signaling its youth. Spicy black-cherry aromas are typical of basic Chianti, as are its fresh and bright flavors, simple black fruit nicely balanced by crisp acidity, making for a fine food wine. U.S. importer: Kysela Pere et Fils Ltd., Winchester, Va. (Dec. 18, 2005)
FOOD MATCH: Moving away from the stereotypical red-sauced pasta or the traditional red meat (although either would have been just fine), we paired it with a tasty if less obvious match: rich, dark turkey thighs seared on the stovetop and finished in the oven.
VALUE: Fine value, and reassuring to find wine of this quality still available in the single-digit range.
WHEN TO DRINK: Not meant for long-term cellaring, but it should certainly hold up for a year or two on the wine rack.
PRONUNCIATION:
"Chianti Colli Senesi" = "Key-ahn-tee Coal-lee Seh-nay-see"
WEB LINK:
The U.S. importer offers a fact sheet on Fattoria della Vitae and its wines at this link:
http://www.kysela.com/italy/vitae.htm
FIND THIS WINE ONLINE:
Check prices and find vendors for Fattoria della Vitae on Wine-Searcher.com:
http://www.wine-searcher.com/find/Fattoria%2bVitae/-/-/USD/A?referring_site=WLP
WineLoversPage.com