This article was published in The 30 Second Wine Advisor on Monday, Jan. 9, 2006.
Hospice du Rhône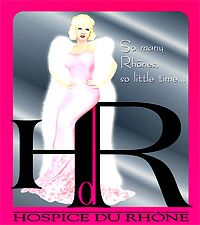 "Hospice du Rhône" ... the name sounds mighty French, right down to the little circonflex rooftop over the "ô" in "Rhône."
In fact, this outstanding wine-enthusiast event with the French-accented name takes place deep in the heart of California, though it's admirably international in approach. Set for its 14th annual outing on May 11-13, 2006, in Paso Robles on the Central Coast, HdR showcases an international array of wines and wine producers making wines from Syrah (Shiraz), Grenache, Mourvedre, Viognier, Roussanne, Marsanne and all the other classic red and white varieties of France's Rhône Valley. Billed as the largest celebration of Rhône-style wines in the world, HdR fully lives up to its 2006 slogan, "So Many Rhônes, So Little Time ..."
Registration for the three-day event's 2006 outing opens today on the HdR Website, www.hospicedurhone.com, Paso Robles wine maker Mat Garretson, proprietor of Garretson Wine Co. and organizer of the first Hospice du Rhone, announced today.
"Start your engines! The 2006 Hospice du Rhone website is now open for registration," Garretson wrote in a post on our WineLovers Community. "By all accounts this will be the best HdR yet ... everything's been improved upon, and we're expecting the largest turnout of overseas producers to date ... especially from France. If you've an interest in attending, I'd strongly suggest checking out http://www.hospicedurhone.com soon."
I concur. If the idea of a long spring weekend on the Central Coast, socializing with wine lovers, tasting wines from scores of Rhône and Rhône-style producers, meeting the wine makers and attending an array of eductional and entertaining seminars appeals to you, you'll want to mark your calendar now, get registered, and start making plans to head for Paso Robles in May.
The weekend package, which incluces continental breakfast and lunch on Friday and Saturday, two seminars and extensive tastings each day and a live auction and farewell gala on Saturday, is $795 a person, not including accommodations. To go direct to the registration page, click
https://www.hospicedurhone.org/eventreg2006.html
As noted, the Hospice du Rhône home page is
http://www.hospicedurhone.com
To read Garretson's announcement on our online forum, including a "rough draft" summary of the HdR seminars, click
http://community.netscape.com/n/pfx/forum.aspx?
nav=messages&tsn=1&tid=2223&webtag=ws-winelovers

Now, sticking with the Rhône theme, today's tasting features a tasty and approachable budget-range wine from the Cotes-du-Rhône, also the first of the 2004 vintage that I've seen locally. After a year of alternately ranting and raving about the very odd and variably appealing wines from the super-hot summer of 2003 in Europe, I'm looking forward to exploring the wines of 2004, which was generally a much more "normal" year on the Continent. Watch for more '04 notes coming soon.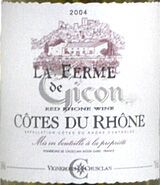 La Ferme de Gicon 2004 Côtes du Rhône ($7.99)
This is a dark reddish-purple wine with a bright garnet edge, showing the bluish-purple colors that are often characteristic of a young red wine. Aromas are fresh and bright, ripe raspberries and spice. Juicy and tart, red-fruit flavors follow the nose; fresh and almost grapey with a dash of fragrant pepper. Mouth-watering acidity becomes more apparent in the finish. Fruit-forward, but plenty of acidity to provide good structure in a simple but appealing wine. U.S. importer: Cellar Door Selections LLC, Columbia, Md. (Jan. 7, 2006)
FOOD MATCH: The wine's simple fruit and snappy acidity made it a surprisingly good match with a roast bone-in pork loin, which seemed to bring out the wine's grapey fruitiness.
VALUE: A fine value at this low-end price.
WHEN TO DRINK: There's no point in aging this simple, approachable table wine. Enjoy it this year, while its youthful fruit is juicy and fresh.
PRONUNCIATION:
"Côtes du Rhône" = "Coat doo Rone"
FIND THIS WINE ONLINE:
Find Ferme la Gicon wines on Wine-Searcher.com:
http://www.wine-searcher.com/find/Gicon%2bRhone/-/-/USD/A?referring_site=WLP
WineLoversPage.com