This article was published in The 30 Second Wine Advisor on Friday, Jan. 6, 2006.
What hath Sideways wrought?

The unexpected boost that the romantic comedy movie Sideways gave to the sales of Pinot Noir late in 2004 apparently continued through 2005, as just about any bottle of wine with the name of Burgundy's great grape on the label went flying off the shelves.

Data from market-research company ACNielsen revealed that Pinot sales spiked after Alexander Payne's movie opened in October 2004, then again last spring when the DVD hit the market. Nearly 1,200,000 twelve-bottle cases of Pinot were sold during the first nine months of last year, representing a 44 percent increase over same period in 2003, making it the fastest-growing varietal wine on the market, reported USAToday's Jerry Shriver, analyzing the ACNielsen report.

Restaurants across the nation added Pinot to by-the-glass menus, and speaking of glasses, wineglass maker Riedel told USAToday that its sales, driven by its Pinot Noir glasses (which retail from $12 per glass for the basic model to $95 for the high-end Sommelier series) had gone up 45 percent for the year.

The situation - from the consumer standpoint - may be set to get even worse. Thanks to a rainy spring and cool, foggy summer in California's North Coast wine-growing regions, including the Pinot-rich Russian River Valley, Anderson Valley and the Sonoma Coast, the recent Pinot Noir vintage in that region came in at less than half normal amounts, setting up a supply-vs-demand situation that could see prices jump when the '05 vintage hits the market.

And while the Central Coast, where Sideways was filmed, enjoyed a better harvest, observers say it won't be surprising to see that region's producers raise prices to bring their historically underpriced offerings more into line with North Coast Pinot.

Less wine for more money? That's a problem. And here's another: As new, Sideways-driven brands hit the market, I'm finding them of variable quality at best. I've enjoyed some very good items, a couple of stinkers, and quite a few - like today's featured wine, picked pretty much at random from recent tastings - that I wouldn't quite diss as "stinkers" but that, for me, fail to deliver what I look for in Pinot Noir, and certainly not for the price. It's Bishop's Peak, a new label made from purchased grapes by the folks at San Luis Obispo's respected Talley winery, which seemed reassuring; but its simple one-dimensionality and harsh, brandy-like alcoholic heat left me wishing I had just stuck with Burgundy.

My advice is simple. If you're just looking for "Pinot Noir" as a with-it way to ask for "a glass of red wine" and aren't really in the market for varietal character or a wine-geek experience, go with the lowest-cost glass on the wine list. If you're setting a higher standard and want serious Pinot in your glass, then be a properly skeptical consumer. Jump on the Internet or check with a trusted merchant, and find out what the sources you trust are saying about specific brands - particularly new ones - before you invest.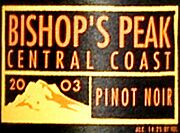 Bishop's Peak 2003 Central Coast Pinot Noir ($18.99)
This is a very dark reddish-purple wine, the first hint to the wary that it may not be typical Pinot, since classic Pinots often tend to be light in color. The aromas are fruit-forward but rather simple, plummy red fruit, with a high-toned, brandy-like note that betrays its hefty 14.2% alcoholic content. Full and ripe in flavor, fruity if one-dimensional, it hits the palate with a first impression that's soft and nearly sweet, but develops tart acidity and alcoholic heat in a not overlong finish. (Dec. 30, 2005)
FOOD MATCH: A Lyon-style dish of quick-sauteed calves' liver with caramelized onions, finished with a dab of butter and meyer lemon, would have been a great match with a Burgundy or even a more restrained New World Pinot, but this brash blockbuster wannabe overpowered it badly.
VALUE: No bargain in my book at this upper-teens price, which, however, is close to the upper end of its range. If you can find it below $15 it might be worth a closer look, if you like Pinot in this full-bore New World style.
WHEN TO DRINK: Hard to predict in this idiosyncratic style, but for the record, I don't plan to cellar any of it.
WEB LINK:
Here's a link to the Bishop's Peak Website:
http://www.bishopspeak.com
FIND THIS WINE ONLINE:
Look for Bishop's Peak wines on Wine-Searcher.com:
http://www.wine-searcher.com/find/Bishop%2bPeak%2bPinot/-/-/USD/A?referring_site=WLP
WineLoversPage.com