This article was published in The 30 Second Wine Advisor on Wednesday, Jan. 4, 2006.
Que Syrah, Sirah

Syrah, Shiraz, Sirah ... what's the difference? Historically, it's been simple enough, if a bit confusing, to sort out these similar grape names:
Syrah is the great French red-wine variety of the Rhone Valley, a grape that legend traces to the Crusaders but that in reality goes even farther back, probably brought to Gaul by the Romans some 2,000 years ago.
Shiraz is the name that the Australians gave Syrah, perhaps inspired by that same Crusader legend, which holds - romantically if inaccurately - that the French knight Gaspard de Sterimberg brought the first vines home to his Hermitage vineyard in the Rhone from Shiraz in Persia.
Sirah-with-an-I - Petite Sirah - is a California grape most likely named by 19th century marketers to evoke the real Syrah. Known in France as Durif and long thought to be unrelated to Syrah, it's now known to be a direct descendant of Syrah, a cross between true Syrah and another little-known French variety, Peloursin. This lineage is further complicated by the fact that some old California "field-blend" vineyards of mixed vines have traditionally been misidentified as Petite Sirah.
All three sound-alike grapes can make similar wines, peppery and robust, but those wines span a considerable spectrum from soft, fruity and slightly sweet to big, tannic and ageworthy. Australia's Shiraz often pushes the limits of fruit-forward, jammy and powerful, while the most memorable Syrahs of the Northern Rhone - Hermitage, Cote-Rotie and Cornas in particular - although big wines also, tend more toward the structured and tannic, astringent but muscular, requiring cellar time.
Grown in warm New World climates (or unusually hot European summers), Syrah shows a boldly fruity red-berry nature and may well be vinified with the free-handed use of oak; look for a signature fragrant black-pepper character and plenty of astringent tannin in cooler-climate Syrah.
California Syrahs can go either way, and in an intriguing complication, an increasing minority of the Golden State's Syrahs - including the Hayman & Hill featured in today's tasting report - are labeled "Shiraz" these days, perhaps as a marketing ploy aimed at capturing some of the critical buzz that surrounds the version from Down Under.
Petite Sirah, meanwhile, has won a loyal corps of fans, even if some Syrah aficionadoes diss it as second-rate. At its best, "P.S." makes a hearty, ageworthy wine that earns its reputation the old-fashioned way.
This month in our Wine Tasting 101 forum, we reprise one of last year's most popular topics, "Que Syrah, Sirah," sorting out the differences among these familiar names. You're encouraged to taste the Syrahs, Shirazes and Petite Sirahs of your choice, then drop in to WT101 to share your tasting reports, ask questions and talk about your impressions.
Why "Shiraz"? Perhaps because the Hayman half of the partnership is an Australian. Hayman & Hill is a venture between two principals of California's Blackstone Winery, Hayman (senior vice president of operations of giant Constellation Brands' Pacific Wine Partners, which owns Blackstone and other properties), and Dennis Hill, Blackstone's chief winemaker.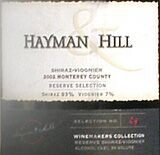 Hayman & Hill 2002 Monterey County "Reserve Selection" Shiraz-Viognier ($11.99)
Spanning three continents in its marketing if not its style, this California wine adopts the Australian name "Shiraz," while emulating the practice of the French Northern Rhone by using a splash (7 percent) of white Viognier to "lift" the hearty red with the white grape's aromatic flavors. The result, sadly, is a bit spoiled by a whack of new oak that brings to the nose an unfortunate impression of freshly sanded wooden floors. Inky blackish-purple with a day-glo violet edge, the wine's woody, almost resinous oak aromas are less than appealing, but the flavor redeems the wine with bright and forward red-berry flavors and crisp acidity, with oak present only as a spice. (Jan. 3, 2006)
FOOD MATCH: A rare pan-seared flatiron steak helps bring the wine around, showcasing its fruit while diminishing that markedly oaky aroma.
VALUE: Apart from its excessive reliance on wood, it's a full-bodied, robust wine with recognizable Shiraz-style Syrah character, and it's reasonably priced against the competition at just over $10.
WHEN TO DRINK: Its heft and forward fruit should hold it for a year or two on the wine rack, but I don't see it as a wine for longer-term cellaring.
WEB LINK:
A page about Hayman & Hill appears to have been removed from the Pacific Wine Partners' Website, which has its home page here:
http://www.pacwine.com/
FIND THIS WINE ONLINE:
Find vendors and compare prices for Hayman & Hill on Wine-Searcher.com:
http://www.wine-searcher.com/find/Hayman%2bHill/-/-/USD/A?referring_site=WLP
WineLoversPage.com