This article was published in The 30 Second Wine Advisor on Friday, Dec. 30, 2005.
Affordable bubbly

Let's make one thing perfectly clear: When nothing but the best will do in sparkling wine, and price is no object, there's only one option: Champagne, the real deal from France. Champagne has been mastering the secrets of quality bubbly since the Benedictine monk-and-winemaker Dom Pierre Pérignon perfected the stuff during the 1660s. With all those years of experience under their belts, plus the benefits of Pinot Noir, Chardonnay and Pinot Noir vines that go back for generations, it's no surprise that the Champenois have got it just about right.

But you'll pay a price for all that history, not to mention all that labor-intensive, made-by-hand production and bottling. It's a rare thing to find a quality non-vintage Champagne for less than $25 or so, and fine vintage labels quickly rise into the triple figures.

Sometimes, frankly, when we balance the benefits of cost and value, it's reasonable to leave a few bucks in our pockets and choose "almost as good." The key to making fine sparkling wine is hardly a secret - even cloistered monks are bound to babble a bit after 340 years - and there's plenty of fine bubbly to be had from sources as varied as Italy, Spain, the U.S., South America, Australia and beyond.

Frankly, I could make a case that New Year's Eve, with its attendant party-time frivolity, is hardly the best time for in-depth tasting and analysis anyway, so it makes sense to save the high-end stuff for a more contemplative occasion. Here's a quick regional rundown of several sparkling alternatives, followed by two specific suggestions in the mid-teens range from my recent tastings.

ITALY - Perhaps the top Italian sparkling wine is Franciacorta, from Lombardy, a serious bubbly made by the traditional Champagne-style fermented-in-the-bottle process. Franciacorta can easily match non-vintage Champagne for quality, but it also gives Champagne a run for its money, literally, in price. For budget bubbly enjoyment, consider Prosecco, the fun, frothy sparkling wine from the region around Venice in the Northeast. Gaining popularity around the world for its good balance of quality and price, Prosecco is made by the Charmat process - carbonated in vats, not individual bottles - but in contrast with cheap U.S. sparklers, it shows up well. Mass-market labels can be forgettable, but look for artisanal Prosecco, particularly from the Valdobbiadene region, for my pick as the season's best affordable bubbly. Look for value in the $15 to $20 range, with a bit of wariness as the price drops toward $10. In a quick footnote, the long-popular Asti (formerly Asti Spumante), made from Moscato grapes, offers an interesting alternative for those who appreciate their bubbly intensely grapey and sweet.

SPAIN - The most familiar imported sparkling wine other than Champagne is surely Spanish Cava, which is made all over Spain, with popular brands including Freixenet and Codorniu hailing from the region around Barcelona. My personal preference leans slightly toward Prosecco in a one-on-one match, but the popular Spanish brands are hard to beat for simple fizzy enjoyment in the $10 range.

THE U.S. - You'll find the full range here, from very high-end bubblies that approach Champagne in cachet, to horrifying industrial swill that's no value at $5. It shouldn't pass notice that many of the top French Champagne producers, including Chandon, Mumm, Roederer, Piper and more, have established vineyards and production facilities in California. They don't call the resulting product "Champagne," though, although the all-American Korbel and a few other producers use the French name, taking advantage of a loophole in international treaties that bar abuse of the brand by most other nations.

THE REST OF FRANCE - Don't forget that even in France, producers outside Champagne mustn't use the regional word, or even "Methode Champenoise," on the label. Look for Cremant, instead, linked with a regional name. Some of my favorites include Cremant de Bourgogne, Cremant d'Alsace, Blanquette de Limoux and, maybe best of all, the delicious and affordable sparkling Chenin Blanc, Cremant de Loire.

THE REST OF THE WORLD - I've had credible sparklers from Australia (where Chandon operates yet another international facility), not to mention the whole strangely intriguing concept of sparkling red Shiraz, which may reach its pinnacle in the fabled Rockford Black; the folks at D'Arenberg in McLaren Vale, even make a pinkish bubbly from the hybrid grape Chambourcin. You'll find good sparklers from South America (where bubblies come from both Argentina and Chile), South Africa and even from Great Britain, where I've sampled a remarkably good sparkling wine from Bob Lindo's Camel Valley winery in Cornwall; I also hear good things about Britain's Nyetimber sparkling wine. Sparkling wines come from just about everywhere. Germany calls it Sekt, but keeps most of the production at home; you'll find only an occasional export. I've had excellent sparklers from Michigan (Mawby) and intriguingly offbeat sparkling ice wine from Canada (Inniskillin), not to mention a couple of Bulgarian and Georgian bubblies that didn't really inspire a wish for a second glass.

Whatever you choose to open Saturday night, my best New Year's wishes to you all. May 2006 be a year of peace, prosperity and joy.
---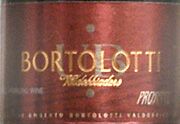 Bortolotti Spumanti Prosecco Valdobbiadene Extra Dry ($16)
This very pale straw-color wine shows a slight brassy-greenish cast, with a steady stream of Champagne-style bubbles, small and persistent. Lovely citrus scents evoke lemon and lime and their oily zest. Crisp and fresh, tingly mouthfeel, with citrus and gentle acidity continuing in a long finish. An excellent Prosecco. U.S. importer: Vintner Select, Mason, Ohio. (Dec. 28, 2005)
FOOD MATCH: To spotlight sparkling wine's broad affinity for diverse foods, we paired it with a light Middle Eastern dinner of Palestinian sesame bread with goat cheese and yogurt and Iranian-style sabzeh, mixed fresh herbs.
VALUE: While a side-by-side tasting with a quality Champagne would reveal the real deal's greater complexity and finesse, this sparkler's fresh, clean and crisp character make it an exceptional substitute at a fraction of the price. Excellent value.
WHEN TO DRINK: Not a wine for aging, and the lack of a vintage or open "pull date" adds a complication. Best consumed reasonably soon (within months) of purchase.
PRONUNCIATION:
Prosecco = "Pro-SECK-coh"
WEB LINK:
The Bortolotti Website is published in Italian, German, French and English. Here's the English-language start page:
http://www.bortolotti.com/lineaub.asp?language=uk
FIND THIS WINE ONLINE:
Find vendors and compare prices for Bortolotti Prosecco on Wine-Searcher.com:
http://www.wine-searcher.com/find/Bortolotti%2bProsecco/-/-/USD/A?referring_site=WLP
---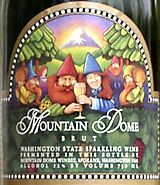 Mountain Dome Brut Washington State Sparkling Wine ($16)
This is a clear light-gold sparkler with an active and persistent bubble stream. Apple aromas add a prickly, slighty sulfury note that's slightly reminiscent of freshly made sauerkraut, a descriptor that's not meant as negatively as it may sound to those who aren't fans of this German treat. There's no kraut in the flavor, just juicy white fruit and crisp, fresh and lingering acidity; if it's not bone-dry, there's just a hint of fresh-fruit sweetness behind the acidic tang. Not that anybody would buy wine for the label, this one's cartoonishly colorful, hippie-type gnomes might bring a chuckle to a New Year's party. (Dec. 29, 2005)
FOOD MATCH: Eggs and egg dishes have a reputation, not entirely deserved, for being difficult to pair with wine. Bubbly is one of my standard egg matches, and this one worked well, with extra points for its compatibility with a chive-scented Gloucester cheese in the filling.
VALUE: Decent bubbly for a mid-teens price.
WHEN TO DRINK: While it's not made for aging, its medium body, fruit and good acidic structure suggest that it wouldn't fall apart for a few months or even a year on a wine rack.
WEB LINK:
Here's a link to the Mountain Dome Website:
http://www.mountaindome.com/

FIND THIS WINE ONLINE:
Find Mountain Dome Brut on Wine-Searcher.com:
http://www.wine-searcher.com/find/Mountain%2bDome%2bBrut/-/-/USD/A?referring_site=WLP
WineLoversPage.com