This article was published in The 30 Second Wine Advisor on Monday, Dec. 26, 2005.
Cork fights back

Blindsided by the quick acceptance of alternative wine-bottle closures - metal screw caps and synthetic stoppers - that has reduced natural cork's market share from 95 percent to 80 percent of fine-wine production over the past decade, the natural-cork industry is battling back.

In extensive tours and interviews this month at Amorim & Irmãos SA, the industrial conglomerate that is Portugal's (and thus the world's) leading wine-cork producer, I found company executives and scientists quite candid about acknowledging that the cork industry for many years had, in their words, "arrogantly ignored" the reality of widespread cork taint that damaged up to 5 percent of bottled wine.

But that's changing now, particularly with a new generation taking over at Amorim's sprawling cork empire in the Alentejo cork forests and around the historic wine city of Porto.

If we accept, as most wine enthusiasts do, that a sound, un-tainted cork remains the most effective closure for fine wine, says Amorim Communications Director Carlos de Jesus, then the question becomes simple: Would anyone prefer a screwcap or plastic stopper to cork if cork taint is not an issue?

In fact, he and other Amorim executives assert, cork taint is not inevitable. Through extensive research and development and simple if costly programs that include both preventative and curative measures, Amorim claims to having reduced the incidence of TCA (the active element in cork taint) to only a few nanograms (billionths of a gram) per liter, at or near the threshold of human perception.

Preventive measures, they say, seek to eliminate tainted cork bark in production through careful selection and storage, cleaning, hygiene and quality control; curative measures involve actually removing TCA from cork granules destined for "agglomerate" and "TwinTop" corks through a high-tech steam process called "Rosa," charmingly named not by a corporate acronym but in honor of a researcher's wife.

As a result, de Jesus says, cork taint "is close to zero for us. The goal is to bring it down to a point where it is no longer an issue. For Amorim, that goal has been reached. When we have our bestselling product alone - TwinTops™ (an agglomerated cork with a thin, solid cork disk glued on each end) - we sold 850 million units last year, and we had one complaint about TCA." Complaint rates for the firm's natural corks and agglomerated corks are similar, he said.

Press the Amorim executives a little, and they'll note that neither synthetics nor screwcaps make perfect substitutes. Synthetics seem to allow in too much air, so the wine oxidizes quickly; screwcaps may be too airtight, retarding aging and causing potential, if reparable, problems with unpleasant sulfuric "rubber" and "gunflint" aromas. But they'd rather talk positively about cork - un-tainted cork - and note that there are good reasons why the world's greatest wines, from France's La Tache and Chateau Latour to top Australian bottles like Penfolds Grange, have yet to seriously consider alternatives to natural cork.

Easy to say, de Jesus acknowledged. Now it's Amorim's goal to prove it. "Now that we have defeated TCA, we can move on to scientifically demonstrate what wine makers and wine consumers know empirically. Meaning, why is that when cork works, nothing comes even close to it? Why is that, after all these years, we are all still talking about alternatives and never about substitutes to cork? In summary, we will be able to - scientifically - find out why every single 'Best in the World' list includes wine bottled with a cork."

Does Amorim's declared victory over TCA spell an end to the cork wars? Of course not. Not least because Amorim, though it's the largest cork producer, is far from the only cork producer, and not all its competitors can afford its high-tech solutions or, perhaps, really care. The 53-member Natural Cork User Group works to encourage quality production, as does the Quality Cork Concil, of which Amorim President António Amorim is current chief. But there's always a market for low-cost product, and consumers will get tainted wine as long as some producers are willing to accept tainted corks as part of the cost of doing business.

De Jesus put it bluntly: "the true enemy is not an oil-derived stopper or metal stopper; the true enemy for us is the cork producer that has not invested in quality. We hate taint as much as the wine makers do - probably even more - that's why we are hopeful that the ongoing consolidation process going through the [cork] industry will end up with less cork producers but better cork producers."

I'll have more on this, with supporting documents, wine-factory photos and interview notes, once I get it all assembled. For now, though, one conclusion seems clear: The cork wars will go on, but the quality cork industry - and Amorim in particular - is not about to fade quietly into history.

CORK ON THE GRILL:
A group of Amorim executives agreed to take WineLoversPage.com readers' questions and answer as directly and candidly as they could. My transcript of those interviews, featuring detailed answers to 17 specific questions, is online at
http://www.wineloverspage.com/wines/corkq.phtml

MORE PORTUGUESE WINE AND TRAVEL REPORTS:
My full Portugal wine and travel diaries, including some comments and tasting notes previously published in last week's Wine Advisor issues and on our online WineLovers Community, are now online in organized form, with new photos, as my Portugal Diary 2005,
http://www.wineloverspage.com/wines/portugal2005.phtml

Now, here's my choice for our Christmas Eve wine, an ageworthy favorite from Lebanon, of all places, a blend of the indigenous Lebanese grape varieties, Obaideh and Merwah (which the importer likens to Chardonnay and Semillon, respectively), aged in oak for six months and in bottles for years before release. Despite its years, the 1996 vintage is still available at retail, and I believe the most recent vintage currently available is only the 1998; all newer years remain at the winery awaiting release; the Chateau Musar red, also a favorite, is released on a similar schedule. I last tasted this same white almost one year ago. For my tasting report then, see
http://www.wineloverspage.com/wineadvisor1/tswa040112.html#TN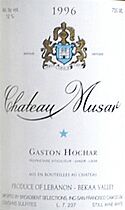 Chateau Musar 1996 Bekaa Valley white ($30)
This is a very clear gold wine, bright enough in color to suggest the oxidation that's normal in older Musar whites. Luscious oxidative aromas blend brown sugar, caramel and butterscotch notes with drief-fruit notes of figs and dates. These aromas might suggest a sweet wine, but it's dry on the palate, full-bodied and properly acidic, with caramel and dried-fruit elements that follow the nose. One of our favorite white wines, it's "yummy," to use a non-technical term. U. S. importer: Broadbent Selections Inc., San Francisco. (Dec. 25, 2005).
FOOD MATCH: Its body and complexity make it a wine suitable for sipping by itself, contemplatively, before or after a meal. It's probably too full-bodied for delicate fare, but it made a fine match with a rich and bold-flavored modern Italian seafood dish, steamed Pacific Northwest oysters on a creamy spinach puree over orzo pasta, topped with a sensuous sabayon gently flavored with curry butter.
VALUE: Top-rank white Burgundy: $50 and up. Musar white: $30 and under. Next question?
WHEN TO DRINK: Conventional wisdom, and the importer's advice, suggest that white Musar can last and evolve for decades. That said, this particular bottle seems markedly more oxidized than one from the same vintage tasted 12 months ago, so if you buy a stash, you might "sacrifice" one bottle early to get a sense of how it's faring.
WEB LINK:
Chateau Musar's Website is available in French and English. Here's the English-language start page:
http://www.chateaumusar.com.lb/english/home.aspx
The U.S. importer has an informative page about Musar at
http://www.broadbent-wines.com/wines/musar.html
FIND THIS WINE ONLINE:
Locate vendors and check prices for Chateau Musar on Wine-Searcher.com:
http://www.wine-searcher.com/find/Hochar%2bMusar/-/-/USD/A?referring_site=WLP
WineLoversPage.com