This article was published in The 30 Second Wine Advisor on Monday, Nov. 28, 2005.
Wine magnets and snake oil

"A fool and his money are soon parted," as the obscure British horticulturist and quotemeister Thomas Tusser said in the 16th century, a bit of folk wisdom that the American impresario Phineas Taylor Barnum restated even more pungently some 300 years later as "There's a sucker born every minute."

Now it's the 21st century, and the concept remains alive and well. In the wine arena, today's equivalent of snake oil takes the form of a startling array of similar-only-different products that purport to "enhance" wine, turning plain wines into fancy and instantly maturing young wines through trade-secret processes variously described as magnetism, electronics or even mysterious cosmic forces.

Here's a snippet from an E-mail solicitation I received from a Hong Kong-based producer. The spiel is a little more candid than some of the more sophisticated marketing that U.S.-based manufacturers generally deliver, but it mines the same vein that goes straight back to Barnum:

MagicFlavor Plug-in Magnetizing Dispenser for Red Wine and Brandy
I need to explain to you a bit about how our newly-invented product works. The wines are made of grapes, the grape skin, seed and stems containing Tannin. Tannin is compounded with phenol or flavor. The wine is aged by oxidation of this compound which will be chemically combined one by one by oxidation to form a chain of molecules. The longer the chain is and the older the wine is. Our product is just a magnetizer. When a conductive fluid (in this case wine) passes through a magnetic field, an electrical charge is created. Our device is having a di-pole where the fluid will be cut through the magnetic field 90 degree with respect to the line of field. Once it is cut through the field, an ionization is induced on the molecules, hence each group of phenol will lose a hydrogen and have a (minus) charge. This effect will course the ionized groups of molecules to form a virtual chain which will be physically similar to the aged wine. The effect will only last for 15 days but it is enough time for drinking. You can call our product as "Age wine instantly using magnetic". You can take a young, callow, brash and uncouth bottle of cheap red wine or brandy, use our Plug-in Magnetizing Dispenser on it, and the result will allegedly be... well, not Grange, but distinctly better than it was.
Here's a quick field guide to some of the more widely advertised devices:
• The Wine Clip (http://www.thewineclip.com/) is a metallic-plastic device that clips around the wine bottle neck, holding six purportedly powerful magnets close to the wine as it's being poured. This brief exposure to a magnetic field, the maker claims, seems to involve nothing less than atomic fission: It splits up molecules suspended into the wine into smaller molecules, thus breaking down the wine's impurities and tannins. "It's the physical change which accounts for the enhanced flavor and bouquet. The taste of many small molecules is smoother than the taste of fewer large molecules," the manufacturer claims. It retails for $35.
• Wine Cellar Express (http://www.winecellarexpress.com/), declares itself "the only patented discovery that miraculously 'ages your wine to perfection' in 30 or less minutes!" Place your wine bottle on this round coaster (available in woodgrain or brushed aluminum), the maker claims, and a magnetic field will soften or reduce the wine's harsh tannins in a half-hour, replicating a natural process that requires years in the cellar. It sells for around $45.
• The Perfect Sommelier (http://www.perfectsommelier.com/) Patent or no, Perfect Sommelier's advertising material bears a striking resemblance to the Wine Cellar Express spiel. "This product has been scientifically proven," its Website boasts, adding that the device "improves virtually any wine in less than 30 minutes. ... Replace the cork with the Sommeliers' top and place the bottle of wine on the stand. In 30 minutes a remarkable change occurs due to the strong magnetic field created by The Perfect Sommelier. All wines will age and exhibit the same aging effect as in being 'cellared' for years ..." It sells for $50 to $60, depending on whether you prefer matte black, "executive chrome" or "premier gold."
• The Wine Enhancer (http://www.lifeforceenhancements.com/) may be the cheekiest of the bunch. Selling for a cool $149, it's a veritable objet d'art, a large, heavy epoxy disc with colorful crystals and a coppery coil embedded inside. "Not only does it soften tannins and open up young wines," claims entrepreneur Robert Catania, "but it eliminates red wine headaches!" Better still, Catania says, it avoids the magnetism and "harmful electrical currents" of its competitors in favor of "natural sustainable energy" brought about by "a perfect combination of 11 carefully selected semi-precious gems and minerals ... a unique combination of technologies, tapping into natural energy sources that exists within our atmosphere (as discovered and well researched by Nicola Tesla and Wilhelm Reich). The enhancer collects, amplifies and then broadcasts these life supporting energies in perfect coherence."
Uh ... oh-kay! After an extended E-mail correspondence, Mr. Catania talked me into trying a Wine Enhancer for myself. I duly set up a double-blind tasting for a group of local sommeliers, comparing treated and untreated glasses of wines in unmarked glasses, revealing the identity of the treated glass only after the scores were in. I tried it again with other groups, and at home, repeatedly, always tasting "blind." The results were never better (or worse) than random, suggesting that the device has no effect on wine at all. Non-intrusive analysis of the admittedly attractive disc revealed no hidden mysteries within, and variations on testing - including leaving wine to "charge" for extended periods - made no difference. The thing did nothing to effect the wine in any way. Similar tests by myself and others with the other products, including a rather hilarious "offline" session in NYC with a group of our forum members and the inventor of the Wine Cellar Express, showed consistently similar results: Zero, zip, nothing, nada.
None of this seems to deter the various manufacturers from mustering awed "It really works!" testimonials from some big-name wine experts. I remain un-persuaded, except insofar as this demonstrates that the placebo effect is alive and well.
My candid advice, if you're thinking about buying one of these things for yourself or a gift recipient this holiday season: Think twice. Think three or four times if you need to. Then save your money for something more useful. Or come see me ... I have a piece of bridge property in New York that I'll be happy to sell you.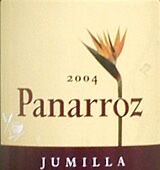 Panarroz 2004 Jumilla ($8.99)
This hearty, inexpensive red comes from Jumilla, in the Murcia area of southeastern Spain. It's a blend of Monastrell (Spanish for Mourvedre), Syrah and Grenache, plus some Tempranillo in the 2004 edition. It's an opaque, blackish-purple wine with a day-glo violet edge. Intense red-berry fruit adds attractive earthy notes on the nose and palate. Deep fruit and fragrant pepper in the flavor, backed by fresh acidity and smooth tannins; robust 14 percent alcohol adds warmth. It's big and brawny if a bit simple, but fruit and balance make it a value winner. U. S. importer: Hand Picked Selections, Warrenton, Va. (Nov. 21, 2005).
FOOD MATCH: Its powerful mix of bold fruit and alcoholic strength make it a natural for hearty beef and even game dishes; I matched it with an obscure but delicious Iranian beef stew, abgousht, using a recipe from Louisville's fine Persian restaurant, Saffron's.
VALUE: A fine value at this low-end price, and it's widely available on the Web for even less.
WHEN TO DRINK: Not a cellar candidate, but I think it will easily outrun the importer's suggestion that it be drunk up over the next year or so.
WEB LINK:
Here's the U.S. importer's Website, where you can click the "Character Counts" icon to download its full catalog in Adobe Acrobat (PDF) format:
http://www.winemerchant.net/
FIND THIS WINE ONLINE:
Click "Find HPS Wines" on the Hand Picked Selections Website, or compare prices and find vendors for Panarroz Jumilla on Wine-Searcher.com:
http://www.wine-searcher.com/find/Panarroz%2bJumilla/-/-/USD/A?referring_site=WLP
WineLoversPage.com