This article was published in The 30 Second Wine Advisor on Friday, Nov. 25, 2005.
Turkey Day wines

It's the day after Thanksgiving, the whole world (or the whole U.S., anyway) is taking a long, lazy weekend, and I'm ready to do the same. Let's cut directly to the chase, then, with a quick report on a quartet of wines that I opened yesterday to accompany a traditional holiday turkey-and-trimmings dinner with friends.

As it turned out, after having delivered my standard turkey-and-wine matching advice in Wednesday's Wine Advisor, I ignored my own counsel about fruity-tart reds and off-dry whites, and went instead, mostly, with hearty reds and a full-bodied white. No matter. As I also point out every year, these indulgent holiday feasts aren't really so much about playing sommelier and seeking that perfect food match as they are about enjoying good things to eat and drink in the pleasant company of family and friends.

By that standard, these wines worked well, and this general principle is well worth remembering as the winter holiday season continues.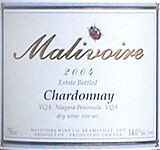 Malivoire 2004 Niagara Peninsula Ontario VQA Chardonnay
Bottled under a modern Stelvin-type metal screw cap, this excellent Canadian Chardonnay is focused on beautiful, clean fruit, with oak, if any, used only as a subtle spice. The clear, straw-color wine boasts a lovely appley scent and fresh, medium-bodied and crisp fruit flavors. Easily available in Canada at CDN$22 (about US$15) at the winery and Ontario's Vintages stores, it's also distributed in parts of the Northeastern U.S. by Bouquet du Vin.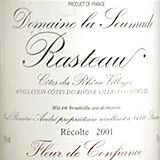 Domaine la Soumade 2001 Cotes-du-Rhone Villages Rasteau "Fleur de Confiance"
I hand-carried this robust red home from a trip to the Rhone last summer, and thought Thanksgiving might be a good time to pull the cork. As it turns out, Thanksgiving 2010 might have been a better time. It's a good wine, but very youthful, tannic and closed. Very dark in color, it's shy on the nose, with a hint of berries black plums in the distance. Black fruit flavors are deep and brooding, coming up a bit with swirling and time in the glass; appropriately acidic and astringently tannic. I saved part of the bottle to see what 24 hours of "breathing" might do. This all-Grenache, new-oaked bottling, perhaps driven by gushing Parker reviews, was 34€ at the winery; in the U.S., expect to pay more. Check prices on Wine-Searcher.com:
http://www.wine-searcher.com/find/Soumade%2bConfiance/-/-/USD/A?referring_site=WLP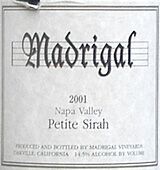 Madrigal 2001 Napa Valley Petite Sirah
Another hand-carried item from a small, favorite Napa producer, this one's also an ager that will potentially last for decades, but it's showing well four years after the vintage. Inky, black and opaque, as a Petite Sirah should be, it shows ripe plums and black cherries and a pleasantly earthy whiff of "barnyard" on the nose. Flavors are consistent, black fruit and firm acidity; substantial but smooth and palatable tannins. The 2002 vintage, now in stock, is about $35 at the winery. Look up vendors and compare prices on Wine-Searcher.com:
http://www.wine-searcher.com/find/Madrigal%2bPetite/-/-/USD/A?referring_site=WLP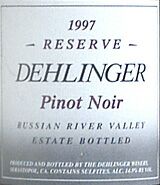 Dehlinger 1997 Russian River Valley Reserve Pinot Noir
Another fine bottle that's been knocking around on my wine rack for a few years awaiting maturity. I decided it was time, and indeed it's coming along well, although I needn't have been in any great hurry to drink it. Clear dark-ruby in color, it offers good, clean mature Pinot aromas focused on subtle red fruit and earth; flavors are consistent with the nose, buyed on a velvety texture with crisp acidity. A beauty, holding up well and with plenty of life ahead. This older vintage would be difficult to find in stores but perhaps would turn up at auction; to view availability and prices of this and other vintages of Dehlinger Pinot Noir, see Wine-Searcher.com:
http://www.wine-searcher.com/find/Dehlinger%2bPinot/-/-/USD/A?referring_site=WLP

TALK ABOUT WINE ONLINE
If you'd like to ask a question or comment on today's topic (or any other wine-related subject), you'll find a round-table online discussion in our interactive WineLovers Community, where you're always welcome to join in the conversations about wine.
http://community.netscape.com/n/pfx/forum.aspx?
nav=messages&tsn=1&tid=1115&webtag=ws-winelovers
If you prefer to comment privately, feel free to send me E-mail at wine@wineloverspage.com. I'll respond personally to the extent that time and volume permit.
PRINT OUT TODAY'S ARTICLE
Here's a simply formatted copy of today's Wine Advisor, designed to be printed out for your scrapbook or file or downloaded to your PDA or other wireless device.
http://www.wineloverspage.com/wineadvisor1/print051125.html
WineLoversPage.com