This article was published in The 30 Second Wine Advisor on Wednesday, Nov. 23, 2005.
Thanksgiving decisions

As we prepare to celebrate Thanksgiving Day tomorrow, I'd like to wish Wine Advisor readers around the world the best of the season. After all, it's never a bad thing to pause and be grateful for our blessings, no matter where we live or how we choose to express our thanks.

In our household, I go back and forth every year about whether to feature the traditional roast turkey on the festive holiday table or to do something less traditional like duck, roast beef or maybe pizza.

Then comes the decision about what wine to serve. This isn't always as easy as it seems, particularly if you're having turkey, an odd bird that comes with both light meat and rich, oily dark meat, two disparate options that don't necessarily go well with the same wine. Add in the numbing variety of other dishes that weigh down the groaning board, from mashed potatoes and dressing to cranberry sauce, green-bean casserole and that horrible concoction of candied sweet potatoes with little marshmallows that some anonymous guest sneaked onto the table, and the idea of finding a single wine to go with it all becomes an impossible dream.

Often I'll simply give up on trying to find a really good food-and-wine match for these festive occasions and simply pull something special from the cellar to celebrate the holiday, enjoying the wine for its own sake rather than fretting about perfection in wine-and-food pairing.

Another good approach is to pour a red and a white, offering each guest the option to pick the wine they prefer, or to take two glasses and enjoy a little of each. In any case, my standard advice for a good match with turkey is to think about cranberry sauce and seek wines that show a similar fruity, tart, non-tannic flavor profile: Riesling, Gewurztraminer or Chenin Blanc for your white; Pinot Noir, Beaujolais or perhaps a Zinfandel if you want a red.

This may surprise some of you, but in spite of the disdain that many "serious" wine enthusiasts hold for the seasonal Beaujolais Nouveau (which came up for its annual commentary here in last Friday's Wine Advisor), in many ways it's the ideal wine to pour for Thanksgiving and other winter holiday feasts. It's seasonal, it's fresh, and it's fruity. It's upscale enough to satisfy all but the most nose-in-the-air wine snobs at your table, but it's approachable enough that everyone but the most ardent teetotaler will take a glass. And best of all, it's sufficiently compatible with food that, even if it doesn't make you hear choirs of angels sing, it will quaff well enough with light and dark meat, dressing and maybe even those awful sweet potatoes.

Today's tasting features an exceptionally good one, the Domaine Manoir du Carra 2005 Beaujolais Nouveau produced by Jean-Noël Sambardier. Exuberantly fruity but clean and fresh, with good fruit and acid balance, smooth texture and no "off" flavors, it's a wine-drinker's Nouveau. And it goes well with turkey.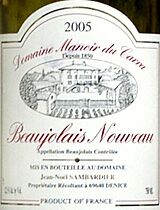 Domaine Manoir du Carra 2005 Beaujolais Nouveau ($10.99)
This is a very dark reddish-purple wine. Its ripe, ultra-fresh Nouveau style prompts me to jot down "bowl-O-fruit," the identical terminology that I later notice I had used to describe the same producer's 2003 Nouveau. Exuberant fruit - strawberries and ripe cherries and a whiff of banana - carries over on the palate, grapey and fresh and nicely shaped by crisp acidity. There's nothing subtle here, but clean flavors and good acid balance make it one of the year's best Nouveaus. U.S. importer: Kysela Père et Fils Ltd., Winchester, Va. (Nov. 22, 2005)
FOOD MATCH: The rich, cheesy sauce in a Franco-Italian spin on macaroni and cheese (pennette in a creamy Gruyere and Parmigiano Mornay) did a dramatic job of smoothing this young wine and showcasing its exuberant fruit, demonstrating that Noveau is really better enjoyed with simple food than on its own.
VALUE: No complaints in the $10 range.
WHEN TO DRINK: In modern times, the old advice about drinking Beaujolais Nouveau before Christmas is probably overstated. In fact, it should keep for a year or two, lying in its side in a wine rack. Nouveau is all about fresh and exuberant fruit, though, and it still makes sense to enjoy it while it's fresh, then move on.
WEB LINK:
Here is the U.S. importer's spec sheet on Manoir du Carra:
http://www.kysela.com/burgundy/carra.htm
FIND THIS WINE ONLINE:
Look up Manoir du Carra Beaujolais on Wine-Searcher.com:
http://www.wine-searcher.com/find/Manoir%2bCarra/-/-/USD/A?referring_site=WLP
WineLoversPage.com