This article was published in The 30 Second Wine Advisor on Monday, Nov. 21, 2005.
Santa's wish list: Wine books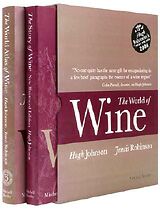 Every year around this time, when blustery winds blow and the distant jingle of Salvation Army Santas is heard in shopping malls across the land, I like to share a few reviews of new wine books that might make good presents for the wine enthusiasts on everyone's holiday shopping list.
As it happens, though, 2005 hasn't been a very good vintage for wine books. Most of the handful of review copies I've received have failed to break new ground, merely offering yet another take on buying guides or mini-encyclopedias or introductory wine books that promise to take the mythology out of wine and make it accessible to the everyday human, but in fact repeat the same old rituals. Yawn.
At this point, my best reading recommendation for the wine lover who has just about everything is a hefty boxed set that presents new printings of two familiar classics in a classy package that would look great on a coffee table or bookshelf, even if its 8 1/2-pound heft is way too much to hang up in a Christmas stocking.
The hardcover set, sold together as The World of Wine, includes matching coffee-table-size printings of Hugh Johnson's and Jancis Robinson's World Atlas of Wine (the 2001 Fifth Edition) and a 2004 update of Johnson's outstanding wine-history book, The Story of Wine, which was published originally in 1989 as a companion to Johnson's excellent 12-part public-television series.
The World Atlas of Wine is the next-best thing to a guided tour of all the world's wine regions. Categorized by country and region, it covers the familiar regions of the Old World in great depth, no surprise given the authors' British perspective; but it's strong on the U.S. and Down Under, too, and offers fascinating glimpses into less familiar regions, including Eastern Europe and even Asia. Crisp, literate narrative surrounds scenic pictures, representative wine labels and, perhaps the book's greatest strength, detailed topographical maps of all major wine regions and most minor ones. If you love the land and the geography behind wine, this book is a must-have, if you don't own it already.
"Literate" defines Johnson's The Story of Wine as well. It does for wine history what the Atlas does for geography, bringing the reader all the way forward from the Bronze Age to modern times, featuring more than 40 chapters that stretch from ancient Black Sea coast through Egypt, Greece and Rome, through medieval times, the Renaissance and ages of exploration and on to modern times. I compared the 1989 and 2004 versions suspiciously, catching a couple of oopsies (an allusion to "40 years ago," for instance, that went unchanged in the update), but I couldn't find much evidence of serious abridgement in the newer book, which has fewer, but larger, pages; and the final chapters appear to have been completely rewritten to incorporate Johnson's thoughts about recent wine developments in the Old World and New.
If you - or the wine "geek" on your list - doesn't have these books already, this would be an ideal gift; and Amazon.com is currently offering a substantial discount on the boxed pair, which lists for $85 but is now available for $53.55, a $31.45 (37 percent) saving. To order it online, click
http://www.amazon.com/exec/obidos/ASIN/1845331656/robingarrswineloA/
Orders placed through this direct link will earn a small commission for WineLoversPage.com.
On the lower end of the wine-book price range, another Hugh Johnson favorite that will fit into a Christmas stocking is his handy Pocket Wine Book. Updated annually, this handy guide packs an incredible amount of information into a pocket-size volume. Thousands of wines are rated, described, and listed with coding indicating which vintages are preferred and which are ready to drink. I buy the new edition every year, and highly recommend it. The 2006 edition is now available ... and you can buy it through our Amazon.com link for just $10.17, a 32 percent discount:
http://www.amazon.com/exec/obidos/ASIN/1840009454/robingarrswineloA/
Finally, if you're seriously into Australian wines, you'll want to check out Australian Wine Vintages, the so-called "Gold Book," by Robin Bradley. It appears to list virtually every Australian wine in production, with label photos, quality ratings on a five-star scale, vintage evaluations, when-to-drink it advice and current value for every wine. It's a useful, comprehensive directory; as a buying guide, however, it's somewhat limited in that it contains no tasting notes on specific wines; star ratings are for the entire winery, not individual wines; and on a quick scan, it appears that every winery receives at least three stars, making the five-star system a rough guide at best. Amazon.com offers the book for $26.95, no discount. To purchase through our link,
http://www.amazon.com/exec/obidos/ASIN/0957728069/robingarrswineloA/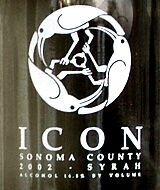 Ravenswood 2002 Sonoma County "Icon" Syrah ($16.99)
An attractive Rhone-style offering from a winery much better known for its Zinfandels, this sturdy red is labeled Syrah with 87 percent of the predominant grape, but adds a little complexity thanks to 9 percent Grenache and 4 percent Mourvèdre. Dark garnet in color, black at the core, it breathes open aromas of plums and berries and a whiff of menthol. Ripe and juicy on the palate, black fruit and fragrant pepper, it gains structure from firm acidity and palatable but rather "green" tannins. (Nov. 20, 2005)
FOOD MATCH: Rare roast beef might be the perfect match, but a long-simmered, simple beef pot roast made a mighty comfortable alternative.
VALUE: Entirely reasonable at this mid-teens price.
WHEN TO DRINK: Drinking well now, particularly with an appropriate food match, but fruit, balance and tannins suggest a package that will fare well in the cellar for five years or even 10.
WEB LINK:
For Ravenswood's fact sheet on the Icon bottling, click
http://www.ravenswoodwinery.com/wines/icon.asp
FIND THIS WINE ONLINE:
Click "Buy Our Wines" on the Ravenswood Website, or compare prices and find vendors for Ravenswood Icon on Wine-Searcher.com:
http://www.wine-searcher.com/find/Ravenswood%2bIcon/-/-/USD/A?referring_site=WLP
WineLoversPage.com