This article was published in The 30 Second Wine Advisor on Friday, Nov. 18, 2005.
Vintage 2005

Well, the Beaujolais Nouveau has arrived, right on schedule, and of course I had to get into the spirit of the season last night by tasting a couple of the first wines of the recent vintage from France.

By happy coincidence, at lunchtime yesterday I had occasion to try a completely different 2005 vintage wine: a tasty Sauvignon Blanc hand-carried to town by a visiting New Zealand wine maker, Simon Waghorn of Marlborough's Whitehaven Wine Co. (No Nouveau this, it's a fresh young wine made from grapes harvested last April, the seasons being upside down Down Under.)

Wine snobs tend to look down on Beaujolais Nouveau because the wine - and the festivity surrounding it - is an artificial invention created mostly with marketing (and cash flow) in mind. It's not even a long-lived tradition but a modern custom that began in France after World War II, when the wine makers of Beaujolais started cranking out a simple, fresh wine that could be bottled within a couple of months after the harvest. They built excitement by setting an official release date, and would rush the Nouveau ("new") wine up to Paris on the designated day - now the third Thursday in November - where thirsty crowds would gather at wine bars and bistros to give it a try.

The concept turned out to have "legs," and now it's celebrated worldwide, the wine being shipped to distributors in advance and, at least in theory, held until midnight on Nouveau Day before it can be sold.

Some wine geeks sniff and point out that Beaujolais Nouveau is not great wine. Heck, it's not meant to be! It's all about conviviality and parties and enjoying a last, lingering taste of the summer just past, celebrating the fresh fruit of the new vintage as the autumn winds blow. These are not bad things ... but no, a wine made in two months from less-than-stellar grapes isn't going to be great. Sometimes wine is not just about ratings points.

Here's a quick look at two Nouveaus that I picked up yesterday to enjoy with dinner. They made a suprisingly good match with fresh calf's liver and thin-sliced sweet onions sauteed in butter with a squirt of Meyer lemon juice.
---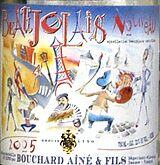 Bouchard Ainé & Fils 2005 Beaujolais Nouveau ($11.99)
This is a dark-garnet wine with a clear edge, tinged with a bluish-purple color that's typical of very young red wines. Its ripe, simple but very fruit-forward "grapey" aroma is typical of Nouveau, adding an appealing touch of spice. On the palate it's fresh, juicy and tart, ripe strawberry flavors and snappy acidity in balance. It's as one-dimensional as you'd expect of a Nouveau, but also as you'd expect, a merry quaff, with enough style and balance to place it well above the median for the genre. U.S. importer: Boisset America, Sausalito, Calif. (Nov. 17, 2005)
---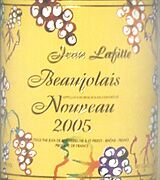 Jean Lafitte 2005 Beaujolais Nouveau ($9.99)
A bit more in the traditional Nouveau style than the comparatively sophisticated Bouchard, this dark reddish-purple wine adds a distinct hint of red-wine vinegar to its overtly grapey and strawberry aromas. Juicy and so strawberry-fruity that it almost seems sweet, but tart acidity and a hint of puckery astringency place it firmly on the "rustic" side. The food match improves it, the robust earthiness of calf's liver bringing up the wine's grapey fruitiness while ameliorating the astringency. U.S. importer: Luneau USA Inc., Westport, Conn. (Nov. 17, 2005)
---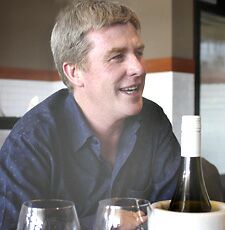 The New Zealand wine, meanwhile, was a delight. The affable Whitehaven wine maker Simon Waghorn (pictured) stopped here for a quick lunch while traveling around the eastern U.S. on a tasting tour with my old buddy Carmen Castorina, who's the communications guy for E & J Gallo, which represents Whitehaven wines in the U.S. and purchases a substantial amount of the Marlborough winery's output for distribution here.

We tasted the 2005 Sauvignon Blanc and the just-bottled 2004 Marlborough Pinot Noir, both closed with sturdy Stelvin-brand metal screwcaps, over lunch at Primo restaurant in Louisville. Both were well-matched with Primo's "Allo burger," actually a large, feather-light veal-and-gorgonzola meatball grilled rare and served between rounds of airy Blue Dog bakery focaccia. Prices shown are Gallo's suggested retail, which is usually a dollar - or several - above the wine's actual "street price." In the real world, be skeptical if offered the Sauvignon Blanc much above the lower teens or the Pinot above the lower $20s.

Whitehaven 2005 Marlborough Sauvignon Blanc ($20)

This clear, straw-color wine shows fresh, appealing scents of grapefruit and peach. It's ripe and aromatic as a NZ Sauvignon Blanc should be, but more focused on fruit and not as over-the-top as some of its neighbors with their trademark jalapeño pepper and boxwood/catbox. It's crisp and fresh but rather full in texture, luscious fruit shaped by fresh, limey acidity.

Whitehaven 2004 Marlborough Pinot Noir ($30)

Bright cherry red, relatively light in color as is typical of Pinot. Spicy red-berry fruit gains nuance from a delicate herbal character. Fresh flavors follow the nose, red fruit and subtle herbs with crisp acidity and silken tannins in balance. Showing very well indeed despite having been bottled just nine days ago and hand-carried across the Pacific.

WEB LINK:
This link will take you to the Whitehaven home page:
http://www.whitehavenwines.com/home.htm

FIND THIS WINE ONLINE:
Check "Where to Buy" on the Whitehaven website, or compare prices and find vendors for Whitehaven wines on Wine-Searcher.com:
http://www.wine-searcher.com/find/Whitehaven/-/-/USD/A?referring_site=WLP

WineLoversPage.com