This article was published in The 30 Second Wine Advisor on Monday, Nov. 14, 2005.
Are you buying more wine online?

It has been six months since the U.S. Supreme Court struck down laws in New York and Michigan, but contrary to some of the more optimistic media reports at the time of that decision, many Americans are still a long way from enjoying the freedom to buy wine direct from a winery or wine shop by mail order or on the Internet.

While New York's lawmakers moved fairly quickly to write new regulations, Michigan's efforts to comply with the ruling have bogged down in a legislative battle pro- and anti-shipping forces.

Across the nation, a similar patchwork of responses prevails, with a few states (Ohio and Connecticut, among others) having eased anti-shipping regulations, while a few states (including Indiana) having extended the shipping ban to cover in-state producers as well as outside companies). The debate continues in other states (Pennsylvania among them), while Kentucky and many others have taken no public action at all.

Early accounts from wine country suggest that the changes have had little overall impact on the wine-industry economy so far. Last week, for instance, the Stockton (Calif.) Record reported that local wine producers have seen little if any increase in Internet wine sales since the Court's 5-4 decision on May 16. For the full story, click
http://www.recordnet.com/apps/pbcs.dll/article?AID=/20051109/MONEY/511090301/1003

Many in the industry had hoped to see Internet and mail-order commerce light up the coming holiday season; but with the natural glacial pace of legislation further slowed by well-financed wine- and liquor-distribution lobbyists.

As the winter holiday buying season approaches, we thought it would be interesting to devote a Wine Lovers' Voting Booth "ballot" to the question, "Are you buying more wine online?" To vote:
http://www.wineloverspage.com/votebooth/vb20051114.shtml

The ballot offers you the options of voting yes or no and noting whether you live in a state where the wine-shipping laws have or have not changed, or if you live outside the U.S.

Once you have cast your ballot, the software will immediately add your entry to the list. You can use this link to check the current totals:
http://www.wineloverspage.com/votebooth/ans20051114.shtml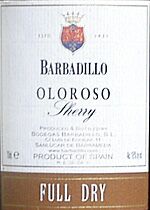 Barbadillo non-vintage Oloroso Sherry "Full Dry" ($11.99)
Strong and naturally oxidized in a unique wine-making process, Spain's Sherry is so utterly different from most table wines that it divides wine enthusiasts into opposing camps: Those who say "Yay!" and those who say "Yuk!" Mark me in the "Yay" column, particularly when summer fades into chilly, blustery autumn and something as rich and warming as this Oloroso provides a taste of comfort. Clear bronze in color, it shows flashes of orange against the light. Classic Sherry aromas remind me of fresh cracked nuts, intriguing scents that speak of pecans and hazelnuts and just a touch of darker, heavier walnuts and a whiff of maple syrup in the background. Pecans come to the fore on the palate, with hints of milk chocolate as a more subtle back note in a rich, full-bodied texture that seems slightly sweet at first but dries out completely in the finish, nicely framed with crisp fresh-fruit acidity. Pecans and a tang of lemon linger in a very long finish. U.S. importer: Frontier Wine Imports, Dover, N.J. (Oct. 31, 2005)
FOOD MATCH: In a brilliant match-likes-with-likes pairing, it made an amazing match with a nutty, buttery three-year-old Vintage Gouda cheese.
VALUE: Assuming you are in the "Yay" camp, Sherries remain among the world's great wine bargains. At just a buck or two over $10, this one's a fine value; not, however, that I got mine at a shop notorious for full-price retail or above (Whole Foods Wine Shop); you may be able to find it for well under $10, at which price it's a true no-brainer.
WHEN TO DRINK: In its nature, Sherry is very long-lived, in the cellar, on the wine rack or even in an open bottle on the counter. It may not really evolve with age, but you can keep it safely for years in the sealed bottle and for several weeks in an open bottle.
WEB LINK:
Here's a Spanish-only Web page about Bodegas Barbadillo:
http://www.guiadeprensa.com/alimentacion/barbadillo.html
For more background on Sherry, see my February 2004 article, To Warm a Winter Night,
http://www.wineloverspage.com/wineadvisor1/tswa040202.phtml
FIND THIS WINE ONLINE:
Compare prices and find vendors for Barbadillo Oloroso on Wine-Searcher.com:
http://www.wine-searcher.com/find/Barbadillo%2bOloroso/-/-/USD/A?referring_site=WLP
WineLoversPage.com