This article was published in The 30 Second Wine Advisor on Wednesday, Nov. 9, 2005.
REDS

Following up as promised on Monday's dissertation about California red-grape blends made in the old "field blend" tradition, today let's turn to a long-time favorite: The newly arrived 2003 edition of REDS, a lovable blend made by the good folks at Laurel Glen.

Over the decade or so that REDS has been in production, it has varied significantly from year to year, depending on the fruit that wine maker Patrick Campbell finds for it. It's just about always a California wine with a bit of Old World complexity and style, though, and it's invariably a mix of grapes - often picked from old vines - that's reminiscent of the old "field blends."

It should be noted that these California blends, which typically included Zinfandel and Petite Sirah along with, randomly, real Syrah, Carignan and such offbeat French-born varieties as Peloursin - are a different matter from the familiar European blended wines like Bordeaux, Chianti and others in which specific grape varieties are tightly controlled by both tradition and regulation. This was a much more laissez-faire kind of blending, in which whatever came out of the vineyard went into the press.

No matter. The California blends make hearty, amiable wines that, in my perhaps idiosyncratic opinion, are often more complex and interesting than a similar wine made from just one of their components would be.

The new REDS comes to market showing a few differences from past years: The natural cork is replaced with a sturdy, Stelvin-type modern metal screwcap; the label has undergone a cosmetic update that makes the bold word "REDS" pop out on the shelf, and this year's wine bears the Lodi appellation in place of the broader California designation of REDS past.

But the blend isn't unfamiliar, a lusty mix of 60 percent Zinfandel (from 80-year-old vines), 30 percent Carignan (from 117-year-old vines), and 10 percent Petite Sirah from vines of no great antiquity.

It's the kind of wine that inspires happy gulping, not intellectual wine-geek analysis, and hardly anybody would suggest a formal REDS "vertical." For the record, though, it's fruit-forward but nicely balanced, with structure and mouth-watering acidity that bring it back into the Old World camp in contrast with the very ripe, "plushy" 2002.

I like it.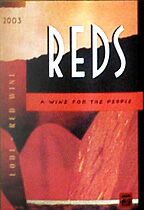 Laurel Glen 2003 "Reds" Lodi Red Wine ($9.99)
Very dark reddish-purple, black at the center. Ripe and fresh, black cherries and mixed berries with a pleasant touch of anise; forward fruit and hints of smoke and earth appear on the nose and palate. Mouth-watering acidity provides balance, with cherries and warm brown spice in a long, pleasantly astringent finish. (Nov. 5, 2005)
FOOD MATCH: An easy companion with grilled red meat or poultry, but its fruit and balance helped it fare well with a more offbeat vegetarian match of baked penne with roasted butternut squash and caramelized onions.
VALUE: One of the values of the year for $10 or less.
WHEN TO DRINK: Although it's meant as a drink-me-now wine, I see no reason why its fruit and structure won't carry it for a couple of years on the wine rack, particularly with the clean protection of the screw cap.
WEB LINK:
The "wineforthepeople.com" Weblink on the REDS label goes only to an "under construction" page, but you'll find an extensive set of notes on recent REDS vintages on Laurel Glen's Website,
http://www.laurelglen.com/reds.html
FIND THIS WINE ONLINE:
Compare prices and find vendors for Laurel Glen REDS on Wine-Searcher.com:
http://www.wine-searcher.com/find/Laurel%2bGlen%2bREDS/-/-/USD/A?referring_site=WLP
WineLoversPage.com