This article was published in The 30 Second Wine Advisor on Friday, Nov. 4, 2005.
Rosso Piceno

It's Friday, the afternoon is wearing on, and it's almost the weekend. Let's keep today's Wine Advisor down to the advertised 30 seconds (more or less) with a quick report on one of the many offbeat Italian wine-grape varieties that I enjoy.

Rosso Piceno is a red wine from Marche ("The Marches," the Italian region across from Rome, on Italy's eastern Adriatic coast. It's made from at least 60 percent Sangiovese (the Chianti grape), plus some of Marche's native Montepulciano and, optionally, small amounts of the local red grape Passerina and the white Trebbiano. (Today's featured wine is made from 80 percent Sangiovese and 20 percent Montepulciano.)

"Rosso" means "red," and "Piceno" goes back to the ancient Picenes who first settled in this part of the world. Legend has it that Hannibal used the hearty red wine of Piceno as a rubdown for his army's horses. The legend doesn't report whether Hannibal's famous elephants got similar treatment.

I've found Rosso Piceno is often akin to Chianti in style, although this bottling from Fattoria Laila doesn't need comparison to a more famous name: It has the character and authority to stand alone.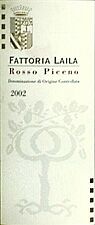 Fattoria Laila 2002 Rosso Piceno ($17)
Very dark garnet, blackish. Fresh redcurrant scent with a lovely rainwater-over-rocks minerality on the nose and palate, with crisp red fruit flavors nicely balanced by mouth-watering acidity and subtle but perceptible tannins. Very attractive and balanced wine. U.S. importer: North Berkeley Imports, Berkeley, Calif. (Sept. 30, 2005)
FOOD MATCH: Like Chianti, it's classic with grilled red meat or tomato-sauced pasta dishes and cheese. But its fruit and balance made it a pleasureble match with a light meatless dinner, an omelet stuffed with Gruyère and Parmigiano.
VALUE: I would start to get edgy past the $20 point, but in the age of the strong Euro, this complex and graceful wine is fairly priced in the upper teens.
WHEN TO DRINK: Not made for long aging, but this 2002 will certainly be good for a couple of more years on the wine rack.
PRONUNCIATION:
"Rosso Piceno" = "Row-soe Pee-CHAY-noe"
WEB LINK:
Here's an article about Fattoria Laila (and a map) on the U.S. importer's Website:
http://www.northberkeleyimports.com/Profiles/laila.htm
FIND THIS WINE ONLINE:
Check vendors and prices for Fattoria Laila's Rosso Piceno on Wine-Searcher.com:
http://www.wine-searcher.com/find/Laila%2bPiceno/-/-/USD/A?referring_site=WLP
WineLoversPage.com