This article was published in The 30 Second Wine Advisor on Wednesday, Nov. 2, 2005.
Another Anti-Chardonnay

Last week, citing a cheeky California Chenin as evidence, we talked about Chenin Blanc as a stylistic alternative for white-wine lovers tiring of the nearly ubiquitous Chardonnay.

Today let's go to the Loire Valley in quest of another "anti-Chardonnay." Muscadet de Sèvre et Maine is just about as far from Chardonnay as a grape of the same color can get.

If you love Chardonnay because it's soft, low in acid, tropically aromatic and lush with butter and spicy oak, you may find that you hate Muscadet. But if your idea of a great white wine is lean, minerally austerity with pure fruit laced with the kind of tart, almost searing acidity that sings with food and hits an operatic high C with seafood and fish, then you might want to give Muscadet a try. Add a plate of perfectly fresh chilled oysters to the mix, and you may discover that you suddenly have a new favorite.

It's no coincidence that Muscadet is a classic seafood wine, as it's grown and made in the Nantais region, around the town of Nantes, where the Loire River tumbles into the cold Atlantic. The local cuisine takes advantage of the river and the sea's bounty of both freshwater and saltwater seafood and fish, and the local wine has evolved to match.

A couple of label tips: You'll see a lot of just-plain Muscadet, and it can be a crisp and cleansing simple table wine that shouldn't reasonably demand more than a single-digit price.

The regional designation Muscadet de Sèvre et Maine, named after two tributaries of the Loire, covers so large a sub-region that it makes the lion's share of Muscadet's bottled wine. Muscadet is made from the Melon ("May-lawN") de Bourgogne grape, a variety that - as its name implies - is thought to be native to Burgundy, although it's no longer grown there.

Finally, many Muscadets are made in a somewhat unusual way that involves leaving the young wine to age on its yeast sediment (called "lees"), a process in which a chemical reaction called "yeast autolysis" adds flavor and complexity to the wine. In Muscadet, these yeasty flavors, combined with the Loire's natural earthy minerality, can create intriguing and haunting flavors that some Loire-heads memorably describe as "crushed seashells." Wines so made are labled "sur lies" ("on the lees").

In all fairness, not all Muscadet is of equal quality. A lot of it is made quickly and simply for quaffing with food, and while there's nothing wrong with that, the quest for wine of real flavor interest may take some research; and neither "Sèvre et Maine" nor "sur lies" on the label offers any real guarantee of preferred status.

On the other hand, growing excitement about Loire wines has prompted quite a few small producers to turn out wines of exceptional character. So, it's prudent to rely on familiar producers or importers or trustworthy tasting reports to help you choose among the bewildering array of labels. Today's wine from André-Michel Brégeon is imported to the U.S. by the always-reliable Kermit Lynch, and that was sufficient to persuade me.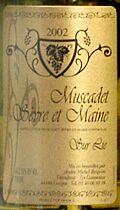 André-Michel Brégeon 2002 Muscadet de Sèvre et Maine Sur Lie ($9.99)
Transparent pale-brass color. Grapefruit, fresh and ripe, with a stony-mineral back note; I try to find Muscadet's "crushed sea shell" and almost think I've spotted it, but it remains elusive behind the forward fruit. Grapefruit and mixed citrus flavors follow the nose, framed by a very tart, almost piercing acidity that calls out for seafood. U.S. importer: Kermit Lynch Wine Merchant, Berkeley, Calif. (0ct. 28, 2005)
FOOD MATCH: Oysters would have been perfect, on the half-shell or pan-fried. Fresh scallops pan-seared with butter and lemon weren't bad, but their relatively rich sweetness actually would have worked well with, er, Chardonnay.
VALUE: You will be hard-pressed to find a better white-wine value for $10.
WHEN TO DRINK: It might seem counter-intuitive to advise holding a crisp white wine, and the more modest Muscadets are best drunk up young and fresh. But better-made Muscadet de Sèvre et Maine Sur Lies can abundantly reward the patient wine lover, assuming reasonably good storage conditions. Conventional wisdom advises holding it until the fourth year after the vintage, and well-stored 15-year-old bottles can be sublime.
FIND THIS WINE ONLINE:
Check vendors and prices for Brégeon Muscade on Wine-Searcher.com:
http://www.wine-searcher.com/find/Bregeon/-/-/USD/A?referring_site=WLP
WineLoversPage.com