This article was published in The 30 Second Wine Advisor on Monday, Oct. 31, 2005.
Trick or treat!

I can't say that I'm a great fan of the latter-day craze for marketing inexpensive wines with colorful labels and cute names that evoke cuddly animals. Amber Tail? Little Koala? Fat Hippo? Bah!

It's not that I'm lacking in the sense-of-humor department, though. And I don't want to be the kind of snob who won't even try a "gimmick" wine, so being an optimistic type, I figured I'd risk 10 bucks on a new-to-me item that's a perfect fit for the Halloween season: Vampire Vineyards, an Eastern European label from ... get ready for it ... Transylvania!

The real Transylvania, that is, the province of Romania once ruled by the evil Vlad "The Impaler" Tepes, a 15th century prince so mean that his subjects nicknamed him "Dracula," meaning "little dragon" or, more casually, "son of the Devil."

Romania and Eastern Europe were also the source of ancient legends about vampires - eerie undead creatures who roamed at night and drank their victims' blood - and it didn't take long for literary tale-spinners to combine the legends into the scary figure of Count Dracula, who never drinks ... wine.

In fact, Romania has been a land of vineyards and wine for about as long as any other European country, but 20th century political realities have pretty much marginalized its wines in recent decades.

When Romania was behind the Iron Curtain, its state-controlled wineries used to ship a lot of decidedly modest wine to the West, under - remarkably enough - a trade deal worked out by none other than Richard M. Nixon, when he was between government jobs and working in a high-level post at beverages conglomerate PepsiCo. Under this deal, we sold a lot of Pepsi-Cola to Romania (and Bulgaria and Yugoslavia), and they sent us back a lot of cheap wine.

After the Iron Curtain fell, Romania's economy - including its wine industry - was left in a shambles. Like most of the other former Eastern Bloc countries, it's coming back now, a little at a time, but most of its new wineries are small producers with no real capability to make enough wine to export in quantity to the U.S., the U.K. or Western Europe.

This sudden influx of wine with the tongue-in-cheek (or maybe fang-in-cheek) Vampire label is the first broad marketing effort I've seen from Romania since the early 1990s.

And somewhat to my surprise, the Vampire 2003 Cabernet Sauvignon (just one of several varietal wines - and a vodka - sold under the Vampire label) turns out to be a decent table wine, not long on ageworthy structure or even Cabernet varietal character, but ripe and fruit-forward and luscious, clean and balanced and easy to quaff.

No trick. Treat!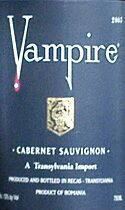 Vampire 2003 Transylvania (Romania) Cabernet Sauvignon ($9.99)
Clear, deep ruby (I'm not going to descend to calling it "blood red.") Spicy red-berry fruit, appealing if simple; light-bodied, fresh and crisp, gently acidic fresh fruit flavor follows the nose. It's not a fancy or complex wine, and shouldn't be mistaken for a fine, Bordeaux-style Cabernet. But it significantly exceeds the low expectations I bring to "gimmick" wines and stands in its own right as a fruity, nicely balanced quaffing wine made in an international style with a fresh, clean flavor. U.S. importer: Transylvania Imports, Beverly Hills, Calif. (Oct. 30, 2005)
FOOD MATCH: It went very well with a simple, quick fajita-style dinner of beef, red bell pepper, onions and garlic stir-fried with a gently piquant ancho pepper sauce.
VALUE: The $10 price tag is more than fair for this clean, balanced and approachable red. If you're just after the Vampire label for a Halloween prank, go with the Pinot Grigio or Merlot (which I have not tried), which sell here and there in the $6 range.
WHEN TO DRINK: This is not a cellarworthy Cabernet, nor was it meant to be. Enjoy it over the next year while its forward fruit is still young and fresh.
WEB LINK:
A distinctly commercial venture, the Vampire Website is mostly about selling the wine through its horror-movie shtick, but you can work your way down to some basic information about the vineyard and the various Vampire wines (and vodka).
http://www.vampire.com/
FIND THIS WINE ONLINE:
Check vendors and prices for Vampire Vineyards on Wine-Searcher.com:
http://www.wine-searcher.com/find/Vampire/-/-/USD/A?referring_site=WLP
WineLoversPage.com