This article was published in The 30 Second Wine Advisor on Monday, Oct. 24, 2005.
Cellaring without a cellar

One of the most frustrating things about wine for the average consumer is the frequently repeated counsel, "Don't try to age this wine if you don't have a proper cellar."

On the one hand, it's estimated that 95 percent of all the world's wine is ready to drink when you buy it, won't improve with further aging, and - in many cases - really should be drunk up within a few months to a year or two after purchase, while it's still young and fresh.

On the other hand, that remaining 5 percent includes much of the world's best wine; and it doesn't take more than a few samples of a well-cellared, fully mature wine of quality to turn a casual wine enthusiast into a passionate collector.

But the process of excavating and finishing a naturally cool underground storage space or investing in a free-standing, climate-controlled wine-storage unit can be an expensive proposition. Wine in storage is best kept close to 55F (13C), which just happens to be the natural temperature of underground caves. Run the numbers for a walk-in or free-standing cellar unit capable of maintaining this constant temperature (with reasonable humidity) and you'll find yourself looking at a four-figure investment or more, a figure that will pay for a lot of wine.

Other than relying on the kindness of strangers or friends, or purchasing mature wines at retail or auction (in which case you're essentially paying someone else a premium for cellaring wine for you), what's an everyday wine lover to do?

There's no denying that wines kept at warmer-than-ideal temperatures age more quickly than well-cellared wines, and not as well. But wine isn't quite as fragile as some of the authorities suggest, and in my experience, it's entirely possible to keep ageworthy wines under imperfect conditions for several years and get at least a taste of what cellaring is all about.

Want to try it? Here are a few simple tips:

• Don't start with fragile wine. If it's not fresh now, it has noplace to go but downhill. Choose sturdy, robust and tannic reds; avoid starting with delicate whites or rosés or light and fruity reds. If you try a young Cabernet, Rhone-style red or Italian red, though, and discover interesting, balanced fruit and acid that's cloaked by astringent tannins and tart acidity, you may have a good candidate for an aging experiment.

• Don't try this with pricey luxury labels. Unless you're a serious gambler, a $100 risk in a classed Bordeaux or Grand Cru Burgundy may be more than you want to take on.

• Treat your treasure with care. Set up a sturdy wine rack in a quiet part of the house, ideally where it's cool and dark. Avoid upstairs rooms if they heat up on summer afternoons; consider the basement if it's cooler than the rest of the house. Avoid a spot that's exposed to heating registers or direct sunlight. Anywhere in the kitchen is almost certainly a bad idea. It's OK to pick up a bottle on occasion to admire the label, but don't fool with your wines unnecessarily. And no, you never need to turn or rotate the bottles on the wine rack ... that's a myth.

• Watch their progress. Check every now and then to make sure wine isn't seeping out around the corks and that the level of wine in the bottles remains full. Treat yourself to one of your wines every year or so to see how they're coming along. Brownish color and a walnutty, Sherrylike scent of oxidation in your wine are sure signs that they're headed over the hill if not there already; but an older wine that adds richness and complexity and interesting aromas of coffee, toast, leather and earth to still-vibrant "sweet" fruit can be a thing of real beauty.

• Don't wait too long. I've occasionally been surprised by a bottle kept 10 years at room temperature, but you can't count on this. Three to five years is reasonable for sturdy reds kept in an air-conditioned setting where the temperature rarely goes above the middle 70s F (25C), but if it gets much warmer than that, you'll have to curtail your expectations accordingly.

When it works, though, room-temperature cellaring can be rewarding, paying off in good wine and a sense that you've beaten the system. We enjoyed a simple red Rhone wine from Lirac the other night, one that I had put away in 2001 after reporting on a similar bottle that was pleasant but tannic enough to prompt me to write "Needs time." Four years later, it's coming along fine, and there's still room for it to grow.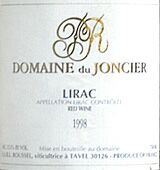 Domaine Joncier 1998 Lirac ($12.99)
Very dark blackish purple, clear reddish-violet at the edge. Good mature Syrah character, red fruit, smoke and leather on the nose and palate, backed by fragrant black pepper. The cork is wine-stained along two-thirds of its length, and there's a bold stripe of sediment painted down the side of the bottle, but there's no loose sediment in the wine, and it's holding up well. More complex now, and not as obviously tannic as a similar bottle showed in September 2001. U.S. importer: Kermit Lynch Wine Merchant, Berkeley, Calif. (Oct. 20, 2005)
FOOD MATCH: Chargrilled chicken made a fine, simple background for this earthy, acidic Southern Rhone red.
VALUE: I paid this price four years ago; the 1998 will be hard to find now, and the strength of the Euro has pushed the average price of more recent vintages of Joncier Lirac up a few dollars, although scattered retailers may offer it at a discount.
WHEN TO DRINK: There's good fruit and tannin left, suggesting that a couple more years on the wine rack would have done it no harm.
PRONUNCIATION:
Joncier = "Joan-see-ay"
Lirac = "Lee-ROCK"
WEB LINK:
Here's the English-language start page for a community Website published by the vignerons of Lirac including Domaine Joncier:
http://www.crulirac.com/gb/index.htm
FIND THIS WINE ONLINE:
Check vendors and prices for Joncier Lirac on Wine-Searcher.com:
http://www.wine-searcher.com/find/Joncier%2bLirac/-/-/USD/A?referring_site=WLP
WineLoversPage.com