This article was published in The 30 Second Wine Advisor on Friday, Oct. 21, 2005.
Back to Bordeaux

The last generation has been a long, strange trail for people who admire Bordeaux but also like value in our wine.

Reel backward fast to the 1980s: A string of outstanding vintages the likes of which have rarely been seen in wine blessed the historic Médoc and its surroundings.

The noteworthy 1982 in particular - a warm summer that produced big, bold wines of almost California-like stature - caught the attention of the then little-known American critic Robert M. Parker Jr., who praised a vintage that his competitors were dismissing as overripe and one-dimensional. Americans, by and large, agreed with Parker, and their buy-buy-buy response sent both Parker and Bordeaux into the statosphere.

CAUTION: Gross generalities follow. For the rest of the decade, only 1984 was lousy, and '87 light. The rest of the '80s, and '90, brought in one fine (if different in style) vintage after another. Naturally prices rose, but looking back on it now, the wines remained relatively affordable by modern standards, and I used to stock my wine rack with fine names of favorite chateaus - if not the first growths, at least respectable names like Lynch-Bages and Cos d'Estournel - and all was well with the world.

But starting with 1990, something strange happened: After prices reached a peak in 1990, Nature, which had given so bountifully, suddenly took away. The 1991s were atrocious and the '92s not much better, and through the rest of the decade, even the "good" vintages like 1995 barely rose to the quality of the less successful years of the '80s. But the prices did not drop back.

Faced with the ugly spectacle of lackluster wines at luxury prices, I pretty much abandoned Bordeaux completely, and I know that a lot of other budget-conscious wine enthusiasts did the same. The big-name Bordeaux stayed far out of reach; lesser-known labels and more generic appellations, to be blunt, tended to be poor wine, no value at any price.

The millennial vintage 2000 finally turned the tide for quality. Perfect weather fostered wines that many liken to 1982s with even better structure and depth; but of course they're priced to match.

But as the 2001 and 2002 Bordeaux start moving into retail channels in significant numbers (Red Bordeaux, in its nature, spends longer in barrel at the winery than many wines, so its "current" vintage lags), we're starting to see a few small signs of nature and the economy returning toward synchronicity. The top names, first growths and other ranking labels, remain priced out of easy reach. But it appears that the wines of these vintages will be more "classic" in structure; by cherry-picking and watching your preferred sources for tasting reports, we can fare surprisingly well in the $30 to $50 range, and even find an occasional wine of startling quality in the teens.

Today's featured wine, although from the decidedly modest appellation Bordeaux Superieur, comes from a respected if relatively out-of-the-way producer, Château de Parenchère, on the left bank of the Dordogne river, far to the east of the more well-known Bordeaux regions. Its soils, vines and wine-making heritage are above reproach, however, and this sturdy, well-balanced '01 - a blend of Merlot and Cabernet Sauvignon, mostly - shows the kind of Bordeaux character that I haven't seen in a $15 wine for a long time.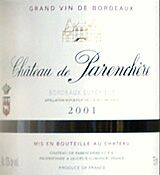 Château de Parenchère 2001 Bordeaux Superieur ($15)
Very dark reddish-purple with a clear, bright violet edge. Pleasant and typically Bordeaux on the nose, cedar and a floral hint of roses over black fruit. Well-balanced flavors, simple fruit and tart acidity, with substantial tannins beneath. Tannins soften with rare red meat on the table, but the wine will really benefit from time. A blend of 50 percent Merlot, 40% Cabernet Sauvignon, 9% Cabernet Franc and 1% Malbec. U.S. importer: The Stacole Co., Inc., Boca Raton, Fla. (0ct. 15, 2005)
FOOD MATCH: Dry-aged T-bone, pepper-crusted and pan-seared.
VALUE: As discussed, the realities of Bordeaux have brought us to the point where any well-made, characteristic example in the middle teens has to qualify as a bargain. In fairness, it's certainly competitive for quality with Cabernets and Cab blends from other regions at the same price point.
WHEN TO DRINK: Despite its relatively "downscale" appellation, its combination of balance and fruit and austere tannins suggest that it will benefit from several years of careful cellaring and might well last a decade or more.
WEB LINK:
You'll find the winery Website in English, German and French, at this link:
http://www.parenchere.com/
FIND THIS WINE ONLINE:
Click "Distributors" on the winery Website for international sources, or look up vendors and prices for Château de Parenchère on Wine-Searcher.com:
http://www.wine-searcher.com/find/Parenchere/-/-/USD/A?referring_site=WLP
WineLoversPage.com