This article was published in The 30 Second Wine Advisor on Monday, Oct. 17, 2005.
"Baby" Chateauneuf

Call me a cynic, but more often than not, when a wine merchant or wine maker spins me a tale like "This wine is actually declassified [fill in the blank}" or "That wine is grown just next door to [enter fabled vineyard here]," I'm inclined to make sure my wallet pocket is buttoned up tight.

On occasion, though, such claims are legitimate, and in my experience, when someone shows you a Southern Rhône wine from Alain Jaume's Domaine Grand Veneur, you can feel comfortable about popping it into your shopping cart.

This two-century-old family property near the historic village of Orange includes about 120 acres of vineyards that spread across parts of the Cotes-du-Rhône, Cotes-du-Rhône Villages and Lirac appellations as well as the fabled Chateauneuf-du-Pape. Grand Veneur's top-of-the-line Chateauneuf is a consistent favorite for me, and retains some vestige of value even in today's rising market, with the much-hyped 2003 going for a suggested retail price of $44 even after garnering a "90-92" preliminary rating from Robert M. Parker Jr.

But for a real deal, call "Domaine-Grand-Veneur-2003-Cotes-du-Rhône-Villages-"Les-Champauvins," a wine that makes a credible claim to "baby Chateauneuf" status with its vineyard just across the appellation line from Grand Veneur's Chateauneuf vineyard, sharing similar exposure and soil and much the same blend of grapes: 70 percent Grenache, 20 percent Syrah and 10 percent Mourvèdre. At a list price of $17.99 and a street price that may be a few dollars less, this is the closest that you're going to come to "genuine-imitation" Chateaneuf for under a double sawbuck. And to Jaume's considerable credit, he's handled the challenge of the overheated summer of 2003 in a wine that manages to carry its sturdy structure with very good balance. Highly recommended.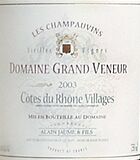 Domaine Grand Veneur 2003 Cotes du Rhône Villages "Les Champauvins" ($15.99)
Clear dark ruby with a reddish-violet edge. Very ripe black fruit, plums and spice, wafts of Provence herbs and fennel in the background. Bold flavors follow the nose, ripe Grenache raspberries and black plums over tart acidity and somewhat rough tannins. A big wine, typical of '03, but producer Alain Jaume has solved the vintage's challenge with structure and balance in a wine that's likely to improve for several years to come. U.S. importer: Kysela Père et Fils Ltd., Winchester, Va. (Sept. 12, 2005)
FOOD MATCH: Full-bodied, tannic red Rhones find their natural match in rare red meat; we paired it effectively with a pan-seared rib eye steak.
VALUE: My local price in the mid-teens beats the importer's possibly inflated "suggested retail" by two bucks; in any case, this very fine "Baby Chateauneuf" looks like a buy at well under half the price of its bigger brother.
WHEN TO DRINK: As noted, this gutsy, upper-tier Cotes-du-Rhone is likely to improve under at least a few years' cellaring, and I wouldn't bet against it with more extended cellar time.
WEB LINK:
Alain Jaume & Fils, the producers of Domaine Grand Veneur, publish an informative Website in English and French.
http://www.domaine-grand-veneur.com
For more about Domaine Grand Veneur, see the U.S. importer's Website,
http://www.kysela.com/rhone/grandveneur.htm
FIND THIS WINE ONLINE:
Check vendors and prices for Grand Veneur "Les Champauvins" on Wine-Searcher.com:
http://www.wine-searcher.com/find/Veneur%2bChampauvins/-/-/USD/A?referring_site=WLP
WineLoversPage.com