This article was published in The 30 Second Wine Advisor on Friday, Oct. 14, 2005.
Blonk, not plonk

Any time I'm even remotely tempted to generalize about all California wines, I subject myself to a simple process of re-education: I pull the cork out of just about any bottle of wine made by Edmunds St. John.

Wine maker Steve Edmunds doesn't just march to the beat of a different drummer, he plays the drum, or the guitar, anyway - in addition to being a fine wine maker, he's a musician and songwriter of some small repute. For a sample of his art, check out the non-wine pages of his artful winery Website, http://www.edmundsstjohn.com/LonesomeOnTheGround/

We're here for the wine, though, and just the other day I encountered a truly offbeat but compelling Edmunds St. John item that I hadn't tasted before. Labeled "Blonk!" in apparent homage to both "blanc" ("white wine") and "plonk" (British slang for modest, everyday table wine), it's an odd blend of three white varieties from the Rhone: Roussanne (44 percent), Viognier (37%) and Marsanne (19%).

Steve says this wine was a one-time venture into making lemonade when life gives you lemons. On the winery Website, he explains: "One of the toughest things to learn, for a baseball player, is hitting a curveball. 2002, for us, was the year of the curveball. We had such an odd vintage. Almost none of the grapes we received came in looking the way we expected. The white grapes from Rozet Vineyard were, in general, on the ripe side, and made substantial wines that were a bit heavy compared to the first two vintages. And it took us a while to get it bottled. What we ended up with is a wine that's highly aromatic, and has good richness. It's clean and well-delineated, rather low in acidity, and, it's delicious ... "

It takes a special kind of wine maker to pay close attention to what the grapes are telling him and takes advantage of what Nature provides. It's this approach that makes me an enduring fan of Steve and his wines.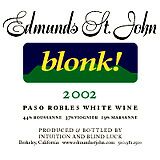 Edmunds St. John 2002 Paso Robles "Blonk!" ($14)
Clear brassy gold, this wine's intense color hints at the ripe extraction that awaits in the glass. Heady and aromatic, it breathes a complex blend of floral, "green" and tropical flavors that one hopes for in a ripe Rhone white blend of Roussanne, Viognier and Marsanne. The flavor carries out the promise of the nose in a full-bodied, almost unctuous and aromatic wine that smells sweet but drinks dry and makes a natural companion to a range of bold-flavored Nuevo Latino dishes. (Sept. 15, 2005)
FOOD MATCH: Brilliant with a variety of Nuevo Latino dishes at Louisville's Seviche restaurant, including ahi tuna seviche, spicy rocoto shrimp and a Pacific Rim-style variation on bouillabaisse.
VALUE: At the winery suggested retail price, it's a no-brainer. Enjoyed with a fine lunch at an excellent local restaurant, it was a decent value even at a standard wine-list markup, $28.
WHEN TO DRINK: Fine now, and idiosyncratically unpredictable. The wine maker believes it should improve for two or three more years. Rhone-variety white blends can gain great richness and complexity with a little age, so if you have good cellar conditions and can lay your hands on a few bottles, an experiment in aging might be well worth the risk.
WEB LINK:
You'll find lots of information about Edmunds St. John, the wine maker and the wines, on the winery Website,
http://www.edmundsstjohn.com/
FIND THIS WINE ONLINE:
Sadly, this is another fine wine made in painfully limited quantity: Steve turned out just 385 twelve-bottle cases of the 2002. If your local wine shop doesn't have it, try looking for distributors in many U.S. states, Canada, Japan and the UK on Edmunds St. John's Website:
http://www.edmundsstjohn.com/WhereToBuy.html
You'll also find a limited selection of online vendors for Blonk! at Wine-Searcher.com:
http://www.wine-searcher.com/find/Blonk/-/-/USD/A?referring_site=WLP
WineLoversPage.com