This article was published in The 30 Second Wine Advisor on Monday, Oct. 10, 2005.
Happy (Canadian) Thanksgiving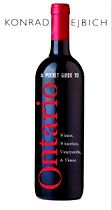 In a spirit of friendship with our Canadian cousins, who are wrapping up their three-day Thanksgiving weekend today, I'd like to devote today's column to a quick look at a useful new book about Canadian wines and a tasting report on an unusually appealing Niagara Peninsula red that I brought home from Ontario last summer.
First, the book: A Pocket Guide to Ontario Wines, Wineries, Vineyards, & Vines, by Konrad Ejbich, is billed as "the most comprehensive reference book on Ontario wines ever published," and I can believe that. Ebich, a past president of the Wine Writer's Circle of Canada, has scrupulously tasted his way through every winery in the province, from the Niagara Peninsula and Pelee Island on to such less-familiar Ontario wine regions as Prince Edward County and Metro Toronto itself.
In a format similar to Hugh Johnson's popular Pocket Wine Book, Ejbich provides detailed tasting notes on more than 2,000 Ontario wines, and to his great credit, he offers candid appraisals and doesn't hold back, in ratings or commentary, on wines he does not find worthy. The 1998 Riesling from Stonechurch Vineyard in Niagara-on-the-Lake draws a zinger, for instance, with an "X" icon reflecting "flawed/undrinkable," and the terse note, "Dirty nose. I did not wish to taste this."
The good news is that there's much to like in the growing river of wine flowing out of Ontario, and Ejbich's tastings yield mostly positive reports. His style is crisp and readable, and - for what it's worth - his notes on Ontario wines that I've tasted recently are quite consistent with mine. This modestly priced little paperback is worth the investment even if your interest in Ontario wines is purely vicarious. If you're planning a trip to the region, it's a must-have item.
U.S. readers can purchase "A Pocket Guide to Ontario Wines, Wineries, Vineyards, & Vines" from Amazon.com for $11.53, a 32 percent discount from its $16.95 list price by clicking
http://www.amazon.com/exec/obidos/ASIN/077103055X/robingarrswineloA/
(Purchases made using this exact link will return a small commission to WineLoversPage.com.)
Now, a quick word about today's featured wine: It's a Gamay, made from the same grape variety as Beaujolais in France ... but what a Gamay! Gamay Noir "Droit" is a unique clone of the Gamay grape registered by, and grown only on the property of, Chateau des Charmes, which is one of the Niagara Peninsula's older wineries and one of its most spectacular, with an imposing winery building in the style of a French chateau.
In 1982, winery founder Paul-Michel Bosc discovered a single Gamay Noir vine that showed unusual characteristics. Visually, it stood out in the vineyard row because it grew naturally in an upright ("droit") position. More significantly, its grapes proved to ripen about ten days later than regular Gamay Noir, a short but significant difference that yielded higher sugar levels and more intense color, resulting in a Gamay wine with atypically full body, high alcohol and concentrated flavor.
Delighted, M. Bosc propagated the vine through cuttings, registered the clone to ensure international plant-breeder rights for Chateau de Charmes, and now has enough of it growing in the winery's St. David's Bench Vineyard to produce more than 1,000 cases of "Gamay Noir 'Droit'," perhaps the most exuberant and powerful Gamay I've ever tasted, no mere "fruit bomb" but a luscious, complex wine that brings together fruit and floral character with excellent balance and noteworthy minerality.
Konrad Ejbich rates it four stars (90-93 - "Terrific. Expect an exceptional experience"). I rate it "Wow!" My notes are below.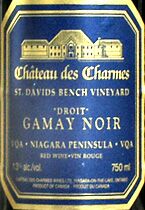 Chateau des Charmes 2003 St. Davids Bench Vineyard Niagara Peninsula VQA "Droit" Gamay Noir (CDN$15.95)
Clear, dark garnet with brilliant reddish-violet glints. Delicious aromas, fruit-forward red berries and roses and a warming whiff of cinnamon add up to complexity unusual in a Gamay. Juicy and tart flavors, cranberry and a squirt of lemon; fresh, clean and lasting. Outstanding, a world-class Gamay with a unique Canadian twist. Purchased at the winery in August 2005. (0ct. 9, 2005)
FOOD MATCH: The wine maker suggests pairing it with tomato-sauce pasta dishes, red meats and barbecued foods. It worked well for me with a more refined dish, poached chicken with an herbal tarragon velouté.
VALUE: At the prevailing U.S.-Canadian dollar exchange rate, this cost me US$13.50, a very fine value indeed.
WHEN TO DRINK: Gamay is not for cellaring, but this wine's purity and balance don't require immediate drinking. It should be good on the wine rack for at least a year or two.
WEB LINK:
Chateau des Charmes' attractive Website is online in both English and French.
http://www.chateaudescharmes.com/
FIND THIS WINE ONLINE:
Chateau des Charmes' wines are available at the winery, in LCBO stores in Ontario and in at least a few other Canadian provinces, U.S. states, Britain, France and Japan. For distributor information check the winery Website's "Contacts" page,
http://www.chateaudescharmes.com/contact/contact.html
Wine-Searcher.com has relatively few hits on Chateau des Charmes:
http://www.wine-searcher.com/find/Niagara%2bCharmes/-/-/USD/A?referring_site=WLP
WineLoversPage.com