This article was published in The 30 Second Wine Advisor on Friday, Oct. 7, 2005.
Montalcino, Montepulciano

Since we're covering Tuscany and its wines as this month's assignment-in-pleasure over on our Wine Tasting 101 Forum, let's pull a cork and pour a glass as we try to clear up the distinction between two of the region's more confusingly similar place names: Montalcino and Montepulciano.

The names sound just similar enough to be a bit bewildering to English speakers, and the sturdy red wines of the regions bear a kinship, too, being made of Sangiovese, the same grape that predominates in Chianti.

Montepulciano ("Moan-teh-pool-CHAH-noe") is a hilly region on Tuscany's southwestern edge, east of the historic hilltop town of Siena, where Tuscany meets Umbria near pretty Lake Trasimeno. The region is so ancient that it traces its cultural and vinous heritage to the Etruscans, the original people who settled the area before the Romans came. The flagship wine of the region is Vino Nobile di Montepulciano ("The Noble Wine of Montepulciano"), but the region's second wine - Rosso di Montepulciano ("Red of Montepulciano") - offers much of the same but just a little less, operating under less stringent requirements for vineyard yield, alcohol level and barrel aging. You could call the Rosso the "little brother" of Vino Nobile. (I feature a good one in today's tasting report, below>)

The similar-sounding Montalcino ("Moan-tahl-CHEE-noe") is another ancient region with both an Etruscan and Roman heritage. It lies south of Siena, a bit to the west of Montepulciano, and its top red wine is Brunello di Montalcino, an appellation that many wine enthusiasts - including me - rank among Italy's very best. Another source of possible confusion arises here: Brunello's grape is proudly called "Brunello," but it's actually Sangiovese, too, a unique and identifiable clone. Rosso di Montalcino is to Brunello as Rosso di Montepulciano is to Vino Nobile: A similar wine made in the same region from similar grapes, but under less restrictive regulations that foster the production of a simpler, lighter, less ageworthy wine that's meant for early drinking and immediate enjoyment.

Got all that? Now here's one more kicker: Don't confuse Rosso di Montepulciano with Montepulciano d'Abruzzo, a modest but approachable red wine made in the Abruzzi, not Tuscany, from a widely planted grape variety named Montepulciano that has nothing to do with Sangiovese.

Did you ever wonder why some people think Italian wine is confusing!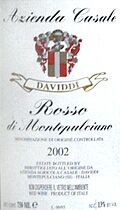 Casale 2002 "Daviddi" Rosso di Montepulciano ($16)
Very dark garnet. Bing cherries and brown spices with a back note of something warmer, prunes and black raisins. Mouth-filling and juicy, ripe black fruit and a lemon-squirt of acidity; opens up to even more forward black and red cherries as the wine airs in the glass. Flavors consistent in a long, clean finish. U.S. importer: Vintner Select, Cincinnati, and other regional importers; a Marc di Grazia selection. (Oct. 6, 2005)
FOOD MATCH: Italian sausage and rapini over rigatoni pasta.
VALUE: Fine value, particularly considering the rising price of European wines with the strong Euro.
WHEN TO DRINK: Not intended for long-term aging, but it should drink well for at least a few years.
PRONUNCIATION:
Montepulciano = "Moan-teh-pool-CHAH-noe"
WEB LINK:
Azienda Casale di Daviddi Aldimaro has its home page in Italian and English. Here's the English home page:
http://www.casaledaviddi.it/azienda.uk.php
FIND THIS WINE ONLINE:

Find sources and check prices for Azienda Casale Daviddi on Wine-Searcher.com:
http://www.wine-searcher.com/find/Daviddi/-/-/USD/A?referring_site=WLP
WineLoversPage.com