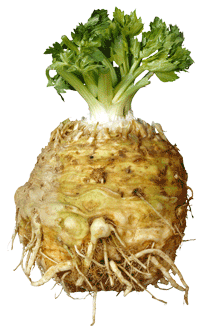 Celeriac pancakes
INGREDIENTS: (Serves two)
2 small or 1 large celeriac (celery root)
1/2 medium sweet onion
2 tablespoons (30g) white flour
1 egg
1 tablespoon heavy cream
1 teaspoon ground cumin
1 teaspoon salt
1/2 teaspoon black pepper
2 tablespoons peanut oil
2 ounces sharp Cheddar cheese
PROCEDURE:
1. Wash and scrub the celery root to remove any mud. Peel it, using a vegetable peeler or sharp knife. Grate it into shreds, using the large holes on a box grater or the food-processor equivalent, and put the result in a mixing bowl. Peel the onion and grate it into the same bowl.
2. Stir in the flour, the egg and the cream; add the cumin, salt and black pepper, and stir it all together into a thick batter. If it seems too dry to stick together, add a little more cream or water.
3. Form this thick batter into four to six balls the size of golf balls or a little larger.
4. Heat the peanut oil to sizzling in a large nonstick skillet. Put in the six balls of celeriac, flattening them into thick rounds. Let them cook on one side until they form a light brown crust, two or three minutes, then flip them to brown the other side. Reduce heat to medium and continue to cook, turning occasionally, until they are cooked through, perhaps 10 minutes in all.
5. While the pancakes are cooking, cut the cheese into as many thin slices as you have pancakes. When they're almost done, drape a slice of cheese over each pancake, cheeseburger-style, and continue cooking just until the cheese warms and melts a little. Serve immediately as a light vegetarian main course or a side dish.
MATCHING WINE:
If you're serving the pancakes as a side dish, match the wine to the main course; there's no flavor here that should "war" with any red or white wine. I found that the sharp cheddar helped bring the dish up to a ripe red (a 2003 Dolcetto), but if I were seeking an ideal match for the pancakes alone, I'd likely go with a herbal white along the lines of a Sauvignon Blanc.