This article was published in The 30 Second Wine Advisor on Wednesday, Sept. 28, 2005.
Corporate wine

Remember the time ... it wasn't really all that long ago ... when your bank, your department store, your favorite book shop and even your local daily newspaper were locally owned and operated businesses?

Times have changed, and so have the logos; and the chances that you have a nodding acquaintance with your bank president or book shop owner are a lot slimmer than they used to be, as mega-corporate forces increasingly control businesses large and small.

I won't argue whether this is a good thing or a bad thing, at least not today. But it's certainly a fact of life; and in case you haven't noticed, this international trend hasn't been lost on the wine business. More and more family wineries have come under corporate ownership, from the high-end corporate conglomerate LVMH (Louis Vuitton Moet Hennessy) - which now owns Dom Perignon, Veuve Cliquot, Ruinart and Krug Champagnes, not to mention Chateau d'Yquem and Glenmorangie Scotch and many more big-name drinks brands - to the bewildering array of wine brands that have been snapped up by wine giants like Constellation (formerly Canandaigua), Beringer Blass, Brown-Forman and Ernest & Julio Gallo.

Constellation, which made headlines last winter when it took over the historic Mondavi brand, has been in the news again this week. Constellation snapped up the Rex Goliath brand with its funky "47 Pound Rooster" label, and in a larger bid, announced a hostile takeover effort aimed at Canada's Vincor International, itself a wine, um, constellation of some brightness that owns an array of Canadian brands plus such familiar U.S. labels as R.H. Phillips, Toasted Head and Hogue and several New Zealand brands including Kim Crawford.

I was inspired to today's musings by today's tasting, the 2001 Napa Valley Cabernet Sauvignon from Louis M. Martini, the first Napa winery I ever visited (way back in 1970, when you could still pretty much take in Napa in a weekend). One of the valley's most historic wineries, Martini's family-owned tradition began during Prohibition when the winery's namesake patriarch opened L.M. Martini Grape Products Co. in 1922, licensed to produce sacramental wines and grapes for home winemaking. E&J Gallo took over the Martini operation in a multi-million dollar deal in 2003. The 2001 wines were already in the vats at that point, of course, but the vintage was the first to be finished and marketed (with new labels) under Gallo's direction.

Because I've loved Martini's wines for a long time, and have always found the Cabernets under-valued and remarkably cellar-worthy, I'm watching this one closely and keeping my fingers crossed that corporate management won't change the product. The '01s have certainly been fine, in my opinion, although I can't help but notice a little retail "price creep" setting in. Long an $8-$12 wine, the '01 Napa is getting dangerously close to $20 from at least one local retailer.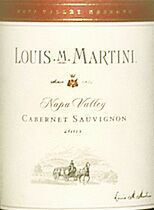 Louis M. Martini 2001 Napa Valley Cabernet Sauvignon ($18.99)
This clear, dark-ruby wine shows clean, typical Cabernet Sauvignon character in a rather fruit-forward style, fresh blackcurrant backed by light herbal notes that evoke fresh oregano and thyme. Fresh and juicy fruit flavors follow the nose, backed by snappy acidity, with light, smooth tannins in the background. It's a nicely balanced wine, fresh and food-friendly, but not overly complex. (Sept. 26, 2005)
FOOD MATCH: A juicy, crisp-skinned roast free-range chicken made a fine match, and a Southwestern accent from a discreet touch of chipotle peppers in adobo sauce under the breast skin and rubbed on the surface did not detract from the pairing.
VALUE: As noted, it's a bit troubling to see Martini's Napa Cabernet approaching the $20 mark. Wine-Searcher.com lists retail prices for the Napa bottling ranging from $13 to $20, an incredibly, the winery's asking price in the Martini online shop is $28. If the '01 ages as well as its predecessors, a high-teens price may be justified as an investment in future drinking pleasure. But it's difficult not to suspect the bean counter's occult hand at work here.
WHEN TO DRINK: Historically, Martini Cabernets have a remarkable track record for cellaring, and I've enjoyed many a 25-year-old beauty. That being said, will Gallo maintain this wine-making tradition? Only time will tell, but this 2001, despite its relative simplicity in its youth, seems to have the balance and structure needed for an ager.
WEB LINK:
To visit the Louis M. Martini Website, click
http://www.louismartini.com
FIND THIS WINE ONLINE:
Find prices and vendors for Louis M. Martini Cabernets on Wine-Searcher.com:
http://www.wine-searcher.com/find/Louis%2bMartini%2bCabernet/-/-/USD/A?referring_site=WLP
WineLoversPage.com