This article was published in The 30 Second Wine Advisor on Monday, Sept. 26, 2005.
What color is your Zin?

If you answered "white" to this trick question, you're probably not a wine "geek," but you're certainly not alone: White Zinfandel is the third-largest-selling varietal wine in U.S. food stores, according to a fact sheet that came in today from the California Wine Institute.

White Zin, of course, is not a grape variety but a style of wine - most often pink, not white - that's made by crushing red Zinfandel grapes but removing the skins before they've had time to impart more than an embarrassed blushing color to the wine.

White Zin trails only Chardonnay and Merlot in the supermarket sweepstakes, although the chances are that it ranks much farther back in the pack at the fine-wine shops where more serious wine enthusiasts congregate. Its low-end popularity certainly makes it a money wine for the industry, though, and it's no coincidence that many restaurateurs feel compelled to spell out that the Zinfandel on the wine list is red.

In view of the popularity of White Zin and other, similar "blush" wines, are wine lovers who disdain this pink, low-acid and sweetish style merely being snobs? Well, not exactly. With apologies to anyone in the audience who enjoys a glass of "blush" - and there are millions of fans, particularly among those who haven't acquired a taste for the dry, acidic and sometimes astringent style of traditional table wines - the problem isn't entirely with the style. It's certainly possible to make a quality pink wine from white grapes, a crisp table wine with clean, true fruit flavor and snappy, food-friendly structure. It's done all the time in Provence and spottily elsewhere around the world, and such wines don't even have to be bone-dry.

In practice, though, with blush wine as with so many other consumer products, the marketplace - particularly industrial producers - seems to see no reason to make a smart version when a dumbed-down one will sell.

That's today's story, and I'm sticking to it. If I want a pink wine, I'll drink a Provence rosé or a dry rosé of similar quality and style from California, Australia, Italy or Spain. And if I want Zinfandel, I'm drinking the real thing. Like today's featured wine, for instance, from my old pal and recent Rhone Valley traveling companion, Erich Russell of Rabbit Ridge ...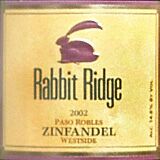 Rabbit Ridge 2002 Paso Robles Westside Zinfandel ($17.99)
This is a clear, dark ruby wine with a reddish-violet edge. A blackberry cordial aroma is characteristic of high-alcohol Zin, with whiffs of herbs and a hint of green peppercorn to add nuance on the nose and palate. It's big and warm, mouth-filling and jammy, but it admirably carries its high-octane 14.8% alcohol on a sturdy structure of ripe mixed-berry fruit and snappy acidity. (Sept. 25, 2005)
FOOD MATCH: Next to a char-grilled rare steak, it's hard to imagine a better match with a lusty Zin than chili ... I went with a Midwestern-style recipe but fired it up with plenty of Tex-Mex spice. (See this coming Thursday's 30 Second Wine Advisor FoodLetter for the recipe.)
VALUE: This price is more than fair for a quality Zin in today's marketplace, but you may be able to find it for less, as the winery suggested retail is a couple of bucks below what I paid locally.
WHEN TO DRINK: I'm of the school that prefers to drink Zin relatively young while it's fruity and fresh, but you don't need to worry about losing this powerhouse if you hold it for a year or two.
WEB LINK:
The Rabbit Ridge Website features the similar 2003 vintage at this link:
http://www.rabbitridgewinery.com/zinpaso03.html
FIND THIS WINE ONLINE:
Rabbit Ridge offers direct sales to selected U.S. states on its Ordering Information page. To find vendors and compare prices for Rabbit Ridge Zinfandel, check the databases on Wine-Searcher.com:
http://www.wine-searcher.com/find/Rabbit%2bRidge%2bZinfandel/-/-/USD/A?referring_site=WLP
WineLoversPage.com