This article was published in The 30 Second Wine Advisor on Friday, Sept. 23, 2005.
2003 Valpolicella

Staying with this week's theme about vintage in general and the 2003 vingate in Europe in particular, let's follow up on Wednesday's report on a ripe and luscious 2003 Dolcetto by taking a quick look at a wine from the hot summer of '03 on the other side of Northern Italy: Valpolicella.

Pronounced "Vahl-poe-lee-CHELL-ah," this scenic section of Northeastern Italy's Veneto lies in the green hills north of Verona (which Shakespeare scholars may recall as the home town of Romeo and Juliet), not far from Lake Garda in Italy's scenic lake country.

Like so many regional Italian wines, Valpolicella is made not from familiar international varieties but predominantly from indigenous grapes rarely seen in other wine regions: Corvina Veronese, Rondinella and Molinara, predominantly, although it may add smaller amounts of Barbera or, under relatively relaxed modern regulations, even a bit of Tuscan Sangiovese or non-Italian grapes.

Valpolicella's most imposing wine is the powerful Amarone, which is made by air-drying grapes to concentrate their fruit sugars before pressing and fermentation; and the "Ripasso" style of Valpolicella, which is refermented on the grapeskins from the previous vintage's Amarone to impart extra color and strength. But the basic Valpolicella - and Valpolicella Classico, made from grapes grown in the region's desirable central zone - is typically a light wine, fruity and refreshing, meant to be drunk up while it's young.

As with the recently reported 2003 Dolcetto, though, the 2003 Valpolicella Classico featured today - from the producer Angelo Nicolis - fared very well under this vintage's scorching heat. In contrast with so many of the '03s from normally cooler regions that responded to the heat with one-dimensional, overripe fruit and insufficient acidity, this wine is luscious and balanced, not a Valpolicella on steroids but one on a healthy fitness plan. I like it.

Speaking of Valpolicella, a couple of months ago, a question about a wine label in our Wine Lovers' Discussion Group online forum yielded a remarkable discussion about the history and etymology of the name. I'll refer you to the original discussion (link below) for the extended details, but for quick reference, there are at least three separate, intriguing, and very different theories about the origin of this musical-sounding wine name.

• The most common explanation is likely the one favored by the Valpolicella Chamber of Commerce: "Val" plus "poly" plus "cella" adds up to "valley of many cellars," giving testimony to its long history as a wine region. It's a nice story, but like most wine legends that sound too good to be true, it probably is too good to be true.

• Another theory, cited in a century-old gourmet-food guide to Europe in English, argues that "Val Policella" means "Valley of the Little Po," after a local tributary of Italy's Po River, which drains the Veneto plain into the Adriatic.

• Two more, somewhat similar notions go back to older times. One traces the name to the 12th century, but is flawed by the troublesome detail that it assumes the Veronese would have had some reason to name the valley in Greek: "Val Polesela," based on the Greek "polizelos," or "doubly blessed." The other theory strings together "Val" ("valley") and the Greek "-isela" ("blessed") with an ancient town or monastery named "Pol."

You can pay your money and take your choice. I'll just drink the wine. Even the 2003.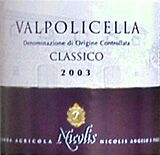 Nicolis Angelo e Figli 2003 Valpolicella Classico ($15)
Very dark garnet, black at the center, with luscious aromas of black raisins, dried cherries and a whiff of dark chocolate. Ripe, juicy and tart, very nicely balanced between sweet fruit and snappy acidity, with just a hint of the classic bitter-almond finish of Valpolicella peeking through the fruit in the finish. U.S. importer: VillaItaliawines.com, South San Francisco, Calif. (Sept. 20, 2005)
FOOD MATCH: Fine with veal, beef or even picnic fare; it was unexpectedly, if cross-culturally, well-matched with the 5ichuan-style eggplant and pork dish featured in yesterday's Wine Advisor FoodLetter.
VALUE: Thanks to the strong Euro and increasing quality, Valpolicella above the mass-market level is no longer a cheapskate wine. But this one certainly justifies a mid-teens price for its quality and just-plain enjoyment.
WHEN TO DRINK: A drink-me-now wine, although - like Wednesday's featured Dolcetto - ripeness and fruit-acid balance should help this sturdy '03 last a few years longer than lighter vintages.
PRONUNCIATION:
"Valpolicella" = "Vahl-poe-lee-CHELL-ah"
WEB LINK:
The Nicolis Website is published in Italian, German and English. Here's the English-language home page:
http://www.vininicolis.com/eng/index.htm
FIND THIS WINE ONLINE:
Query Wine-Searcher.com for vendors and prices for Nicolis Valpolicella:
http://www.wine-searcher.com/find/Nicolis%2bValpolicella/-/-/USD/A?referring_site=WLP
WineLoversPage.com