This article was published in The 30 Second Wine Advisor on Monday, Sept. 19, 2005.
Offbeat grapes and wines - Ruché

Come join me on another our occasional excursions down the wine roads less taken, as we enjoy a quick look at Ruché ("Roo-kay"), an Italian red grape so obscure that it's only grown in a few small villages in the Castagnole Monferrato hills northeast of Asti in Piemonte.

Long available only to tourists visiting the area, Ruché has started turning up occasionally in the world market, especially after Ruché di Castagnole Monferrato was legally designated a D.O.C. under Italian wine law a few years ago.

It's such a rustic oddity, indeed, that the Italian Trade Commission's informative ItalianMade.com Website declares that almost nothing is known about the grape's history, which was never written down but exists only as an oral tradition.

Even the name of the grape is under debate. I've read that it comes from a dialect word for "rock," but this may reflect confusion with the French Roche. ItalianMade.com speculates that the Piemontese name boasts of the vine's resistance to roncet, a local term for "a degenerative infection of viral origin to which the variety is more resistant than others cultivated in the district, particularly Barbera and Grignolino."

Whatever it means, it makes a wine with a memorable aroma and flavor profile that offers a significant change of pace from the usual suspects. Put Ruché in your glass, and you certainly won't mistake it for Merlot. Pinot Noir, maybe.

I've reported previously on an excellent example from the importer John Given, Cantine Sant'Agata "Na Vita" Ruché di Castagnole Monferrato. Today's tasting features an import from the colorfully labeled "Il Circo" line of unusual Italian varieties from Bonny Doon Vineyards.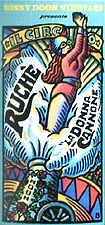 Bonny Doon 2003 "Il Circo" Ruché di Castagnole Monferrato ($18.99)
This is a very dark purple wine with a bright reddish-violet edge. Luscious aromas offer a benchmark example of Ruché with a heady, rosy floral scent accented with warm brown spice. Rich and full in flavor, tart red fruit and spice, mouth-filling and plushy on first impression, but a firm core of acidity carries it into a clean, medium-long finish, with an unusual, intriguing hint of caraway seed and light tannic bitterness lingering. U.S. importer: Bonny Doon Vineyard, Santa Cruz, Calif. (July 16, 2005)
FOOD MATCH: It went very well with a light summer dinner of spaghetti with salsa cruda, hot pasta tossed with chopped fresh garden tomatoes, sweet onions, diced fresh whole-milk mozzarella and basil.
VALUE: I'd like to see it closer to the middle teens, but considering the strength of the Euro and the wine's artisanal status and flavor interest, it's certainly justifiable at this price, if only to add Ruché to your life list.
WHEN TO DRINK: Ruché is a wine made to drink young and fresh, and it will lose flavor interest as its fruit fades with time. It should be safe to drink it through the next year or so, though.
PRONUNCIATION:
"Ruché" = "Roo-kay"
"Il Circo" = "Eel CHEER-coe"
"Castagnole Monferrato" = "Cahs-tahn-YO-lay Mawn-fehr-RAH-toe"
WEB LINK:
The Bonny Doon Website has a page about the 2003 Il Circo Ruché in its "Eurodoon" section,
http://www.bonnydoonvineyard.com/wine/view/91
FIND THIS WINE ONLINE:
Wine-Searcher.com shows limited vendors for Il Circo Ruché, but it should be available from the Bonny Doon Website or wherever Bonny Doon wines are sold in the U.S., Canada and Europe:
http://www.wine-searcher.com/find/Circo%2bRuche/-/-/USD/A?referring_site=WLP
WineLoversPage.com