This article was published in The 30 Second Wine Advisor on Friday, Sept. 16, 2005.
Another angle on 2003 - Beaujolais

As more and more wines from Europe's super-hot, super-ripe vintage of 2003 come into the marketplace, you may have noticed that my comments about the '03s are starting to take on a monotonous note that suspiciously resembles a rant.

In Burgundy, barrel tastings in 2004 revealed thick, tarry fluids that seemed more like huge Central Coast California Syrahs (or possibly motor oil) than traditional Burgundian Pinot. In the Northern Rhone this past summer, many of the wine makers I met were chuckling all the way to the bank as some American critics awarded startlingly high scores to wines that more traditionally tuned palates (including the wine makers themselves) found more akin to giant Zinfandels than to "normal" Hermitage or Cote-Rotie. In the Loire, too, the classic lean minerality of the region's lovely whites too often gave way in '03 to jammy, overripe and "New World" styles.

Further south, in the Southern Rhone and Provence, Languedoc and on to Italy and Spain, where the summers are routinely torrid and producers are more accustomed to working with ripe, sunburned fruit, things weren't quite so bizarre as in the north. But even in Chateauneuf-du-Pape, one of my favorite wine regions of them all, the '03s are looking mighty fat and happy ... and atypical.

But as I often point out about vintage generalizations, there are always exceptions. And 2003 is, well, no exception to that rule. In recent weeks I've accumulated a number of tasting reports on '03s that exceeded my expectations. I'll report on several of these in coming issues. Today, let's take a look at a 2003 Beaujolais-Villages, from the large but respected Burgundy negociant Louis Jadot, that fared very well indeed in this hot vintage, gaining unusual darkness and depth from ripeness without going over the top.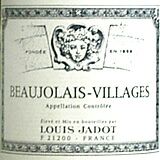 Louis Jadot 2003 Beaujolais-Villages ($9.69)
A dark garnet color, blackish at the core, offers the first signal that this is no ordinary Beaujolais. Delicious ripe strawberries fill the nose and palate with a summery celebration of the Gamay grape, with a distinct red-clay minerality in the background to add a welcome note of complexity. Nicely structured with a good balance of fruit and acidity, this is an exceptional Beaujolais at a very good value. U.S. importer: Kobrand Corp., NYC. (Sept. 5, 2005)
FOOD MATCH: Beaujolais is one of my go-to wines with ham, and this one was fine with an uncured ham steak from Niman Ranch.
VALUE: Particularly with the weak dollar exchange rate against the Euro, an under-$10 price is hard to beat for a French wine of this quality.
WHEN TO DRINK: It's not going anywhere in the next year or so, but Beaujolais is meant to be enjoyed young. Drink up.
PRONUNCIATION:
"Beaujolais" = "Boe-zho-lay"
"Louis Jadot" = "Loo-ee Jah-doe"
WEB LINK:
The Louis Jadot Website is online in English and French.
http://www.louisjadot.com/
Click the British or French flag in the lower-right corner for the language of your choice.
FIND THIS WINE ONLINE:
Look up availability and prices for Louis Jadot Beaujolais-Villages on Wine-Searcher.com:
http://www.wine-searcher.com/find/Jadot%2bBeaujolais%2bVillages/-/-/USD/A?referring_site=WLP
WineLoversPage.com