This article was published in The 30 Second Wine Advisor on Monday, Sept. 12, 2005.
Oak or noak?

Over the years, I've developed a bit of a knee-jerk negative response to the presence of perceptible oak in wine.

For a long time, this was a rational position, as way too many producers - particularly through the 1980s and 1990s - seemed to joyously over-oak every wine in sight, resulting in oceans of wine that reeked of raw wood, to the extent that pouring a glass of one created a sensation similar to that of walking into a house with freshly sanded floors.

This was particularly true in the New World, especially California and Australia, where a few wine makers became so notorious for their over-use of oak that you could anticipate what you'd find in the bottle without even needing to pull the cork.

But times and customs change, and it seems to me that - with a few notable exceptions - a certain order has returned to the wine universe as the pendulum swings back toward the center. Exposure to a lot of California "Rhone-style" wines at the recent MoCool tasting in Michigan reinforced my impression that there's plenty of complex, balanced wine coming from the Golden State that even a dyed-in-the-wool Europhile can love.

And speaking of that, even the most ardent oak-phobe has to acknowledge the ongoing presence of barrel rooms in the cellars beneath just about every European winery. From great Bordeaux to White Burgundy, many of Europe's greatest wine treasures wouldn't be the same without a kiss of oak. And from Italy's grand Riservas to the oak-nurtured Crianzas of Rioja, many of the European classics require oak, by custom and by law.

In short, the problem with oak has never been its use but its abuse. As I've said before, the Boston-area wine retailer Richard Eccleston captured the concept beautifully in the pithy one-liner, "Oak should be a spice, not a sauce."

Today's tasting offers a glimpse into the effect of oak on wine: I set up a "blind" tasting that pitted a white Burgundy from Saint-Aubin, produced by Michel Colin-Deléger, a maker with a reputation for a rather heavy hand with oak (at least by European standards), against a New Zelaand Chardonnay from Kim Crawford, a Marlborough producer who makes a virtue out of shunning oak entirely.

As it turned out, the test needn't have been done "blind." The spicy signature of oak and the richer golden color of the Deléger made it a no-brainer to distinguish it from the nothing-but-fruit Kim Crawford, even in plain, unmarked glasses.

But here's the interesting bit: Although I might have rated the Crawford well in isolation because of its crisp, pure fruit flavors, in a side-by-side comparison the relatively oaky French wine dominated the competition on the basis of aroma and flavor interest, richness and complexity. The New Zealand contender was a nice, fruity, refreshing quaff, but in that instinctive, subjective judgement process that leads you unerringly back to one particular bottle when it's time for a refill, the French wine was the easy winner.

So much for oak-phobia.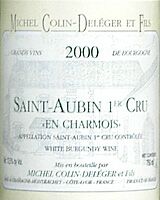 Michel Colin-Deléger 2000 Saint-Aubin 1er Cru "En Charmois" ($28)
This is a clear, straw-color wine with a golden hue. Fresh appley aromas, the signature of Chardonnay, add an appealing rich note of roasted chestnuts and discreet oaky spice. Full, almost unctuous on the palate, apples are joined by hints of rising bread dough, luscious fruit on a firm acidic structure. A slightly awkward note of less-than-fully-integrated wood takes off a judging point or two, but doesn't really detract from the wine's overall appeal. U.S. importer: Kermit Lynch Wine Merchant, Berkeley, Calif. (Sept. 9, 2005)
FOOD MATCH: Fine with both courses of a meal fashioned to go with Chardonnay: Spaghetti tossed with butter and fresh sage, and shrimps sauteed in butter with garlic.
VALUE: Priced a bit above the everyday-enjoyment range, but you're not likely to find a Premier Cru white Burgundy for less. Bottom line, I'd buy another bottle or two at this price.
WHEN TO DRINK: White Burgundy cellars very well, and this one is showing little or no sign of age. I'd expect it to gain richness and complexity for at least a few more years under good cellar conditions. Note also that, although I purchased this wine recently at retail, it's several years behind the current vintage; the 2003 is already in the marketplace.
PRONUNCIATION:
"Saint Aubin" = "Sahn-toe-baN"

FIND THIS WINE ONLINE:
Look up availability and prices for Colin-Deléger Saint-Aubin on Wine-Searcher.com:
http://www.wine-searcher.com/find/Deleger%2bAubin/-/-/USD/A?referring_site=WLP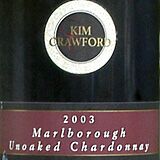 Kim Crawford 2003 Marlborough Unoaked Chardonnay ($12.99)
Glints of light brassy-green add a touch of color to this very pale, straw-color wine. It's pleasant and appealing but not at all what I expect in a Chardonnay: Citric lemons and limes and a back note of pears on the nose; crisp citric white fruit on the palate with a lean, rather tart structure. If I had confronted it without knowing the variety, I don't think I would have ever guessed Chardonnay, suggesting that the character most of us routinely associate with the grape variety may speak more than we realize of oak. U.S. importer: R. H. Phillips Inc., Esparto, Calif. (Sept. 7, 2005)
FOOD MATCH: Not bad with the butter-and-sage pasta and sauteed shrimps mentioned in the Deléger note, but its lean fruit-and-acid profile might have been better still with white, firm-fleshed fish.
VALUE: Assuming you like the style, then this low-teens price is a fine value for a dry, fruity white wine at this quality level.
WHEN TO DRINK: It's hard to predict an aging curve for an idiosyncratic style, but there's no reason not to drink it up young, while it's fresh and fruity.
WEB LINK:
For producer details on this wine, click the link, then select "2003 UNOAKED MARLBOROUGH CHARDONNAY" from the "Producer Notes/Wine Menu" list.
http://www.kimcrawfordwines.co.nz/wines.htm
FIND THIS WINE ONLINE:
Find vendors and compare prices for Kim Crawford Chardonnay on Wine-Searcher.com:
http://www.wine-searcher.com/find/Kim%2bCrawford%2bChardonnay/-/-/USD/A?referring_site=WLP
WineLoversPage.com