This article was published in The 30 Second Wine Advisor on Friday, Sept. 9, 2005.
Falanghina encore

Use a new word three times, and it's yours for life, the teachers say, which sounds simple enough until you try to figure a good way to work a word like "eleemosynary" into everyday conversation.

A similar principle applies to wine, where a single encounter with a grape or region that's new to you may cast an intriguing spell, but it takes a few repeated tastings to get a clearer sense of what it's all about.

Accordingly, let's take another taste of Falanghina, a Southern Italian grape obscure enough that - despite my long interest in, and affection for, the wines of Italy - I encountered it in the glass for the first time only this year.

Following up on the Villa Carafa 2003 Falanghina I reported in the Aug. 31 Wine Advisor and the Feudi San Gregorio 2002 Falanghina (April 6), last night I returned to Falanghina for a third tasting, hoping to make it my own.

This one was made by Ocone, the family name of the producer Azienda del Monte, located near Benevento. A 2004, it was the youngest and freshest Falanghina I've tried, and it represents the third major Falanghina growing region, Taburno; the others were from Campi Flegrei and Sannio, respectively. It was also the least expensive of the three, at $11 (the others sold in the middle teens).

Both its youth and its low-end price may have been reflected in its nature, which was pleasant, crisp and refreshing but lacked the minerality and slightly oxidative richness of the other Falanghinas. Or perhaps this was a question of its youth ... it seems that with wine, if not with words, it sometimes takes more than three tastes to fully master a new one.

But you knew that, didn't you?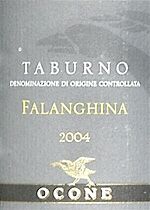 Ocone 2004 Taburno Falanghina ($11)
This is a clear, pale straw-color wine with a slight greenish hue. Fresh white fruit and delicate floral notes come to gether in a pleasant aroma, but it lacks the pleasant oxidative character that I've found in many Southern Italian whites, perhaps attesting to its relative youth. Medium in body, it offers an attractive balance of forward if rather simple white fruit and fresh acidity. A cleansing food wine, if not one for deep contemplation. U.S. importer: Scoperta Importing Co., Cleveland Heights, Ohio (Sept. 8, 2005)
FOOD MATCH: Falanghina is a natural with delicate veal, seafood and fish dishes; less traditionally, it was fine with a light Asian meal of veggie shiu mai and edamame.
VALUE: Not overpriced at $11.
WHEN TO DRINK: Its freshness makes it pleasant and approachable now, although I'm going to stash one away to see whether it develops additional richness and complexity. Watch for a follow-up report in a year or two.
PRONUNCIATION:
"Falanghina" = "FA-lan-GHEE-nah," with a hard "g".
FIND THIS WINE ONLINE:
Check availability and look up prices for Ocone Falanghina on Wine-Searcher.com:
http://www.wine-searcher.com/find/Ocone%2bFalanghina/-/-/USD/A?referring_site=WLP
WineLoversPage.com