This article was published in The 30 Second Wine Advisor on Wednesday, Sept. 7, 2005.
Lambrusco - It's better than you think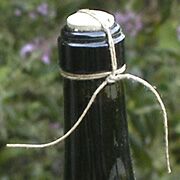 Back in the '70s, when a lot of us were first learning about wine, two fancy "imported" wines seemed like the height of sophistication. One was the Portuguese rosé wine that came in intriguing, old-fashioned bottles: Lancer's and Mateus. And the other was an Italian wine called Lambrusco. Red, sweet and a little bit fizzy, the ubiquitous Riunite and Cella Lambrusco brands went great with pizza and, well, just about everything.
Years went by, our tastes matured and became more sophisticated, and nowadays many of us who can remember that generation look back on these once-favored wines with a mix of embarrassment and disdain.
But is that fair? After all, Lambrusco (named for its grape variety) is a wine with a long and respected history around Modena, where folks know their food and their wine. The traditional home of balsamic vinegar, Modena is smack-dab in the middle of Emilia-Romagna, not far from Bologna, a region that may just be the culinary epicenter of an entire country known for wonderful things to eat and drink. Would they drink lousy wine? I don't think so.
So, taking a fresh '00s look at that '70s wine, I reached out to Chambers Street Wines in NYC, one of the best shops in the U.S. for odd, offbeat and intriguing items, and found a truly unusual example of Lambrusco - Ceci 2004 "La Luna" - attractively priced in the middle teens. As best I can discern from the Italian-only information on the label and in a little booklet tied around the bottle neck, this is a "biodynamic" wine, made with careful attention to such niceties as the phase of the moon during production and bottling. It's a wine so artisanal that it came with the cork held securely in place by a carefully hand-tied "muzzle" fashioned from a length of twine. (Photo above.)
Just to keep things honest, I also purchased a nostalgic memento of the '70s, a fresh bottle of Cella Lambrusco (remember the old "Chill a Cella" ad campaigns?) At a laughable $4.99, there wasn't much to lose; and somewhat to my surprise I noted that - along with the inviting "Soft Red Wine" and "Served Chilled" on the English-language labels, the more serious bits have evolved over time to reflect the wine's adherence to Italian wine law: It's not merely a "Lambrusco" but "Lambrusco Emilia Indicazione Geografica Tipica (IGT)."
Another of my offbeat theories is that Lambrusco makes an exceptional, if unexpected, match with fiery hot-and-spicy dishes because its bubbly nature and slight sweetness make it work more like beer than wine to quench the flames. So just to make things more interesting, I fashioned a bowl of Kung Pao chicken, kicked up to four-chile-pepper heat with a piquant blend of Sichuan hot bean paste, dried red-pepper flakes and hot red chile peppers, to go along with the wines.
The results were at least a little paradigm-shaking. The Ceci was tasty but atypical, quite fizzy, intensely fruity, but bone-dry, acidic and tannic, and almost up to the strength of standard table wines at 11 percent alcohol. A good red wine with a fizz, it reminded me a bit of some of the better Australian sparkling Shirazes I've tried. The Cella, meanwhile, was perhaps more of a surprise. Yes, it was sweetish, with a slight prickly fizz. But it was clean and fresh and flavorful, a surprisingly appealing quaff, and that edge of sweetness made it perhaps the better of the two when sipped with the fiery Chinese food.
There it is. Now, after all the millions of words I've penned on topics vinous and culinary, I guess I'll earn a footnote in history as the wine writer who praised Cella Lambrusco. I suppose one of these days I'll give the Portuguese sparkling rosés another try ...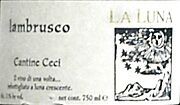 Cantine Ceci 2004 "La Luna" Lambrusco Emilia ($13.99)
An artisanal, biodynamic Lambrusco fashioned under the light of the crescent moon (I am not kidding about this), this inky-dark, almost black wine opens with a Champagne-like pop, filling the glass with a foamy head that falls back to a persistent pink froth. Very grapey aromas, black raisins and plums, lead into a bone-dry, fruit-forward flavor with a creamy carbonated mouthfeel. Good acidity, background tannins and a hint of bitter-almond in the finish make this a surprisingly "serious" table wine that just happens to have a frizzante fizz. If you're accustomed to thinking of Lambrusco in terms of Riunite or Cella, this one will reset your paradigms ... if you can find it. U.S. importer: Rosalie Sendelbach Imports, Kerhonkson, N.Y. (Sept. 6, 2005)
FOOD MATCH: In Emilia-Romagna, they claim that Lambrusco goes with everything. It's a cliche with pizza, but as noted, I like it best as an effective if non-traditional match with fiery Asian fare. It was fine with a very spicy rendition of Kung Pao chicken with hot brown bean sauce and chile peppers.
VALUE: It's well worth the mid-teens investment for the experience, although I'm not sure I'd go through a case of it.
WHEN TO DRINK: Young and fresh is the rule for Lambrusco. It's not a cellar keeper. That said, however, this well-balanced and structured wine won't suffer from a year or two on the wine rack.
PRONUNCIATION:
"Lambrusco" = "Lahm-BROOS-coe"
"Ceci" = "Cheh-chee" - The winery's name, literally "chickpeas," is associated with a legend about Italian soldiers in olden days using it as a password because their French and Viennese foes couldn't easily pronounce it.
WEB LINK:
I've had no luck finding a Website for this tiny producer or its small-business importer in a village in New York's Catskills.
FIND THIS WINE ONLINE:
A real rarity, this wine isn't listed on Wine-Searcher.com. Your only hope may be direct contact with the retailer, NYC's excellent Chambers Street Wines,
http://www.chambersstwines.com/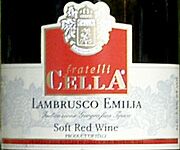 Cella non-vintage Lambrusco Emilia ($4.99)
Chill a Cella? I couldn't even find a mass-market Lambrusco at my usual wine-geek retailers and had to visit a neighborhood bottle shop to pick up this low-end, retro item. Don't snob on it for its '70s cachet or price, however, as it is actually ... drinkable. Dark ruby in color, its short metal screwcap opens with a slight pop, and a few quick bubbles line the rim when it's poured. Ripe and pleasant aromas of black cherry and mixed berries add an odd, not unpleasant herbal-medicinal note reminiscent of witch hazel. Carbonation is more perceptible to the tongue than the eyes in a straight-ahead fruit flavor that's ripe and grapey-sweet, but sufficient acidity keeps it from cloying, and the prickly fizz and light (7.5 percent) alcohol make it a surprisingly pleasant quaff, sort of an adult take on Coke. U.S. importer: Shaw Ross International Importers, Miami. (Sept. 6, 2005)
FOOD MATCH: Fine for quaffing with pizza or pasta and, again, an unexpectedly efficient match with fiery Asian fare like my four-chile-pepper Kung Pao chicken.
VALUE: Who can quibble with a $5 price?
WHEN TO DRINK: ASAP. Freshness is a virtue, although provenance can be difficult to determine with a non-vintage, mass-market wine. Avoid dusty bottles and look for a busy shop with quick turnover.
WEB LINK:
The Cella Website is Flash-heavy and requires U.S. visitors to attest to being over 21:
http://www.cellawines.com/eng/home.asp
FIND THIS WINE ONLINE:
You're kidding, right? Any local bottle shop should have it.
WineLoversPage.com