This article was published in The 30 Second Wine Advisor on Monday, Sept. 5, 2005.
Sauvignon Blanc challenge

The start of a new month means a new wine feature in our Wine Tasting 101 program, and this month I'm delighted to introduce my old friend Sue Courtney, New Zealand resident and wine expert and publisher of the fine New Zealand wine website, http://www.wineoftheweek.com as guest host and guide. Sue has a brief introduction about New Zealand wines on the entry page of the Wine Tasting 101 Forum,
http://www.wineloverspage.com/forum/wt101.phtml
and she'll be available there all month to share information and respond to comments and questions.

The forum will feature all New Zealand wines, not just its trademark Sauvignon Blanc but Pinot Noir and other varieties as well. But as Sue notes, when you say "NZ," most wine enthusiasts think "Sauvignon Blanc," so I thought I'd kick off the month with a quick report on a fun wine-tasting "shootout" in which I tried a slighly aged New Zealand favorite and an exceptionally bold French Sauvignon Blanc from the Loire, side-by-side in plain, unmarked glasses so I couldn't tell which was which.

For the New Zealand entry, I pulled out a dusty bottle of Cloudy Bay Sauvignon Blanc, the Marlborough producer that first put New Zealand's name on the international map and that remains almost a "cult" favorite, a wine so sought-after that it typically blows off the shelves shortly after its spring release and can be hard to find for the rest of the year. This one was a 2000, four years behind the current release. I had intentionally put it aside a while back just to see how it would age, and this seemed like a good time to find out.

In the other glass, I sampled a decent Loire Sauvignon Blanc, a Touraine Sauvignon from Domaine Chainier's Chateau de la Roche, the current offering from California Wine Club's International Selections. Normally I would expect a Loire Sauvignon to be so distinctly different from a Marlborough that it would be impossible to confuse them. But this was a 2003, a wine from that super-hot summer that fostered very ripe, full and powerful wines of distinct New World character from much of Europe. Matched against an older Cloudy Bay that might be shedding some of its youthful fruit, would I be fooled?

Well, no. It wasn't that hard to tell the difference after all. And happily, both of them proved to be quite good wines, with predictable regional diffrences that made it easy to tell them apart. Despite its age, the Cloudy Bay still showed that "outrageous" New Zealand green-chile/jalapeño character, albeit shading a bit toward asparagus with cellar time. The Chateau de la Roche was big and fruity for a Loire white, as you'd expect of a 2003. But in contrast with some of the less successful French '03s I've tried, it remained a beautifully structured, well-balanced wine, its warm-season fruit nicely structured with very tart Loire acidity and a lovely stony minerality.

Which did I like better? That's like asking whether I'd rather have chocolate ice cream or pistachio nut: They're both fine, but different. My tasting reports are below.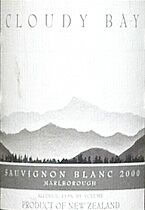 Cloudy Bay 2000 Marlborough Sauvignon Blanc
Purchased in 2001 and cellared for about four years, this "cult" New Zealand white is holding up well, although its herbaceous nature seems to have amplified a bit with time. Its transparent straw color has developed a distinct golden hue, and the traditional Cloudy Bay aroma of fresh green chiles and jalapeño peppers has darkened into something a bit more reminiscent of asparagus. It's not unpleasant, though, and its flavor remains mouth-fililng and ripe, with plenty of crisp citrus fruit, with its herbal green-pepper character not at all diminished by time. U.S. importer: Cliquot Inc., NYC. (Sept. 4, 2005)
FOOD MATCH: I like it with seafood and fish, or cheese-based meatless options. It went very well with an Alfredo-style pasta dinner with fresh tomatoes and sweet onions added to the cheese sauce.
VALUE: It cost $22.99 at the time of purchase in June 2001, and more recent vintages continue at a similar price point. You'll find significant local variations, though, so it's worth shopping if you insist on Cloudy Bay. Frankly, though, its notoriety-driven price makes it less than fully competitive against other New Zealand Sauvignon Blancs widely available for quite a few dollars less.
WHEN TO DRINK: Like most Sauvignon Blancs, Cloudy Bay generally reaches the market during the year following the vintage, and most fanciers like to drink it up young and fresh. As this one demonstrates, it holds up well and perhaps gains a bit of richness with a few years in the bottle, but the overtly herbaceous flavors that have developed in this bottle don't really impress me. I still advise drinking it young.
PRONUNCIATION:
"Sauvignon Blanc" = "So-veen-yawn BlahN"

WEB LINK:
Here is the Cloudy Bay Website:
http://www.cloudybay.co.nz/home_fr.html
FIND THIS WINE ONLINE:
Research availability and prices for Cloudy Bay Sauvignon Blanc on Wine-Searcher.com:
http://www.wine-searcher.com/find/Cloudy%2bBay%2bSauvignon/-/-/USD/A?referring_site=WLP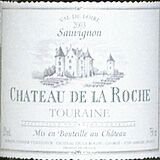 Chateau de la Roche 2003 Touraine Sauvignon
This is a clear, light straw-color wine with a slight greenish-brass hue. A whiff of the pleasant "grassy" aroma that's characteristic of Sauvignon Blanc makes an appealing backdrop to luscious melon, citrus and spice aromas, but the predominant character on the nose and palate, as you'd expect of a still-youthful wine of the hot 2003 vintage, is forward fruit. Rather full-bodied with a hint of unctuousness, its flavors follow the nose, nicely supported by singing acidity and a distinct note of stony Loire minerality. U.S. importer: Victoire Imports Co., San Leandro, Calif., for California Wine Club's International Selections. (Aug. 22, 2005)
FOOD MATCH: Freshwater fish and cheese-based vegetarian dishes like Alfredo-style pasta are fine with Touraine Sauvignons, but one of my absolute favorite food matches with dry Loire whites is fresh oysters on the half-shell.
VALUE: The current $13 sale price in The California Wine Club's Prices Falling Autumn Wine Sale makes this one a no-brainer. For ordering information, see FIND THIS WINE ONLINE below.
WHEN TO DRINK: Balance, acidity and minerality make Loire whites in general good for aging, assuming good cellar conditions. Still, everything about it is so nicely balanced now that it would make sense to stock up for regular drinking as an exceptionally stylish "house" wine through the autumn.
PRONUNCIATION:
"Touraine" = "Too-rehn"

WEB LINK:
There's a short page about Domaine Chainier, producers of Chateau de la Roche, on the importer's Website:
http://www.victoireimports.com/frenchwine/PierreChainier/chateaudela.html
FIND THIS WINE ONLINE:
This stylish Loire white is available in the U.S. from The California Wine Club's International Selections. While it lasts, this tasty item is on sale for $13 in The California Wine Club's Prices Falling Autumn Wine Sale, where you can order it (and many other sale items) at
http://www.cawineclub.com/store/Wine_Store___International_Selections?Args=
To join the California Wine Club's International Selections, which will send a pair of selected imported wines to your door (where the law allows) every other month, call 1-800-777-4443 or visit online at
http://www.cawineclub.com/store/Membership_Types___International_Selections?Args=
WineLoversPage.com