This article was published in The 30 Second Wine Advisor on Monday, Aug. 22, 2005.
Old World vs. New: Distinction fading?

Remember the old joke about how everyone in the world is divided into two groups: Those who divide everything into two groups, and those who don't? I've long treated the world of wine in much the same way, dividing all wines into two categories: Old World (Europe), wines that speak of the earth and a sense of place; versus fruit-driven, big and bold wine styles from the New World (The Americas and Down Under).

But in recent years - as deftly sketched in Jonathan Nossiter's wine-geek documentary, Mondovino (June 27, 2005 Wine Advisor) - the influence of "flying winemakers" like Michel Rolland and American wine writers like Robert M. Parker Jr. has prompted more and more Old World wine makers to produce wines in a New World style; while increasing sophistication and maturity has inspired growing numbers of New World producers to emulate Old World models. The old definitions are quickly breaking down.

In an era when an Argentine Malbec, an Australian Shiraz, a California Pinot Noir and an Italian Nero d'Avola can all taste very much alike (and not unlike an alcoholic blueberry milkshake); when Italian Primitivo zeroes in on its American sibling Zinfandel in style, and when some Burgundies and Rhone reds are showing distinctly California accents (particularly in torrid vintages like 2003), the "Old World" terminology simply doesn't work well any more. And it gets even more complicated when you consider the growing ranks of New World wines that show distinct terroir (sense of place).

Accordingly, I propose new terminology: Never mind where the wines are from. In place of "Old World," let's say "Traditional." Instead of "New World," let's use "Modern."

This week's Wine Lovers' Voting Booth offers the opportunity to take sides under this new paradigm, as we ask, "What's your preference: Traditional or Modern?"

TALK ABOUT WINE ONLINE
To cast your ballot (including, if you prefer, "both" or "don't know,") click to the Voting Booth,
http://www.wineloverspage.com/votebooth/vb20050822.shtml
Once you have voted, the software will immediately add your entry to the list. You can use this link to check the current totals:
http://www.wineloverspage.com/votebooth/ans20050822.shtml

No matter how you define it, today's tasting - a current offering from The California Wine Club's International Selections, falls clearly into both the "Old World" and the "Traditional" category, offering good, fresh fruit and steely acidity in a wine of delicacy and balance, with a classic slatey minerality that speaks distinctly of the Rhine.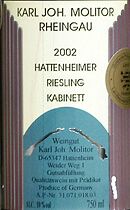 Karl Joh. Molitor 2002 Hattenheimer (Rheingau) Riesling Kabinett
This is a clear, pale brass-color wine, light gold with just a glint of green. Characteristic Rhine Riesling aromas blend whiffs of musky canteloupe with luscious mango and tangerine and an attractive piney back note. Light, fresh-fruit sweetness on the palate is nicely balanced with crisp Germanic acidity that builds a firm structure, barely off-dry, with a clean note of the slatey minerality that distinguishes German Riesling just underneath. Cleansing, lemon-squirt acidity lingers in a long finish, making this a delightful wine for quaffing or pairing with a broad variety of foods. U.S. importer: Victoire Imports Co., San Leandro, Calif. (Aug. 22, 2005)
FOOD MATCH: Riesling is to white wine as Pinot Noir is to red: It is among the most food-friendly of wines. I'm enjoying this item with a mild artisanal Emmentaler-type cheese from Indiana, but it would fare well with a wide range of fish and seafood, poultry or pork.
VALUE: The California Wine Club's International Selections offers a thrifty way to enjoy wines of value. Broadly speaking, German Rieslings at the Kabinett level remain one of the best wine categories for consistent value at everyday prices.
WHEN TO DRINK: Riesling may be one of the most ageworthy whites, running a close race with Chenin Blanc for the cellarability crown. That said, however, this one is stoppered with a synthetic closure, suggesting that it's not a candidate for a long stay in the cellar. It's faring well now, but I'd drink it up over the next year.
PRONUNCIATION:
"Riesling" = "REESE-ling"
"Kabinett" = "Kah-bee-NET"

WEB LINK:
Here's a link to the Karl Johann Molitor family winery Website:
http://www.molitor-wein.de/familie.htm
Although it's published only in German, it's worth a visit to enjoy the pictures; if you're into German wine, chances are you'll be able to grasp the sense of the material even if you don't sprechen Deutsch.
FIND THIS WINE ONLINE:
This 2002 from Hattenheim is available in the U.S. only from The California Wine Club's International Selections, which will send a pair of selected imported wines to your door (where the law allows) every other month. Call 1-800-777-4443 or visit online at
http://www.cawineclub.com/store/Membership_Types___International_Selections?Args=
To find information on availability and prices for Molitor's wines in general, check the databases at Wine-Searcher.com:
http://www.wine-searcher.com/find/Molitor/-/-/USD/A?referring_site=WLP
WineLoversPage.com