This article was published in The 30 Second Wine Advisor on Monday, Aug. 15, 2005.
The acid test

What's so good about acid? Check the dictionary, and it doesn't look like something that you'd really want to put in your mouth.

Chemically, it's a sour-tasting water-soluble compound that can react with a base (alkali) to form a salt.

Metaphorically, that sour characteristic produces a torrent of acrid analogies that suggest sarcasm, bitterness or scorn: "She spoke in an acid tone."

But show me a wine without acid, and I'll show you a wine that's dull, "flabby" and not much of a match with food.

While too much acidity can make any drink unpleasantly sour, a touch of acid gives wine (and most other beverages) an appetizing, mouth-watering lift that's more appropriately characterized as "crisp," "fresh" or "zippy" than just-plain "sour." Of course balance is important, and that fresh tang must be matched by fruit; but the fact remains that "acid" is by no means a negative term when it comes to wine.

Wine chemists enumerate all sorts of different acids in wine - volatile acidity (acetic acid, i.e., vinegar), and fixed acidity (a variety of acids, primarily tartaric and malic, plus citric, succinic, and lactic acids). The sum of all these is total acidity, ("TA") which wine makers generally express in grams of acid per 100 milliliters of wine, while chemists usually measure it by a logarithmic scale called pH. You don't really need to know chemistry to get the point of today's brief lecture, though: Within reason, high acidity is good.

How much is good is to some extent a matter of individual taste, but as a general rule, natural acidity in grapes is inversely proportional to ripeness, so if you like crisp, tart wines from northerly climates like Germany, the Loire Valley or Chablis, you may be an acid-head; while if you - like many of the big-name critics - prefer softer, fatter wines from warmer New World climates or hotter vintages, your tolerance for acidity may be more limited.

There's no question that too much acidity (above 1.0 g/ml TA, say, or approaching a pH of 3, remembering that the lower the number, the higher the acid) makes a wine unacceptably tart, while too little acidity (below about 0.5 g/ml TA or pH approaching 4) results in a wine that most people would consider too soft and unstructured to enjoy. For this reason, many modern wine makers will artificially acidulate low-acid wines to bring them into balance. Some wine tasters claim to be able to tell the difference between natural acidity and an acidulated wine, but the distinction eludes me.

If you're still in doubt about the benefits of acidity, though, here's a simple test that most people who enjoy iced tea already know: The next time you have a glass of tea, or tomato juice, or a Coke, try squirting a shot of lemon in. If your taste buds are at all like mine, I think you'll find it makes a world of difference in your enjoyment. Good wine already has the acidity built in, and - one hopes - it needs no added lemon to make it right.

Now, here's a wine that passes my acid test: Crisp and bright, its lemon-squirt acidity sings tenor in perfect harmonay against a bass line presented by fruit and good California earth. It's also one of the benchmark wines in this month's Wine Tasting 101 Forum topic, "Rhone Varieties in the USofA."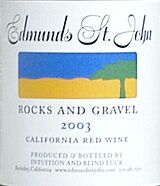 Edmunds St. John 2003 "Rocks and Gravel" California Red Wine ($20.99)
Very dark garnet, with a blackish-purple center and clear reddish-violet edge. Spicy red-berry aromas, raspberries and strawberries, carry over in the flavor with ripe and juicy fruit framed with tart, almost tangy acidity followed by perceptible but palatably smooth tannins. Tart berry and lemon-squirt flavors linger in a very long finish. Oak is present but not overdone, and there's a subtle whisper of the soil that's more evocative than earthy. The blend varies somewhat from year to year; the 2003 is 35 percent Grenache, 35 percent Syrah and 30 percent Mourvèdre. (Aug. 12, 2005)
FOOD MATCH: Grilled red meat makes the ideal companion for Rhone and Rhone-style reds, but in an experimental mood, I brought free-range chicken up to meet this hearty wine by braising it with frseh tomatoes, onions and garlic and lots of fresh tarragon, a sweet-tangy-herbal blend that came up nicely to meet the red wine.
VALUE: It's just a bit above everyday status for most people at this $20 point, but it's more than just an everyday wine. Balanced, structured and ageworthy, it competes with American and French reds at half-again its price. Shopping may pay off, too, as the price I paid is a bit above the winery's $18 suggested retail.
WHEN TO DRINK: Rocks and Gravel has a reputation for aging gracefully for five years or more under good cellar conditions, and it should even survive a few years on a room-temperature wine rack.
WEB LINK:
The 2003 Rocks and Gravel fact sheet is here:
http://www.edmundsstjohn.com/TheWines/RocksAndGravel/
While you're on the Edmunds St. John site, take time to explore. It's rich with content, which includes good information about the winery and its wines. Take the extra time to browse the archives of Steve Edmunds' exceptionally literate newsletter, "Organolepticians;" and don't forget to peek at the "Lonesome on the Ground" section, where he breaks from wine to talk about his love of music.
FIND THIS WINE ONLINE:
Compare prices and find vendors for Edmunds St. John wines at Wine-Searcher.com:
http://www.wine-searcher.com/find/Edmunds%2bSt.%2bJohn/-/-/USD/A?referring_site=WLP
WineLoversPage.com