This article was published in The 30 Second Wine Advisor on Monday, Aug. 8, 2005.
What's new in Niagara

I've just returned home from a quick trip to the Niagara Falls area, where I enjoyed a wine-filled weekend that included visits to three top wineries in Ontario's fast-growing Niagara Peninsula wine region, followed by a sunny Sunday picnic for a crowd of local online wine enthusiasts who came bearing all manner of impressive wines from Canada, New York State, and quite a few other "non-traditional" wine regions in Eastern North America.

It was my first time in Niagara in almost exactly five years - my previous visit is recorded online at
http://www.wineloverspage.com/wines/canada082400.shtml
- and I have to say that I'm impressed by developments in the region since 2000.

Canada, as I noted at the time of my last visit, doesn't jump to most of our minds when we make lists of important world wine regions. With the limited exception of its intensely sweet ice wine, that pricey nectar that's squeezed, drop by drop, from hard-frozen grapes left to hang on the vines until well into the winter, the wines of Ontario, British Columbia and Quebec are rarely seen outside their home provinces, and some are sold only at the winery tasting room.

But it's worth the effort for wine lovers to visit the Niagara Peninsula, a protected pocket on the South Shore of Lake Ontario, where the maritime influence of the sea-size Great Lake keeps the region just enough warmer than its surroundings to make it a virtual fruit basket, producing a significant share of Ontario's fruits and vegetables. In recent years, I'm told, wine grapes have become the region's No. 1 cash crop; and when you drive along its grid of straight lanes, you'll rarely be out of sight of vineyards or of an increasingly imposing set of winery buildings.

On my last visit, along with a few smaller producers I had taken in Inniskillin, the well-known producer that made its name synonymous with Ontario for ice wine in much the same way as Cloudy Bay has done with New Zealand for Sauvignon Blanc.

This time I caught up with three other top Niagara wineries, all three of them quality leaders and, not coincidentally, either located in or growing into striking facilities. Lying only a half-hour away from Niagara Falls with its hordes of visitors, and already enjoying a significant, if more elegant, tourist attraction of its own in the quaint village Niagara-on-the-Lake, it only makes sense for the Niagara wine producers to grab for a share of the region's booming tourist trade.

It's my opinion that wine-savvy tourists won't go away unhappy. I'll soon publish more detailed tasting reports and photos from all three wineries. For today, I'll just sketch a quick capsule report on each, along with a sample tasting report on one of the wines I particularly enjoyed at each. (For ice wine lovers, although these high-end products dramatically exceed the budget range of the daily Wine Advisor, I'll feature a number of them in tomorrow's Wine Advisor Premium Edition)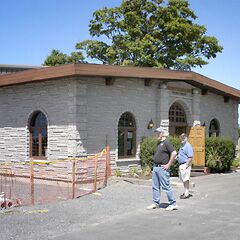 Our first stop, Konzelmann Estate Winery, could rank as Ontario's oldest winery, but only with the inclusion of an asterisk: It was founded by the Konzelmann family in 1893 ... in Stuttgart-Uhlbach, Germany. The family descendants moved the winery to Ontario during the 1980s, said family member Bruno Reis, the winery's director of sales and marketing, who guided our tour.
Located in an attractive stone building with a major, tower-topped addition to be opened next summer, Konzelmann is the only Niagara winery located directly on the shore of Lake Ontario - from an elevated, landscaped walkway overlooking the vineyards, you can see the skyline of Toronto as a smudge on the horizon across the lake on a clear day.
Ontario's wine regulators have recently agreed to subdivide the Niagara Peninsula appellation into 11 sub-regions, by the way, much as California's Sonoma County, for example, is subdivided into Dry Creek, Russian River Valley and others. Watch for "Niagara Lakeshore" on Konzelmann's wines in the future.
We tasted more than a dozen wines here, and I'll report them all in my Niagara Wine Diary 2005 to come. Here's a quick report on one that I found particularly appealing:
Konzelmann Estate Winery 2001 Niagara Peninsula VQA Late Harvest Gewurztraminer - Clear straw color. Classic Gewurz aromas, litchees and almonds and fresh white fruit. Peach and grapefruit and hints of almond on the palate; soft sweetness is laced up with crisp, fresh acidity.
Konzelmann is located at RR3, 1096 Lakeshore Road, Niagara-on-the-Lake, Ontario L0S 1J0, 905-935-2866. Website:
http://www.konzelmannwines.com/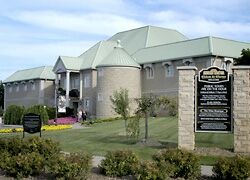 Chateau des Charmes is one of the Niagara Peninsula's showplace wineries. When Paul Bosc founded the winery in 1978, said his son and winery marketing chief Paul-André Bosc, it was one of the province's first wineries; by 1989 there were just 14, and today there are more than 100.
The impressive, French-chateau-style winery, built in 1994, has proved its popularity well beyond the world of wine: It's rented for some three dozen formal weddings and attracts some 100,000 visitors every year. "It creates a dilemma," the younger Bosc said, only half joking. "How do we get it across to people that we're a serious winery, too?" But, he added with a smile, "But it does capitalize a very expensive business." Growing 14 grape varieties on nearly 300 acres in four vineyards, Chateau des Charmes is located in the new sub-appellation St. David's Bench.
We tasted 11 wines. Here's one of my favorites, an Ontario red wine that belies the region's reputation as a climate too cool to produce remarkable reds:
Chateau des Charmes 2001 Paul Bosc Estate Vineyard "Equuleus" - A blend of 50 percent Cabernet Sauvignon, 26 percent Merlot and 24 percent Cabernet Franc, it's a dark-garnet wine, almost black at the center, with an appealing, Bordeaux-like scent of blackcurrant cassis and subtle spice. Excellent structure and balance, black fruit and crisp acidity over soft but significant tannins. Ageworthy but drinking nicely, it's the most impressive Niagara red wine I've tasted so far.
Chateau des Charmes, 1025 York Road, St. David's, Ontario L0S 1P0, Canada, 905-262-4219. Website (French and English)
http://www.chateaudescharmes.com/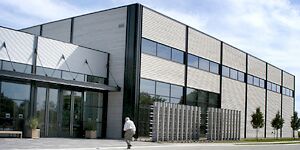 Chances are you haven't yet heard of Stratus Vineyards. The chances also are that it won't be long before you hear about it again. A truly impressive winery, its facilities and tasting room opened only last month, with only one vintage, 2002, now on the market.
Owned and backed by wealthy Torontoan David Feldberg, Stratus is very well capitalized indeed, as is demonstrated by its modern, showplace winery - a triumph of "green" environmentalism made all but entirely from recycled materials and winner of the sought-after LEED (Leadership in Energy and Environmental Design) award. Tall glass windows and doors showcase its lofty tasting room and retail shop; the winery portion of the building rises some 40 feet, allowing a gentle "gravity-flow" wine-making process in which grapes are brought in to the top floor, then sorted, crushed and the juice drained down to fermenters and finally to barrels under the gentle influence of gravity.
Wine maker J.L. Groux, originally from the Loire Valley, makes Stratus wines entirely from vinifera grapes, all estate-grown in the winery's 53 acres of vineyards. Most of the wines are to be vinified and marketed not as single-varietal wines but as winery blends under the simple, spare trademark names Stratus White and Stratus Red ... plus a high-end Merlot and Riesling late-harvest and ice wine.
All will be sold at price points lofty for Canadian dry wines, from CDN$32 for a barrel-fermented Chardonnay and Cabernet Franc to a surprising $55 for the excellent Merlot, which is made from vines planted in the '70s, ancient by Niagara standards.
It wasn't easy to choose just one of these intriguing wines to report today, but I finally settled on the complex, multi-varietal white. Watch for the rest in my online report coming soon. Stratus 2002 White - It's a blend of Chardonnay, Gewurztraminer, Semillon, Sauvignon Blanc and a small amount of Riesling; the wine maker prefers not to disclose the proportions because he'll change them from year to year to accommodate changes. It's clear gold in color with glints of green, breathing a burst of aromatics, appleas and grapefruit, flowers and spice. The Gewurz clearly shows its presence, but blending heightens the wine's delicacy and complexity in a fashion that pure Gewurz can rarely reach. Mouth-filling, nearly dry, tropical fruit flavors are fresh and long, winding up with a touch of bitter almond in the finish.
Stratus is at 2059 Niagara Stone Road, Niagara-on-the-Lake, Ontario, L0S 1J0, 905-401-1806. Website:
http://www.stratuswines.com/
WineLoversPage.com