This article was published in The 30 Second Wine Advisor on Friday, Aug. 5, 2005.
Back on the Malbec bike

I won't say the Norton Reserve Malbec that inspired Wednesday's rant left a bad taste in my mouth, exactly, but its oaky, fruit-forward flavor profile put my attitude in need of adjustment, as I discussed in some detail at the time.

So, following the principle of jumping back on the bike after a spill, I returned to Bodegas Norton for another try with a lower-end item - the regular, non-reserve Malbec bottling that usually sells for well under $10 - and I'm feeling much better now, thank you.

Norton, after all, is a historic and respected Argentine producer with a 110-year track record, and I've enjoyed its wines in the past. On the other hand, a review of my tasting notes suggests that they've drifted toward a modern, "international" style in recent years (possibly since an ownership change in 1989), and the '02 Reserve Malbec certainly offered a vivid example of that.

But sometimes simplicity is a virtue, as Norton's simpler, less expensive regular Malbec happily demonstrates. Perhaps because there's no point in using expensive new oak barrels on a low-end wine that's not likely to get much attention from the critics anyway, Norton seems to have let this Malbec be Malbec, expressing the fruit and even a hint of earthy minerality without a lot of interference by the wine maker's hand.

It's a good value in the $8 range, and as I like in modest Malbecs, its easy-drinking combination of fresh fruit and crisp acidity makes it a natural partner with pizza.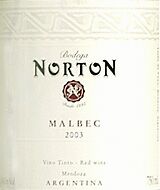 Bodegas Norton 2003 Mendoza Malbec ($8.49)
Very dark reddish-purple, black at the center. Black-fruit aromas, plums and black cherries, lead into a ripe and juicy fruit flavor, open and fresh, shaped by mouth-watering acidity and a hint of the clay-like minerality that Argentine Malbec tends to show if it's not manipulated out. At half the price of Norton's Reserve bottling, it's a more appealing wine and a much better value. U.S. importer: TGIC Importers Inc., Woodland Hills, Calif. (Aug. 3, 2005)
FOOD MATCH: Malbec is becoming even more of a cliche than Chianti with pizza for me, and it was fine with a straightforward model topped with sausage, mushrooms, peppers and onions.
VALUE: A top player in the $6 to $8 range. Be wary of pricing over $10, though, a rapacious markup.
WHEN TO DRINK: Best enjoyed young and fresh, but another year or two on the wine rack won't kill it.
PRONUNCIATION:
"Malbec" = "Mahl-bek"
WEB LINK:
The Bodegas Norton Website is published in both Spanish and English. Click the language of your preference from the home page,
http://www.norton.com.ar/
Graphics and Flash-heavy, it's best viewed with a high-speed connection.
FIND THIS WINE ONLINE:
To find vendors and compare prices of Norton 2003 Malbec on Wine-Searcher.com, click:
http://www.wine-searcher.com/find/Norton%2bMalbec%2bNOT%2bReserve/2003/-/USD/A?referring_site=WLP
WineLoversPage.com