This article was originally featured in The 30 Second Wine Advisor's FoodLetter on Thursday, Aug. 4, 2005.


Beefsteak tomato stack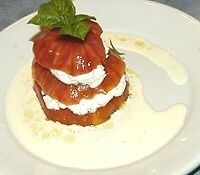 Midsummer's bounty continues, one of the great joys of the otherwise steamy and sultry "dog days" being the delight of fresh produce, and plenty of it, from one's own garden and local produce markets.
Our tomatoes got off to an early start this year with a few precocious specimens before the middle of July, and now the garden is turning out almost as many juicy red globes as we can eat. Almost. We've got a few varieties, from the intense little Romas that make great spaghetti sauce to the pretty heirloom Brandywines. But perhaps my favorite tomato of all is the good, old-fashioned Beefsteak.
Big and dense, with a texture that invites comparative terms like "meaty," it's excellent sliced thick in sandwiches - or even eaten out of hand like an apple, standing over the sink so you don't make a mess on the table, with a salt shaker in your other hand - and its flavor is just what a perfect summer tomato should be, full and rich and properly tart, naturally sweet but without the weird candy-like sweetness that's been bred into too many of the newfangled veggie varieties from tomatoes to peas to corn.
Faced with a small pile of perfectly ripe Beefsteaks the other day, it suddenly crossed my mind that these lusty heirlooms carry enough weight to make a main dish, literally living up to its name in a meatless meal in which the tomato steps out of its usual role as a supporting player to take center stage as the star ingredient in a filling dinner.
I wasn't thinking about light, dietary fare, either; no mere stuffed tomato to make a delicate, low-calorie item for Ladies Who Lunch. Freed from the constraints of meat, poultry or fish, I could pour on the rich cheese and heavy cream and create a dish to challenge the notion that vegetarian fare has to be healthy ... a filling plate that would leave the diner stuffed and happy, not even missing the meat; a vegetarian dish that could even stand on its own as a fulfilling companion to a sturdy red wine.
Could I do it? You bet! Behold the Beefsteak Tomato Stack. A layered vertical-food presentation, it's a whole beefsteak tomato, given a "confit" treatment that I picked up from a bistro in Epernay a few years ago, layered with a rich, aromatic ricotta and cucumber mix (loosely based on Indian raita with an Italian twist), plated on a pool of heavy cream lightly laced with a bit more Indian spice, garnished with a sprig of fresh garden basil.
It was so good that I wanted two of them, maybe three, but so filling that I couldn't have actually finished them all. And it went surprisingly well with red wine ... more about that below. And best of all for those hot summer afternoons when you really don't want to cook, it's all cool and fresh, requiring no cooking at all.
I'll definitely be making this - or a variation - again before the summer ends. If you're not on a low-fat diet, I encourage you to try it too. And if you do, especially if you vary the procedure a bit - as all good cooks must - I hope you'll let me know how it went.
INGREDIENTS: (Serves two)
2 large beefsteak or similar slicing tomatoes
Salt
Black pepper
Olive oil
1 cucumber
1/2 cup (120g) ricotta
1/2 cup heavy cream
1/2 tsp (3g) ground cumin
1/2 tsp Madras curry powder
Cayenne or Southeast Asian hot sauce
2 sprigs fresh basil
PROCEDURE:
1. Carefully peel each tomato, using a very sharp knife and taking care not to cut into the flesh. (This step is optional, but the restaurant in Epernay did it to make a "confit des tomates," and it makes for a more refined dish. If you're in a hurry or just don't think it's worth it, skip the peeling stage.) Cut off and discard the stem ends (or better yet, eat them as a reward for the chef), and cut the rest of each tomato into three thick slices. Put the slices on a countertop or large plates, season them with salt and pepper to taste, and drizzle each with plenty of your best, ripe, green extra-virgin olive oil. I used about 1 tablespoon (15g) per slice ... remember, just because this is a vegetarian dish doesn't mean it has to be low-fat. We're shooting for a succulent richness to drape King Tomato in velvet robes. Set the tomatoes aside to soak up the olive oil while you work on the rest.
2. Peel the cucumber and use a spoon to shell out and discard the seeds. Chop the remainder fine. Stir the cucumber into the ricotta (I suggest indulging in whole-milk ricotta for this rich dish - I used a frighteningly creamy 15 percent ricotta from Quebec). Stir in the cumin, tasting as you go - you want a delicate, haunting aroma, so don't overdo - and then half of the heavy cream. Add the cream a little at a time; you want a thick, spreadable texture, not a creamy soup.
3. Stir the curry powder and cayenne or hot sauce into the cream. (I used a homeopathic dot of the popular Vietnamese Sriracha sauce.) Again, taste as you go ... subtlety is the name of the game.
4. Assemble your dinner. Pour the curry-scented cream onto two large plates to make a base. Assemble the tomato stacks atop the cream: Put down a slice of tomato, dollop on one-fourth of the cheese-cucumber mix, add another slice, more cheese mix, and top with a tomato bottom, to coin a phrase, making a triple-decker sandwich. Repeat with the other plate, garnish each with a sprig of fresh basil, and serve. The result is pictured above in our Graphics Edition; text-edition subscribers may view it in the archives at
http://www.wineloverspage.com/wineadvisor1/tsfl050804.phtml
MATCHING WINE:
I tried two wines with this dish, a Pinot Noir and a Chianti, based on the assumption that these wines have the potential to go with fresh tomatoes alone. In fact, they were both passable with a bite of tomato au naturel, but the pairing only hums and doesn't truly sing, the sweetness of the tomato jangling a bit with the acidity in the wine. But the rich, creamy mix of tomatoes, cheese and cream did the trick; with this dish, the Craven & Lattin 2001 Armagh Vineyard Sonoma Coast Pinot Noir didn't just sing, it burst into a coloratura aria, and the haunting aromatics of cumin and curry kicked it up to a ringing High C. The Chianti, an earthy Villa Arceno 1998 Chianti Classico Riserva (a Kendall-Jackson import) wasn't bad with the dish, but based on this test, Pinot Noir is the name of the game.
WineLoversPage.com