This article was published in The 30 Second Wine Advisor on Wednesday, Aug. 3, 2005.
Mondovino Malbec

I've been enjoying a lot of Argentine Malbec recently, including the tasty and affordable 2003 Budini from Mendoza that was featured in the July 20 Wine Advisor, and a large batch of Argentine wine and food sampled over the weekend ... more about that coming soon.

Today, though, let's take a brief side trip to talk about a Malbec that put me in mind of the movie Mondovino.

Anyone who's followed the discussions about film maker Jonathan Nossiter's documentary about the wine business on our Wine Lovers' Discussion Group might have concluded that it's a film about the American wine critic Robert M. Parker Jr. or the French "flying wine maker" Michel Rolland. It's not. In fact, Parker plays a cameo role at most in Mondovino; and Rolland's somewhat more frequent appearances merely underscore a point through comic relief, sort of like Sir John Falstaff's role in Henry IV.

What Mondovino is about, really, is the corporate-driven trend toward internationalization and globalization in the world of wine, and the resistance to this movement among some smaller, more artisanal wine makers who want to make wines that reflect a sense of place ("terroir") and the wine enthusiasts who prefer those wines and don't want to see them lost in a sea of sameness.

Nossiter's sympathies clearly lie in the latter camp, and if the movie - as I observed in my June 27 review - is more reminiscent of a wine-scented version of Michael Moore's polemic Fahrenheit 9/11 than it is of Alexander Payne's wacky Sideways, it's still worth watching, with appropriate skepticism, for one point of view into an important wine-industry issue that may ultimately affect what's in all of our glasses.

Which brings us back to today's featured wine, Bodegas Norton 2002 Mendoza Malbec Reserve, a Malbec that some people might like more than I did. Made in a distinctly "international" style, big and strong, it speaks strongly of ripe blueberry milkshakes and sweet oak but not at all of earth or place. It could be an Argentine Malbec, an Australian Shiraz, a Sicilian Nero d'Avola or even a Santa Barbara Pinot Noir, and it would taste pretty much the same

I have no idea whether Parker adored it or Rolland helped make it ... but it wouldn't surprise me at all to learn that they did.

BUY THE MONDOVINO DVD
The Mondovino DVD is now available from Amazon.com for $22.49, a 25 percent saving from the $29.99 list price. (Purchases made using this exact link will pay a small commission to WineLoversPage.com).
http://www.amazon.com/exec/obidos/ASIN/B0009OL8E4/robingarrswineloA/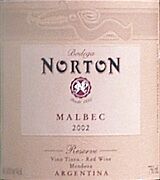 Bodegas Norton 2002 Mendoza Malbec Reserve ($14.49)
This is an inky blackish-purple wine, opaque in the glass. Plummy black-fruit flavors seem a bit closed and tight at first, but open up with time in the glass. More fruit-forward on the palate, it's big and monolithic, blueberries and cream and a dash of spice, somewhat one-dimensional but huge and ripe, fruit and sweet oak and a heady 14 percent alcohol, made in the "international blockbuster" style. It's a wine genre that finds a ready market, but I regret its utter lack of any sense of place. U.S. importer: TGIC Importers Inc., Woodland Hills, Calif. (Aug. 1, 2005)
FOOD MATCH: I don't find wines of this type make the best food wines, as they tend to dominate just about everything at the table. That said, it would work well enough with grilled red meat, and the addition of some aromatic but not fiery Indian spice to a chicken pilaf with roasted red peppers made it a pretty good match.
VALUE: This one depends very much on your tastes. If you like the fruit-forward, oaky, big-and-alcoholic international style, then this mid-teens price point makes it a great buy. If you don't care for the style, then caution is warranted.
WHEN TO DRINK: Years in the cellar certainly won't hurt it; whether it will improve with maturity is an open question. If you like big-style wines, it's certainly worth a try at this price ... but shop around, as Wine-Searcher.com vendors offer it over an unusually broad range of prices from $12 to $19.
PRONUNCIATION:
"Malbec" = "Mahl-bek"
WEB LINK:
The Bodegas Norton Website is published in both Spanish and English. Click the language of your preference from the home page,
http://www.norton.com.ar/
Graphics and Flash-heavy, it's best viewed with a high-speed connection.
FIND THIS WINE ONLINE:
To find vendors and compare prices of Norton Reserve Malbec on Wine-Searcher.com, click:
http://www.wine-searcher.com/find/Norton%2bReserve%2bMalbec/-/-/USD/A?referring_site=WLP
WineLoversPage.com