This article was published in The 30 Second Wine Advisor on Monday, July 25, 2005.
Heat's on

We're locked in the worst heat wave of this summer in these parts, with temperatures soaring into the upper 90s (over 35C) and a mean sun blazing from a cloudless sky.

Yesterday when I opened my sun-baked car and leapt in to the drivers' seat, I screamed twice: Once when my bare legs hit the seat, and a second time when I clutched the steering wheel, a sensation akin to grabbing a hot black-iron skillet with both hands and no potholder.

In a non-wine-related digression, just about everyone knows that it's dangerous to leave a child or a pet in a closed car for even a couple of minutes in weather like this. If by any chance you don't know it, consider yourself informed. It's literally a killer, so just don't do it.

And on a somewhat more trivial level, if you go wine shopping during weather like this, you'll also want to take steps to protect your wine. The dangerous heat inside a closed car on a torrid summer day can damage wine (and melt your ice cream and TV dinners) in a very short time.

There's some mythology about "cooking" wine. As I demonstrated in a cheeky experiment a few years ago (June 18, 2001 Wine Advisor), leaving a bottle of wine in such an environment for several hours will literally push the cork out of the bottle; yet, perhaps surprisingly, although the wine is changed by the experience, contrary to the conventional wisdom, it does not immediately turn dank, brown and Sherry-like. You can, in fact, still enjoy it, although it's best to let it cool down first. But within weeks to months, the cooked wine will shed its flavors and turn dull and worthless - a particularly sad outcome if it was a bottle of pricey, cellarworthy grape juice.

But suppose you have to make a quick stop - to pick up the dry-cleaning or a prescription, say - on your way home from the wine shop? Is there any way to minimize your exposure to damage? Prompted by a conversation in one of our biweekly live wine chat sessions, I did a little semi-scientific research.

With the outside temperature at 92F (33C), I parked the family jalopy in the sunlight, rolled up the windows, and put an accurate thermometer (OK, it was an instant-read meat thermometer) inside. Fifteen minutes later, I took a reading. Yow! It was just a hair under 140F (60C) in there ... hot enough to hurt, and, to hammer home the point, hot enough to kill Fluffy or Fido.

Touching the wheel gingerly, I moved the car under the shade of a huge magnolia tree. The temperature inside the closed car almost immediately dropped to 120F (just under 50C), still alarmingly hot but not as dangerously so. Back in direct sunlight, cracking the front windows open an inch reduced the heat to 119F, an improvement but still too hot for comfort.

Further experimentation revealed that moving the goods into the trunk (escaping the "greenhouse effect" of heat trapped under glass) was slightly more effective still: It was a relatively "mild" 114F (45C) back there in direct sunlight, and dropped to 109F (43C) in the shade.

So here's my advice, if you must make a brief stop with wine in your car on a steamy summer day: Put the wine in the trunk, look for a shady parking spot, and try to get in and out in five or 10 minutes. Or buy yourself considerable extra protection by taking along a large cooler stocked with several containers of frozen "blue ice" to stash your wine safely.

That won't work for children or pets, though. If you're transporting that kind of precious cargo, don't stop. Not even for a minute. Just don't do it.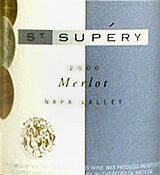 St. Supery 2000 Napa Valley Merlot ($24)
Never mind what the twitchy guy in Sideways said with his trash-talk about Merlot, this is one fine example of the grape. Very dark garnet in color, it breathes fresh aromas of black plums and bing cherries with back notes of dark chocolate and a pleasantly earthy whiff of leather. Fruit-forward flavors follow the nose, so luscious that the first impression is soft and plushy, but mouth-watering acidity and smooth tannins quickly fill in, building a wine of serious structure and balance. Very fine Merlot, holding up well five years after the vintage, and still capable of further development under good cellar conditions. (July 24, 2005)
FOOD MATCH: Fine with red meat or roasted or grilled poultry; it was particularly enjoyable with a selection of cheeses from the recent American Cheese Society convention here.
VALUE: The $24 winery retail is priced artificially high to avoid competing with retailers; it's widely available for less and can often be found in the upper teens. It's a particularly good buy when paired with the impressive Girard 2004 Sauvignon Blanc as part of this month's selection from The California Wine Club, which offers both wines together for the $32.95 monthly club price.
WHEN TO DRINK: As noted, this wine is fully mature and ready to drink, but its full fruit, excellent balance and still-perceptible tannins suggest that it could evolve into an even more elegant wine with time in a good cellar.
WEB LINK:
St. Supery's Website is content-rich but graphically intense, and may be best viewed with a high-speed connection. Here's a fact sheet on the 2001 Merlot, now the current release from the winery:
http://www.stsupery.com/wines/stsupery/merlot.html
FIND THIS WINE ONLINE:
As noted, you'll get the best buy on this Merlot as part of current selection. It's also available from the winery direct to 33 U.S. states. See St. Supery's online store page for information:
http://www.stsupery.com/shop/index.html
To compare prices and find vendors for St. Supery Merlot on Wine-Searcher.com:
http://www.wine-searcher.com/find/Supery%2bMerlot/-/-/USD/A?referring_site=WLP
WineLoversPage.com