This article was published in The 30 Second Wine Advisor on Friday, July 22, 2005.
Cartlidge & Browne repeats

It's starting to look as if the bump in Pinot Noir's popularity inspired by the award-winning comedy Sideways is going to stick, with Pinot joining Merlot and Zinfandel as a safe yet trendy way to call for a glass of red wine.

As we've lamented before, the combination of Pinot envy and marketing has inspired the production of a lake of forgettable wines in the affordable range, so the wary consumer is confronted with a bewildering choice of lower-end wines of frankly variable quality.

A few real jewels stand out among the rhinestones, though, and I'm pleased to report that one of last year's discoveries - the surprisingly impressive Cartlidge & Browne California Pinot Noir - is now showing up in the 2004 vintage, still a fine Pinot and still going for a price that you don't have to be a wealthy connoisseur to like.

It's no grand cru Burgundy, of course, but then it's not priced like one either. Whether you're a lifelong Pinotphile or a Sideways-converted newbie, or even if you haven't found your way to Pinot yet, this one makes a fine introduction.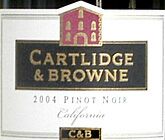 Cartlidge & Browne 2004 California Pinot Noir ($12.99)
This is a clear, garnet-color wine, peharps not as blackish-dark as this producer's 2003. Spicy red-fruit and discreet cherry-cola flavors, simple but attractive, are typical of California Pinot. Ripe and juicy fruit, plums and red cherries on the palate are backed with sufficient acidity to provide structure. Like its predecessor, it's a fresh quaff and a decent if not overly complex table wine, a good, affordable Pinot Noir in a price range where distinctive Pinot varietal character is hard to come by. (July 18, 2005)
FOOD MATCH: Excellent with a home-smoked duck breast, as its cherry-plum flavors complemented the duck meat and mellowed the tang of mesquite smoke.
VALUE: Possibly just a bit less concentrated and fruit-forward than the 2003, but still a very good value at a price point where Pinot Noir can be iffy. Prices vary widely - I paid a dollar more than for the 2003, but at a different store; many Web vendors offer it for well under $10.
WHEN TO DRINK: Not meant for aging, but it's not likely to fade over a year or two in the cellar or wine rack.
PRONUNCIATION:
Pinot Noir = "Pee-noe Nwahr"
WEB LINK
Here's the Cartlidge & Browne Website:
http://www.cartlidgebrowne.com/
For a fact sheet about the 2004 Pinot Noir in Adobe Acrobat (PDF) format, click:
http://www.cartlidgebrowne.com/notes/C&B%20Pinot%2004%20Tasting%20Notes.pdf
FIND THIS WINE ONLINE:
Find vendors and compare prices for Cartlidge & Browne 2004 Pinot Noir on Wine-Searcher.com:
http://www.wine-searcher.com/find/Cartlidge%2bBrowne%2bPinot/2004/-/USD/A?referring_site=WLP

WineLoversPage.com