This article was published in The 30 Second Wine Advisor on Wednesday, July 20, 2005.
Don't cry for me, Malbec

We've talked about Argentina's Malbec before. It's one of my "go-to" grapes when I'm in the mood for a pleasant, affordable, food-friendly table red that won't cost an arm or a leg ... and it goes great with pizza!

You probably recall the standard "sound bite," about Malbec, too, how the Argentines borrowed the grape from Bordeaux, where it's a bit player in the Bordeaux blend (and the lead player in neighboring Cahors).

But as I was sipping a modest Mendoza Malbec the other night, and admiring its bright label image depicting a long-legged pampas cat, it occured to me that the Argentines have done more than merely borrowed Malbec. They has taken over the grape and made it Argentina's own, while France seems more inclined to forget the whole thing.

On my last visit to Bordeaux, I curiously tried to chat up some wine makers about Malbec, hoping they'd show me their vines and explain how the grape contributed to the blend. As it turned out, most of them looked the other way and pretended that they couldn't understand my French. Apparently Malbec simply isn't done any more. As for Cahors, how much space is devoted to this offbeat region on your local retailer's shelf?

But that's France's loss. Argentine Malbec is everywhere, and most of it is attractively affordable. We have a great local Argentine restaurant (Palermo Viejo, in Louisville), with an all-Argentine wine list that offers lots of goodies for $20 or less ... at standard mark-ups.

Excellent table wine with the balance and structure of more expensive stuff, mostly from the single digits to the middle teens? There's a lot to like in that, and praise be to Argentina for making it happen. Today's featured wine, Budini, which celebrates a rare wild cat of the pampas in its name and label (pictured below in our HTML/Graphics editions), is a fine example at an affordable price, with plenty of ripe cherry-berry varietal character nicely filled out with lip-smacking acidity to make it a fine food companion.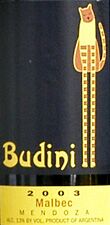 Budini 2003 Mendoza Malbec ($11)
Very dark garnet, black at the center, recalling the old (and generally not currently applicable) reputation of the Malbec of Cahors as "black wine." Appealing black-cherry and berry aromas are typical of good. fruit-forward Argentine Malbec. It hits the palate with a brief impression of luscious softness, but that's quickly pulled back with lemon-squirt acidity and barely perceptible tannins, finishing clean, long and dry. Although it sees a bit of oak (five months in small, year-old French and American casks), wood is apparent only as a spice, and that mouth-watering acidic snap makes it a palate-cleansing food wine. U.S. importer: Vine Connections, Sausalito, Calif. (July 19, 2005)
FOOD MATCH: I like Malbec even more than Chianti with pizza, but on this occasion it made a stunning match with a more hearty dish of home-smoked mesquite pork chops.
VALUE: A no-brainer at this near-$10 price point.
WHEN TO DRINK: Meant for early consumption but has plenty of fruit and structure to last for a year or three.
PRONUNCIATION:
"Malbec" = "Mahl-bek"
WEB LINK:
The U.S. importer's Website has a page about Budini, with links to the '03 Malbec and other wines:
http://www.vineconnections.com/wines/budini.html
FIND THIS WINE ONLINE:
Compare prices and find vendors for Budini Malbec on Wine-Searcher.com:
http://www.wine-searcher.com/find/Budini%2bMalbec/-/-/USD/A?referring_site=WLP
WineLoversPage.com