This article was published in The 30 Second Wine Advisor on Monday, July 18, 2005.
Wine on vacation

It's midsummer in the Northern Hemisphere, the kids are out of school and the sultry "dog days" are upon us. In Europe, just about everyone is poised to hit the road on vacation in August, and in the U.S. and Canada, summer-vacation season is already well under way. (And as for our friends Down Under, I have the impression that you'll head out on vacation at any time of year.)

But what about wine-loving travelers? When wine enthusiasts hit the road, do we take our wine along, plan to find it at our destination, or even plan our vacation around wine? Or, conversely, do you think of vacation as a good time to get away from wine for a change?

Combining today's 30 Second Wine Advisor with our regular Wine Lovers' Voting Booth feature, we've set up a fun, informal poll that affords wine lovers around the world the opportunity to tell us how you mesh the fun of vacation with your enjoyment of wine.

As usual, we've set up an online "ballot" with a choice of likely selections, plus an open-ended "other" for those who'd like to share more uncommon approaches, as we ask, What's your vacation wine strategy? We understand that for most of us, several responses may apply. But for the purpose of this simple poll, we ask that you select the one option that fits best.

To cast your "vote," click directly to the Voting Booth,
http://www.wineloverspage.com/votebooth/vb20050718.shtml
The software will immediately register your choice and add it to the running total. To see how others have voted, click
http://www.wineloverspage.com/votebooth/ans20050718.shtml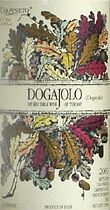 Carpineto 2003 "Dogajolo" Toscano Rosso ($14.99)
A Tuscan red with a funny name, "Dogajolo," according to the U.S. importer's fact sheet, means "to jump from the staves of a barrel." An unusual blend of 80 percent Tuscan Sangiovese and 20 percent Cabernet Sauvignon that sees time in small French oak casks, Dogajolo meets the definition of a "Super Tuscan" in that it's a modern variation on the old Chianti tradition, but in contrast with most Super Tuscans, it's priced in the affordable range and made to enjoy young. Inky blackish-purple with a garnet edge, it offers pleasant, fruit-forward aromas of black cherries and cranberries lifted with subtle spice. Fresh and bright in flavor, tart red-berry fruit and a whiff of fragrant black pepper are framed by snappy acidity and a soft, barely perceptible edge of tannins. U.S. importer: Opici Import Co., Glen Rock, N.J. (July 16, 2005)
FOOD MATCH: Should be fine with grilled meats, the centerpiece of Tuscan cuisine; it was very well matched with a Marcella Hazan classic, chicken braised with dried mushrooms and a bit of tomato.
VALUE: You'll rarely find a Super Tuscan, even an offbeat variation like this, as low as the middle teens, but shop around, as prices at online vendors vary dramatically from under $10 to near $20.
WHEN TO DRINK: By the producer's own advice, it's meant for drinking young, but I would expect it to hold up at least as well as its cousins from Chianti; there should be no worries about keeping it on a wine rack for two or three years.
PRONUNCIATION:
"Carpineto" = "Car-pee-NEH-toe"
"Dogajolo" = "Doe-ga-yo-loe"
WEB LINK:
Carpineto offers its Web pages in Italian, English, German and Japanese. For an English-language fact sheet about Dogajolo, click
http://www.carpineto.com/products/super_tuscans/dogajolo_eng.htm
FIND THIS WINE ONLINE:
Compare prices and find vendors for Dogajolo on Wine-Searcher.com:
http://www.wine-searcher.com/find/Dogajolo/-/-/USD/A?referring_site=WLP
WineLoversPage.com