This article was published in The 30 Second Wine Advisor on Monday, July 11, 2005.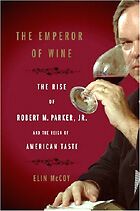 Click this link or the cover image above to order Elin McCoy's "The Emperor of Wine" from Amazon.com for $17.13, a 34 percent discount from the retail price.
"The Emperor of Wine"
In the history of wine appreciation, there has certainly never been a wine writer as widely known as Robert M. Parker Jr., and it's unlikely that there's ever been one more controversial.
Based in tiny Monkton, Md., an outer suburb of Baltimore, Parker's no-advertising newsletter, The Wine Advocate, reportedly circulates to no more than 50,000 subscribers - one-sixth of the print circulation claimed by Wine Spectator and, for that matter, in the same order of magnitude as this E-letter.
But Parker's influence among wine enthusiasts, particularly those who pursue high-end, collectible wines, is a phenomenon without parallel in wine, or quite possibly in any field of criticism.
Widely publicized as "The man with the million-dollar nose" because he literally had his sense of smell insured for that amount (the underwriters allegedly declined to risk any more), Parker, it is said, can literally make a winery's reputation with a single good review ... or destroy it with a bad one.
As sketched in Jonathan Nossiter's current movie documentary Mondovino (30 Second Wine Advisor, June 27, 2005) Parker is given much of the credit (or blame) for nudging the international wine industry toward fashioning wines to suit his tastes: Big, powerful and driven more by fruit than earth. In fairness, Parker himself denies this charge, and with some credibility, as he frequently speaks well of subtle, graceful Old World wines.
But as author Elin McCoy points out in her new book, The Emperor of Wine (subtitled, "The Rise of Robert M. Parker, Jr. and the Reign of American Taste"), a simple review of Parker's voluminous record makes clear that the blockbusters are indeed the wines he loves the most and rates most highly on the 100-point scale (which he, in fact, innovated and made popular for wine ratings).
A love-him-or-hate-him figure among serious wine enthusiasts, Parker has become a bit two-dimensional: Those who love him follow every word he writes, and rush to wine shops to strip the shelves bare of the bottles he rates highly. Even the less-enthralled typically pay him the backhanded compliment of claiming to read his tasting reports in order to choose the wines he doesn't like, assuming that these wines will suit their tastes for subtlety, elegance and terroir, with the added benefit that they'll remain affordable since the great one did not recommend them.
McCoy is perhaps the first writer to put meat on the bones of the public Parker. A longtime writer and editor who has written about wine for Food & Wine and Bloomberg Markets, she's a Baby Boomer who seems to have learned to write back when schools still taught nouns and verbs and such. She writes in a clear journalistic style, and she sketches characters and scenes with deft strokes that bring them alive. It's fun to read, and you really get a sense that you're meeting a full, well-rounded Parker, not just the the usual cartoon-character stereotype ... Noble Judge or Evil Influence.
Nor is this book entirely a puffy public-relations tale. To McCoy's credit, she dishes some tales that it's likely Parker would much prefer forgotten: The lawsuit by Burgundian producer François Faiveley, eventually settled for a single franc, that left Parker so persona non grata in Burgundy that a surrogate represents him in the region to this day ... and a more recent development in which a Parker associate in Bordeaux was charged with having used Parker's letterhead and stationery to lend credibility to a consulting project. (Although Parker was not personally implicated, the publicity and police involvement added no luster to his image.)
Nor is McCoy reluctant to record some of the less appealing sides of Parker's personality, including a thin-skinned and occasionally litigious response to criticism, verbal battles with fellow wine writers (including a particularly nasty exchange with Jancis Robinson) and an ego expansive enough to dismiss any criticism as based on mere competitive jealousy.
But all that said, "The Emperor of Wine" is ultimately a strongly positive portrayal, to the degree that at some points I felt eerie echoes of reading "Lives of the Saints" stories as a child in parochial school. Although McCoy lists dozens of sources at the end, it appears that much of the content of this admiring bio is single-sourced - based largely on interviews and time spent with Parker himself, with relatively limited backup information from his friends and fans.
She does a good job of sketching out how his influence grew out of all proportion to Wine Advocate's circulation through a combination of good fortune (He was first, loudest and strongest in his praise for the remarkable Bordeaux vintage of 1982, which just happened to coincide with a significant awakening of fine-wine interest in the U.S.) and good marketing (he promoted his publication through wine shops, which were delighted to have simple, plain-English notes about the wines, complete with numerical scores in a then-novel but easy to follow 100-point system). She is weaker on other voices, giving short shrift to (and possibly reflecting Parker's own opinions of) Robinson and other leading British writers; sketching some delightfully snide but certainly incomplete chapters on the concurrent rise of Marvin Shanken's Wine Spectator, and discussing Internet wine-information publishing and Parker's (until recently) low profile in that realm only from the viewpoint of the producers of a Website that licenses Parker's name and products.
Still, this remains the most entertaining (and well-written) wine book to cross my desk for a while, and if you have any interest at all in Parker and in the growth and development of wine culture - particularly in the U.S. - during the past generation, you won't regret reading it.
BUY THIS BOOK ONLINE:
To order Elin McCoy's "The Emperor of Wine" from Amazon.com for $17.13, a 34 percent discount from the retail price, click
http://www.amazon.com/exec/obidos/ASIN/0060093684/robingarrswineloA/
Purchases made using this link directly will return a small commission to WineLoversPage.com.
Now, just for fun, let's take a look at a Parker tasting note on a pleasant Northern Italian white, then compare it to my own report on the same wine from the same maker (different vintage, unfortunately - I wasn't able to come up with a perfect match on quick notice). As we say in the wine-judging world, "It appears that we tasted the same wine." Assuming vintage differences, there's no real conflict between his impression of the '01 and mine of the '03.
Parker
2001 Valdinera Arneis
POINT RATING: 88 points
DRINK: 2002-2003

A very fine value from Piedmont (a region where both quality and prices are generally high), the 2001 Arneis exhibits aromas of minerals, white peaches, flowers and pears in its lovely, medium-bodied, deliciously fruity personality. It is not meant to age, so consume it over the next year.
--Robert Parker (Dec 2002)

IMPORTER: Not given.
FOOD MATCH: Not given.
PRICE: Not given.
VALUE: Not given.
WEB LINK: Not given.
WHERE TO BUY IT: Not given.
Garr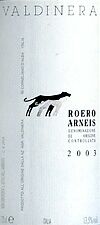 Valdinera 2003 Roero Arneis ($15)
This clear, light-gold wine offers delicate but complex aromas of white fruit and melons, beeswax and floral notes. Medium-bodied and more fruit-forward on the palate, a burst of pineapple and mango is framed by crisp, fresh-fruit acidity, with a pleasant hint of peach-pit bitterness in the finish. It's on the ripe side - remember that the torrid summer of 2003 extended all over Europe - but much more balanced than some of the very strange '03s from more northerly wine regions. U.S. importer: John Given Wines Co., Manhasset, N.Y. (July 2, 2005)
FOOD MATCH: The wine's body, fruit and complexity made it a perfect match with the seviches featured in last week's Wine Advisor FoodLetter.
VALUE: You won't often find a wine of this complexity, balance and flavor interest in the middle teens. Fine value.
WHEN TO DRINK: Not meant for aging, best drunk up over the next year or two while it's young and fresh.
WEB LINK:
Here's a fact sheet on this producer and his 2004 Arneis on John Given's Website,
http://www.jgwines.com/Factsheets/valdineraArneis04.html
FIND THESE WINES ONLINE:
I'm afraid Wine-Searcher.com's listings on this wine are limited, but for those within reach, here are two sources in Arizona. Check with your local retailers or contact John Given (Web link above) for more leads.
http://www.wine-searcher.com/find/Valdinera%2bRoero/-/-/USD/A?referring_site=WLP
POINT RATING: Not given.

WineLoversPage.com